Estimated read time: 4-5 minutes
This archived news story is available only for your personal, non-commercial use. Information in the story may be outdated or superseded by additional information. Reading or replaying the story in its archived form does not constitute a republication of the story.
PROVO — With just three games remaining in the regular season, the fourth-ranked BYU women's soccer team is one of just two teams nationally without a loss on the year.
The Cougars rank first in the nation with a .967 won-lost-tied percentage, while fellow unbeaten Virginia is tied for fourth with a .906 percentage.
Surely, a seventh NCAA Tournament berth in the last eight years isn't just a goal — but appears on the horizon.
But the Cougars have loftier goals.
BYU's three-headed monster of Mikayla Colohan, Cameron Tucker and Elise Flake all showed up Saturday night, scoring as No. 4 BYU women's soccer scored three unanswered goals to cruise past San Diego, 3-1 in the penultimate home match of the Cougars' regular season at South Field.
San Diego's Milan Moses cut inside the eight-yard box and lifted a close-range shot that sailed over the outstretched arm of goalkeeper Sabrina Davis for the opening goal in the 12th minute.
But the Cougars (15-0-1, 5-0-1 WCC) responded just 22 seconds later when Cameron Tucker found Mikayla Colohan with a toe-poke to even the match, 1-1. Yeah, you could say it was a personal moment for the BYU defense, which ranks among the top-11 nationally in goals-against average.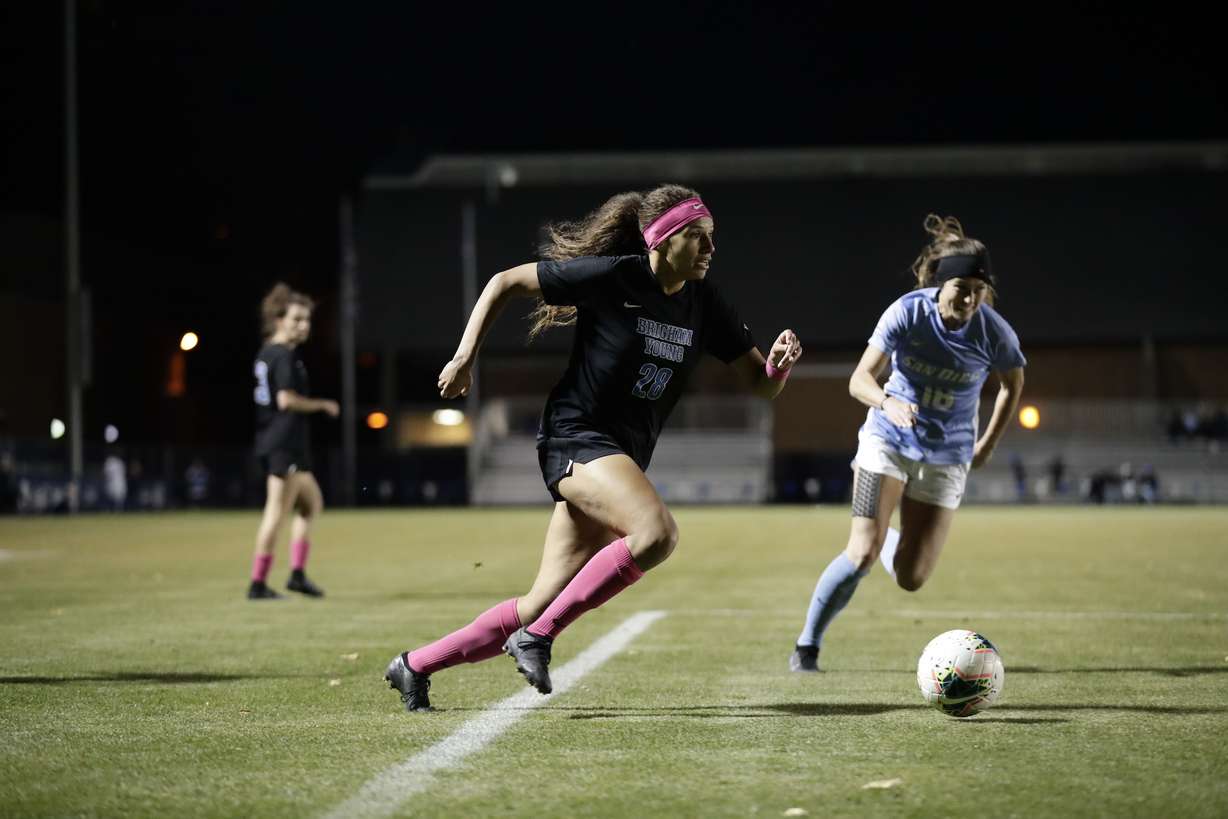 "Every time we've gotten scored on this year, you could see the team respond really well. I think that comes with maturity and experience," BYU center back Alyssa Jefferson said. "We always expect a shutout, and with our back line being solid and experienced, we just expect shutouts and wins. Shutouts are huge because that's our part we contribute.
"I think we take it personal, and the whole team does. But it's going to happen; it happens in soccer — you get scored on. I think how we respond says a lot."
Sometimes, the best way to read a defense isn't by how it does when things go right — but when things break down and go wrong. That was the case Saturday night, when Tucker scored the go-ahead goal in the 20th minute, thanks to a pass from Rachel Lyman superseded only by Jefferson's set-up through ball.
After Moses' goal, the Cougars allowed just four shots, including three shots on target, in holding San Diego (6-8-1, 2-4-0 WCC) out of the net for the remaining 78 minutes (Moses, the reigning WCC player of the week, had four of the Toreros' five shots).
The Cougars have taken everything the West Coast Conference — projected by some to receive as many as three or four bids to the NCAA Tournament — has thrown at them, and then some.
"Our team attack has been very strong this year, and when something like that happens the confidence is there. It's OK; no big deal," BYU coach Jennifer Rockwood said. "In soccer, you know that those things happen — whether off a set piece or a great individual effort, that happens.
"It's one reason why we have to expect to score a minimum of two goals per game to win, and that's what we shoot for."
Since opening conference play Oct. 5, the Cougars have outscored opponents 26-4, including a 19-1 margin in their last four games. As strong defensively as offensively, the Cougars have only allowed multipole goals in a game twice all year — a 4-2 win over UC Irvine in the non-conference finale, and a 2-2 draw at Santa Clara to open league play.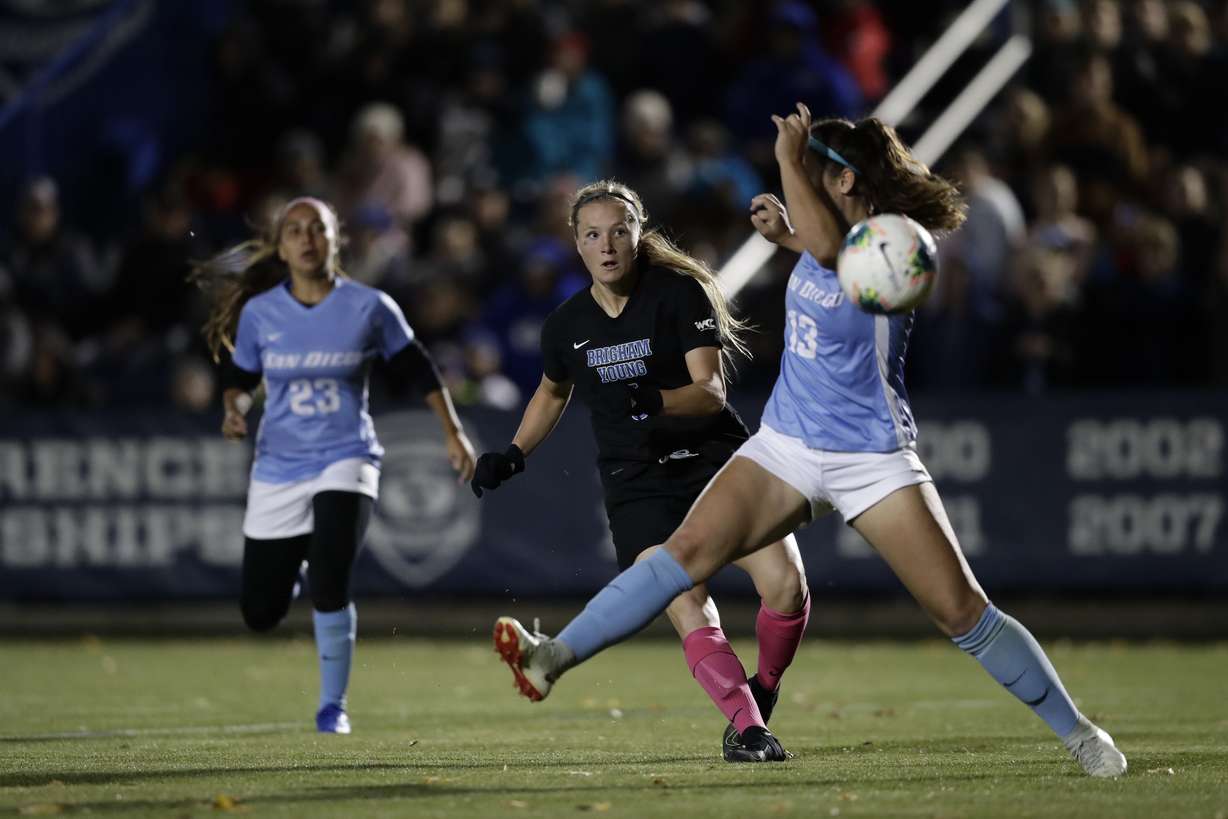 BYU's road to the NCAA Tournament is all-but secure, with a two-point lead on Santa Clara — the No. 26 team in the RPI with a 10-5-2 overall record — for first place in the West Coast Conference with three games remaining.
But the Cougars have higher goals, and those higher goals likely include earning as high a seed as possible — preferably enough to draw at least two home games in the tournament before the College Cup semifinals at Avaya Stadium in San Jose, California.
To do that, they'll need a good RPI ranking — which is easier said than done. The Cougars currently rank 14th in the latest RPI, with forthcoming opponents San Francisco, Gonzaga and Loyola Marymount yet to play. Each of BYU's final three opponents rank outside the RPI top 30.
What can the Cougars do but win out? They are currently tied just behind Stanford for the national scoring title with 55 goals, rank fifth nationally with 2.87 assists per game, and No. 11 with a .437 goals-against average.
All BYU can do is beat the teams in front of it, including next week's road tilt on the Hilltop at USF. If they continue to do that, the numbers should fall where they will.
"At this point in the season, it's about staying healthy and keeping that rhythm we have," Jefferson said. "We've found who we want to be, and I think we just need to maintain that right into the tournament.
"Yeah, we're hoping for at least a No. 2-seed and to definitely get into the tournament. But we're just going to build on everything we have, shutting teams down and taking different looks at every team we've seen so far."
×
Most recent BYU Cougars stories