Estimated read time: 4-5 minutes
This archived news story is available only for your personal, non-commercial use. Information in the story may be outdated or superseded by additional information. Reading or replaying the story in its archived form does not constitute a republication of the story.
MIDWAY — Ready to serve and protect his country, Jonathon Blank had just graduated from high school when he joined the Marine Corps in 2006.
After extending his enlistment, he was deployed to Afghanistan where he survived a blast from an improvised explosive device in 2010. The explosion severed his legs and he sustained shrapnel injuries to his arm and head. After years of medical treatment, the 32-year-old veteran continues to endure chronic pain, migraines and insomnia.
"The world is not meant for people with disabilities," Blank said. "It's just a hard truth and that's something that I've dealt with every day since I was injured."
Now, nine years after the explosion that changed his life, Blank will be able to get the home of his dreams.
The Gary Sinise Foundation, through its R.I.S.E. program, announced Thursday it is building Blank a custom, specially adapted smart home in Midway.
Pete Franzen, senior project manager for the Gary Sinise Foundation, said Blank deserves a home "that will make his next phase of life much easier."
"It's such an incredible gift," Blank said, adding that members of his family and his Marine comrades became emotional when he told them about the news.
"Even some of those tough guys, when they found out about this, they got pretty emotional about it," he said. The people who care for him knew the home would change his life for the better.
The program — founded by actor Gary Sinise, who played Lt. Dan Taylor in the film "Forrest Gump" — serves to build specially adapted smart homes for severely wounded veterans. So far, 58 homes have been built through the program.
Chris Kuban, of the Gary Sinise Foundation, asked Blank why he had chosen to live in Midway.
Blank replied, "Have you looked around?"
When he first moved to Utah from Kansas, he said he loved the city's mountain views and proximity to national parks.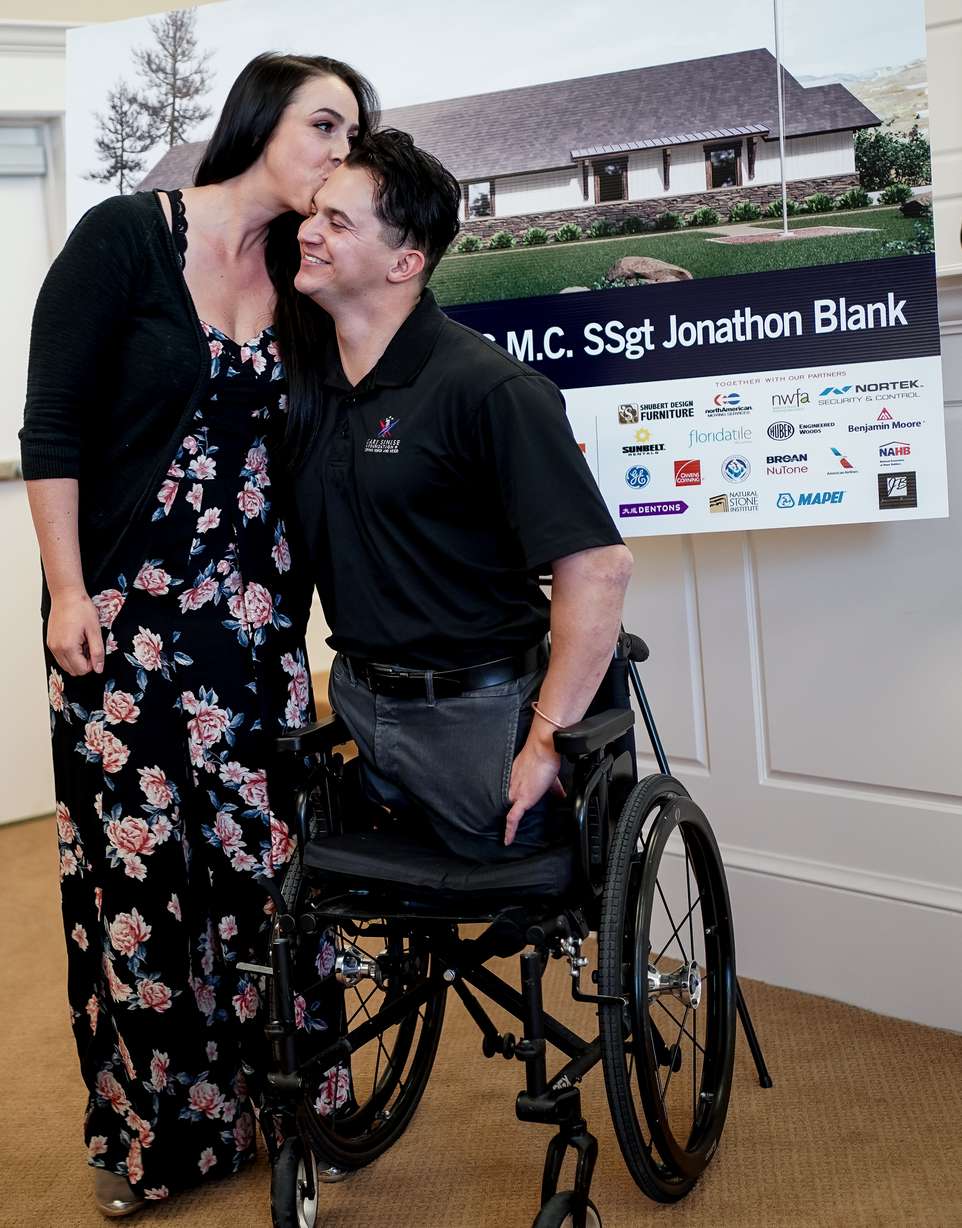 The home is expected to be completed in a year, according to Jake Jorgenson, of Jorgenson Builders, the general contractor over the project.
"We really have to be thinking about how they are going to access each of the levels of the house," Jorgenson said.
He said due to the topography in Midway, it's rare to be able to build a one-level home. While designing the house, designers had to think about how an occupant would travel through the kitchen, or up and down between different levels.
Jorgensen said plans for the home include a lower level, and will feature a stair lift or elevator for Blank to use.
Kuban added that the home will be energy efficient, will include light fixtures and shades that can be controlled using an iPad, and voice activated technology that can turn on music or open doors.
"We're excited to be here to build this specially adaptive smart home with you," Kuban told Blank.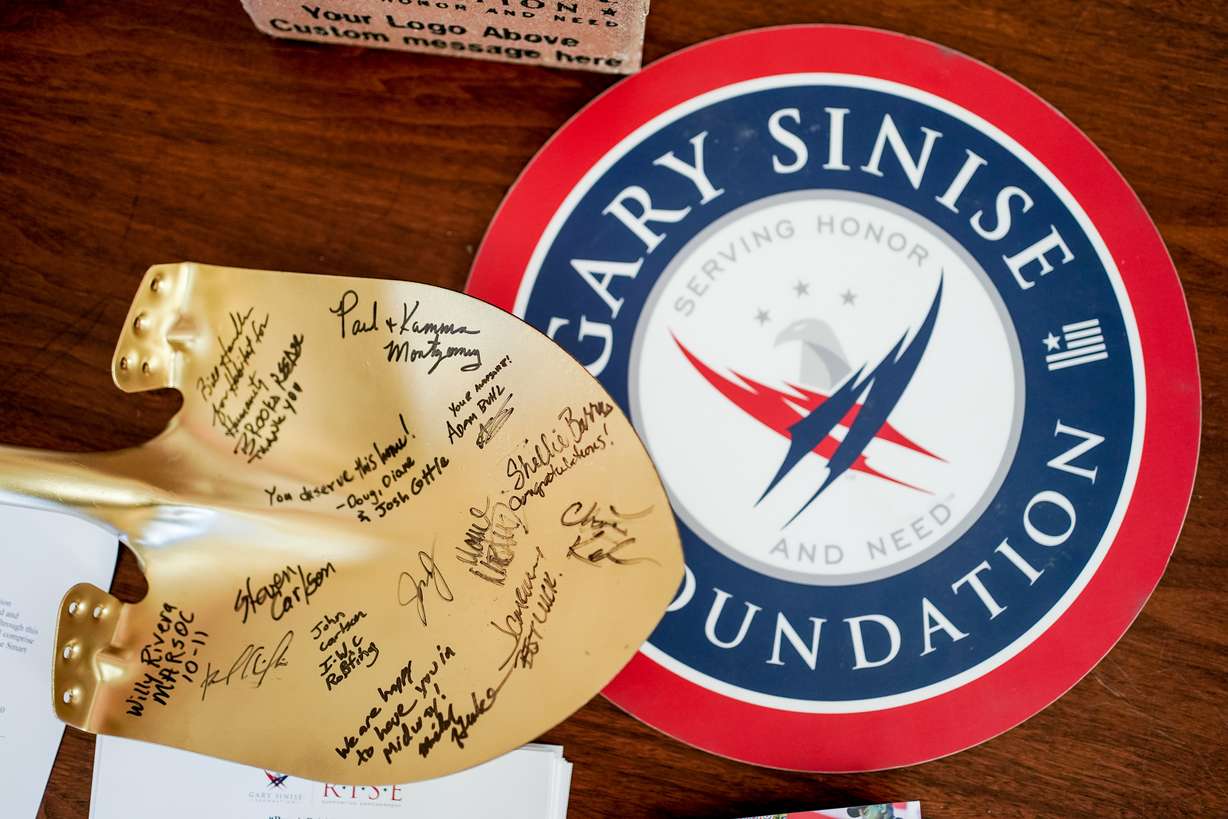 After hearing about the R.I.S.E. program, Blank applied through an extensive process. He found out his application had been accepted in a phone call from Sinise himself.
Blank, who currently lives in a three-level home, said he is looking forward to how much time he'll save in his new home. Currently, minor tasks like going up and down the stairs can be a tedious process.
"Some days it just gets old," Blank said.
Blank said he doesn't want the injuries he sustained to define him, and he continues to ski and enjoys outdoor recreation. Having a home that's custom made for him will make his days easier, he said, and could prolong his life span.
"These injuries do take a significant effect and sadly shorten guys' lives," he said.
Blank said he asked that his home include a room to house his hunting gear. He also asked for a large kitchen he can move around in, as he likes to cook and entertain for his family and friends.
"Honestly, I didn't really know that I would be so involved with the planning and the layout of the building," he said.
He said the house will also feature large windows so that he can enjoy the mountain views, which he finds therapeutic.
Blank's girlfriend, Brittney Harris, of Sandy, said she's happy he'll have a home that he can live in comfortably and that will alleviate some of the challenges he faces daily.
"He's dragging, hauling all his stuff up and down stairs all the time," she said.
Harris said when the two cook a meal together, he jumps on the counter to grab spices.
"Nothing slows him down, but just to imagine cupboards that he can pull down and reach rather than having to jump up there — it's going to be such a huge difference for him," she said.
×
Most recent Uplifting stories