Estimated read time: 5-6 minutes
This archived news story is available only for your personal, non-commercial use. Information in the story may be outdated or superseded by additional information. Reading or replaying the story in its archived form does not constitute a republication of the story.
BOUNTIFUL — Chronic sickness is often a reason to stay at home and rest, but one Bountiful woman is determined to not let anything prevent her from the sport she loves. In the end, her dedication has paid off.
Julie Keyes, 49, loves the water. "I just dove in and thought: I'm home," she said, speaking of the first time she jumped in the pool again after 25 years.
Today, she practices every day in the pool at 5:30 a.m. with the U.S. Masters team.
Keyes started racing in triathlons in her 40s while raising five daughters. She's competed in the Ironman world championships in Austria and South Africa and qualified for the Boston Marathon.
"I am, I'm crazy," she said through laughs.
Keyes doesn't let anything get in the way. Thirteen years ago, she was diagnosed with Crohn's disease, an autoimmune illness that attacks your gastrointestinal system. She experienced severe stomach pain for years.
She said symptoms of Crohn's patients often include diarrhea and constipation, but it's much more than that.
"It's not just a bathroom disease where you're on the toilet all the time," she said. "I found a lot more symptoms that go along with Crohn's that I was surprised about."
Keyes also experienced fatigue, acne and arthritis. At the peak of her performance, her condition grew worse.
"I felt like I had hot lava being poured on my stomach," she described, but she didn't let it change her lifestyle.
"I kept swimming, I kept biking and running. I was just doing a little bit every day for the month that I had before my surgery," Keyes said.
On the day of her surgery, she joked that she walked into the hospital and bragged to her doctor.
"Guess what I did this week? Monday I swam 2 miles, Tuesday I biked 30 miles, and then yesterday I ran 5 miles. So I think I'm ready for the surgery," she said. "And he just looked at me like, 'You're crazy!'"
In 2018, she had two surgeries to remove part of her damaged colon and was left with an ileostomy bag for nearly three months.
In all of the following photos, Keyes is wearing a bag, but has disguised it well. "People were just shocked. They couldn't believe that I could still do all these things and stay active with a bag," she said.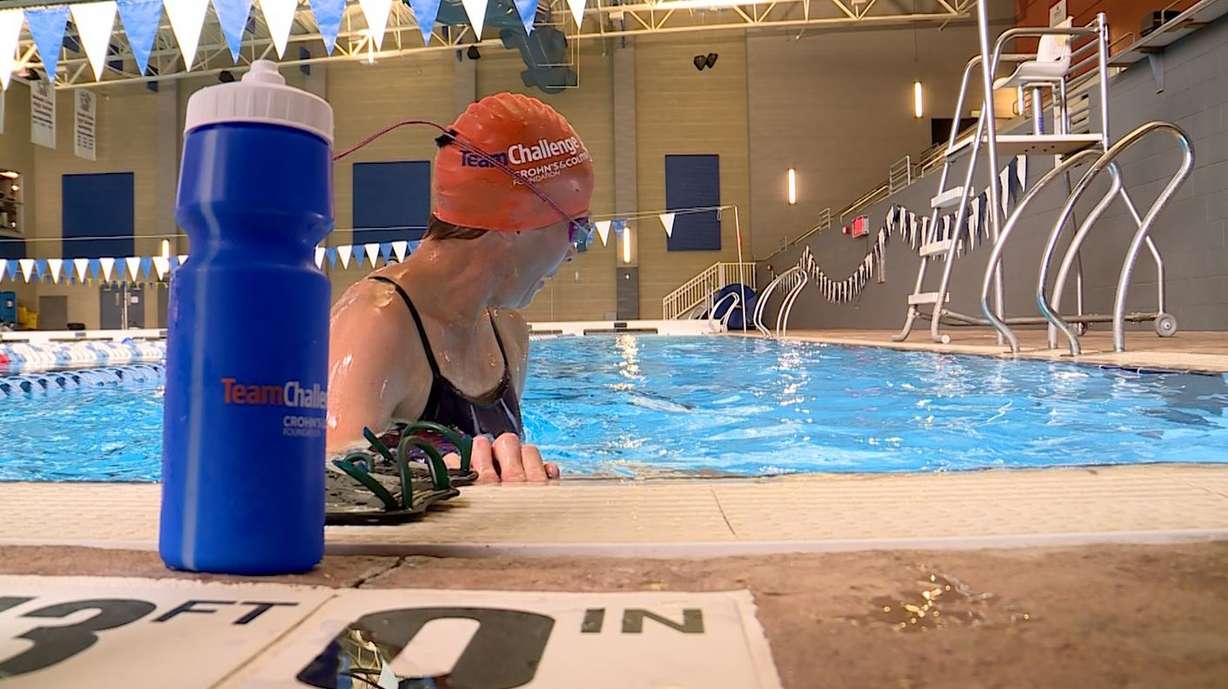 Keyes had every excuse to sit on the couch — including pain, fatigue and inconvenience, but she never took it.
"I just wanted to feel good. I wanted to be healthy," she explained, and she wants to make the most of life. "It's too short!" she said.
Intermountain Healthcare's Dr. Tae Kim, a colon and rectal surgeon at the Intermountain Avenues Specialty Clinic, credits Keyes' swift recovery to her active lifestyle beforehand.
"She's such an avid athlete that it really helped her recovery for sure," he said.
Kim compares surgery to running a marathon. "You don't want to run a marathon off the couch. So the more physically fit you can get before you have surgery, the better it is," he explained.
He said even slight gains before surgery for someone who isn't in shape can make a big difference. Kim said his patients who just go for a walk around the block every day for four weeks still have better outcomes than those who don't. Their ability to tolerate pain after surgery also increases, he said.
Kim encourages his patients who aren't currently active to set realistic goals like taking the stairs instead of the elevator. "You don't have to specifically go to a gym, you just have to get your body moving," he said. "Try to get at least 20 to 30 minutes of aerobic activity a day."
For Keyes, it was worth it.
"She just took the diagnosis and just literally grabbed it by the horns and took over and said, 'I'm going to beat this and I'm going to go back to my triathlons,' which is awesome because that positive mental attitude definitely gets you better faster," Kim said.
After surgery, Keyes was able to return to her favorite sport. "I was able to do all of those things I loved again. I couldn't believe it," she said.
Keyes also said exercising gives her added energy. "My kids are always like, 'You're so happy when you come home from a bike ride, Mom,'" she said. "That's called endorphins. That's called, 'Let's get outside and enjoy nature and enjoy being alive and being active... and enjoying our bodies while we can," she responds.
On days when training for her next triathlon is too much, she opts for yoga. She also says it helps her mentally and emotionally.
Keyes said many people with Crohn's or colitis have depression, but exercising helps her combat those feelings. "It helps with the stress. It helps with clearing your mind," she explained.
While Keyes' condition is much more stable today, she is still battling Crohn's. She said she doesn't take the good years for granted and believes anything is possible.
"I found out that your mind is stronger than your body," she said.
Keyes is racing in the St. George Ironman this spring for her 50th birthday, where she hopes to raise funds to find a cure for Crohn's disease. She will be competing with Team Challenge representing the Crohns & Colitis Foundation. Anyone interested can donate to Keyes' cause here.
Keyes said she finds added meaning by racing with a purpose. "I'm going to push my body to the limit so that it can make all of these donations more worthwhile because I'm feeling good. I'm feeling healthy now," she said.
×
Photos
Related stories
Most recent Your Life - Your Health stories