Estimated read time: 3-4 minutes
This archived news story is available only for your personal, non-commercial use. Information in the story may be outdated or superseded by additional information. Reading or replaying the story in its archived form does not constitute a republication of the story.
SALT LAKE CITY — For the second-straight week, BYU was forced to turn to its backup quarterback to lead a game-winning charge with the starter forced out due to an injury.
And for the second-straight week, the hobbled Cougars couldn't find the end zone. Jordan Cronkrite ran for 158 yards and two touchdowns to help South Florida rally by visiting BYU, 27-23 Saturday at Raymond James Stadium in Tampa, Florida.
Jordan McCloud completed 7-of-14 passes for 72 yards, a touchdown and an interception for the Bulls (3-3), who handed the Cougars (2-4) their third-straight loss.
South Florida didn't lead until the 7:37 mark of the fourth quarter, when McCloud gobbled up his second rushing touchdown of the game with a two-yard plunge to give the Bulls a 27-23 lead.
"Obviously we're very disappointed in the outcome of the game," BYU coach Kalani Sitake told BYU Radio after the game. "We have a lot of things to address as we prepare for another game against a ranked team at home."
Jaren Hall, who became the first African American starting quarterback in BYU history, completed 15-of-23 passes for 148 yards and a touchdown, and also ran for 83 yards and a score to lead BYU.
But with less than 8 minutes remaining and needing a touchdown, the Cougars turned to third-string option Baylor Romney as Hall entered concussion protocol.
The redshirt freshman from El Paso, Texas, led the Cougars on a 73-yard quest for the win. That quest included a clutch third-down conversion on a quarterback sneak, and another conversion on a 25-yard rip to tight end Matt Bushman — who caught five passes for 44 yards.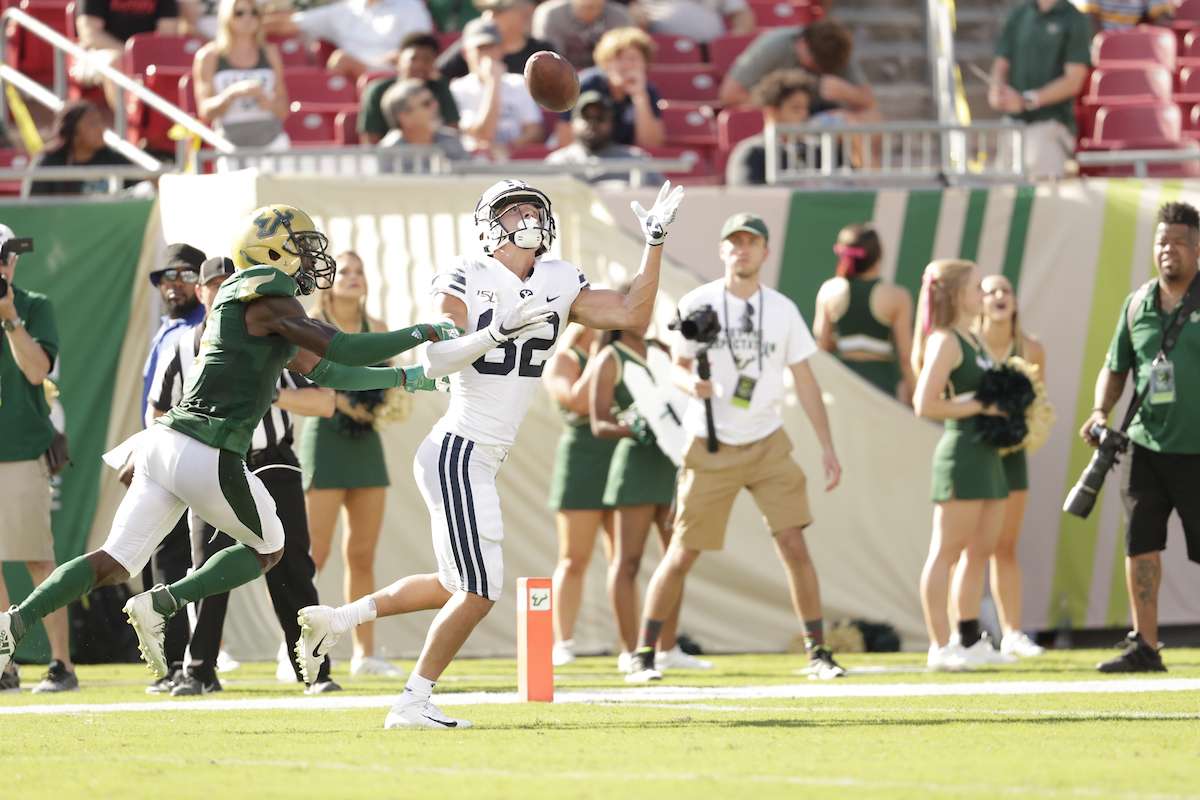 But the Bulls stopped the advancing Cougars at the 5-yard line to hold on for the win. Romney finished the drive with 4-of-5 passing for 34 yards, including a pair of throws to younger brother Gunner Romney, who caught four passes for 47 yards.
Then, with no timeouts and the chance to be the hero, Baylor Romney threw two passes out of the back of the end zone and took a sack to cap off the loss.
"I felt like he did exactly what he needed to do, what was needed," said BYU center James Empey, a rare veteran on an offensive line that left Tristen Hoge at home with an undisclosed injury. "We had a couple of plays to get into the end zone before time expired, and he made a lot of good decisions.
"When you have to step in at a tough time like that, you need a guy like Baylor. He put us in a good position in the end, and I'm glad he stepped in."
Dax Milne had a 35-yard touchdown grab from Hall in the first half for BYU, when the Cougars led by as much as 16-7.
Payton Wilgar led BYU's defense with eight tackles, and Isaiah Kaufusi added seven tackles, a tackle for loss and a fumble recovery for the Cougars.
But even the positives outweighed the negatives, such as when BYU's offense converted Chaz Ah You's second-half interception into a three-and-out. Then, whether by troubled snap or muffed punt — or possibly a combination of both — punter Danny Jones fumbled the ensuing punt, and set up the Bulls with a short-field touchdown as the home team outscored the visitors 20-7 after halftime.
"It was a rough game, a game that we felt like we were in a position to win — and we didn't," Empey said. "You've got a lot of competitive games in there, a lot of guys who live for Saturdays, and losses hurt. But there's a positive vibe, that we are going to bounce back, that we are going to be OK. We're going to watch the film, and see where we can get better, and that's the bottom line."
BYU hosts No. 14 Boise State next Saturday, Oct. 14 at 8:15 p.m. MDT. The game will be broadcast on ESPN2.
×
Related links
Related stories
Most recent BYU Cougars stories