Estimated read time: 3-4 minutes
This archived news story is available only for your personal, non-commercial use. Information in the story may be outdated or superseded by additional information. Reading or replaying the story in its archived form does not constitute a republication of the story.
PROVO — Maybe it was a slip of the tongue, or maybe USF coach Charlie Strong has a lot of respect for BYU's football program.
Either way, South Florida will host BYU in the teams' first-ever meeting Saturday (1:30 p.m. MDT, CBS Sports). And Strong and the Bulls (2-3) couldn't be more excited.
"They are a great program that has some great history, and one that plays really well," Strong said during the American Athletic Conference coaches' teleconference this week. "I know this season hasn't gone as well as they'd like, but they have a win over Tennessee and a win over USC.
"We're happy to have them on our schedule, a really good Power 5 team. We know they are very well-coached, and they'll come in here ready to play."
Strong knows the Power 5, too, though BYU hasn't yet received a hoped-for invite to a Power 5 conference. The former Louisville and Texas head coach has helped put together a schedule for USF that includes 17 non-conference games against P5 competition over the next decade, tied for the most in the American Athletic Conference (which also hosts two-time Group of Five New Years' Six selection Central Florida).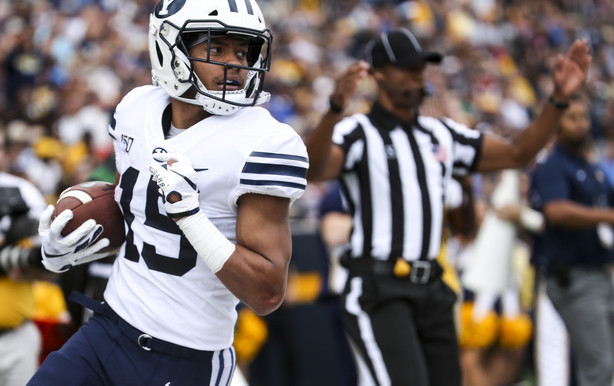 Bringing a team like BYU to Tampa is also good for USF in another respect: ticket sales. The Bulls drew just over 47,000 fans at NFL stadium Raymond James in Tampa for a 49-0 loss to then-No. 19 Wisconsin, and expect a large following to accompany BYU this weekend, as well.
"Any time you have a national program that comes here, they are going to move the needle," Strong said. "They're a good opponent, and they've played a very demanding schedule. But they have some good wins, too."
BYU is in good company with the Bulls. The Cougars (2-3) have an identical record to date as USF, but historically have outranked the Bulls for several decades.
The Bulls didn't start playing football until 1997 as a Division I-AA (now FCS) independent and moved up to Division I-A (now FBS) just three years later. After a brief stop in Conference USA, USF spent most of its history in the Big East Conference before that league dropped football and they shifted to the American Athletic Conference in 2012.
A team based in the fertile recruiting grounds of South Florida can rise quickly in college football, and that's exactly what the Bulls have done. The school made its first bowl appearance in 2005, and went to five straight bowl games from 2005-2009 under former coach Jim Leavitt.
How to watch, stream, listen to the game

BYU (2-3) at South Florida (2-3)


Coaches: Kalani Sitake (BYU, 2000) and Charlie Strong (Central Arkansas, 1982)
Time: 1:30 p.m. MDT
Location: Raymond James Stadium, Tampa, Florida
TV: CBS Sports Network (Dave Ryan, Corey Chavous, Keenan Reynolds)
Radio: KSL 1160 AM, 102.7 FM & BYU Radio 80.1 FM (Greg Wrubell, Riley Nelson, Mitchell Juergens)
Series: First meeting
That Florida mantra remains with the team to this day, when the Bulls have 91 players from the Sunshine State.
"They're like a lot of teams in Florida," BYU offensive coordinator Jeff Grimes said. "They've got a lot of skills, and guys who can run at all positions — both in the back end and the front seven. They have a lot of talented players. It will be a real challenge for us."
The Bulls only have two players from states west of the Mississippi River, but one of them is senior quarterback Blake Barnett. The Arizona State and Alabama transfer from Corona, California, did not play last week against UConn, when redshirt freshman Jordan McCloud threw for 219 yards and 3 touchdowns.
BYU needs a win, both to snap a two-game losing skid and to eradicate the stink of a 28-21 loss at Toledo prior to the Cougars' bye week. But Kalani Sitake's team is winless all-time in the state of Florida, and faces a Bulls squad that just dropped nearly 50 points in a 48-22 win over hapless UConn.
"The make-it-or-break-it for me is to play our best; that's what we can control," Sitake said. "This is stuff that I am urgent to get fixed. The players deserve it, and the fans deserve it. I'm eager to make it happen."
×
Related Stories