Editor's note:This article is a part of a series reviewing Utah and U.S. history for KSL.com's Historic section.SALT LAKE CITY — As Americans sifted through the darkest period in U.S. economic history 85 years ago, President Franklin D. Roosevelt turned to Marriner Eccles for guidance.
Few outside of Utah — or the finance world — knew the Eccles name when he was appointed the chairman of the Federal Reserve during the fall of 1934. To many, he was simply a 44-year-old banker from Utah who was now in charge of fixing a fragile economy decimated by the Great Depression. But by the time he stepped out of the position nearly 15 years later, he had created a legacy so vast that Congress later named the Federal Reserve's headquarters in Washington after him.
In fact, Jerome Powell, the country's current Federal Reserve chairman, pointed out that a portrait of Eccles hangs over his left shoulder when he sits at his primary office chair. His fierce appearance can come off as either approving or disapproving, Powell said.
"Talk about pressure," Powell chuckled.
Eccles' legacy as possibly the most influential figure of the U.S. economy during the 20th century is the focus of a new KUED documentary that premiered at the Rose Wagner Performing Arts Center on Monday. Powell, Federal Reserve board member Randal Quarles, Utah Rep. Ben McAdams, Gov. Gary Herbert and several members of Eccles' family were among those in attendance for the premiere.
The film, titled "Marriner Eccles: Father of the Modern Federal Reserve," is set to air on KUED Oct. 21. It will also re-air on Oct. 23, Oct. 27 and Nov. 2. It centers around the role Eccles had in fixing economic woes during the 1930s and how he guided U.S. fiscal policy following concerns of inflation after World War II came to an end, but it pulls no punches when explaining the toll his public service, though revered by many, took on his family life.
"His legacy endures in much more than a name on a building or portrait on a wall," Powell remarked. "During his years on the Fed board, Marriner played a crucial role in two landmark accomplishments that established the modern Federal Reserve: The Banking Act of 1935, near the time of his start at the fed, and the Treasury Accord of 1951 at the end."
So who exactly was Marriner Eccles?
The rise of Marriner Eccles
Marriner Eccles was born in Logan in 1890 to David and Ellen Eccles. His father was a wealthy businessman whom former Federal Reserve chair Ben Bernanke described as one of the richest people between Denver and San Francisco at the time. Eccles' father owned dozens of business until 1912 when he died of a suspected heart attack while chasing down a train in Salt Lake City. Eccles, just 22 at the time, began supervising one of the businesses.
In 1916, Eccles created the Eccles Investment Company that managed various enterprises. He and other family members created the First Security Corporation, which McAdams noted was believed to be the first multi-bank holding company. By the time the Great Depression hit America, the company had a portfolio of about 17 banks across Utah, Idaho and Wyoming.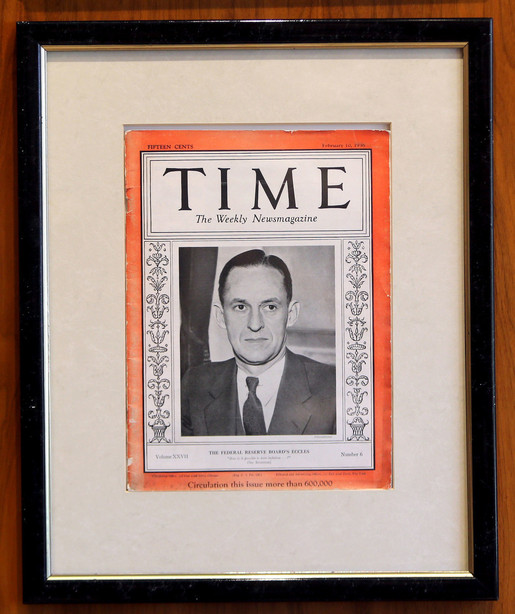 Eccles caught the attention of top American officials when, in 1931, he was able to prevent those banks from failing during a time many other banks did collapse. Two years later, he even presented Congress with his analysis of the Great Depression, where he offered a five-point program to fix the U.S. economy that McAdams said formed the basis of the New Deal.
Then in November 1934, Roosevelt appointed Eccles to the United States' top financial position. His impact was felt almost immediately. The Banking Act of 1935 — passed within the first year of his tenure — gave the Federal Reserve a larger independent power in the U.S. economy and also ensured the Federal Deposit Insurance Corporation (FDIC) would be a permanent fixture in the economy. It also moved the Federal Reserve from the U.S. Treasury Department to a building in the country's capital.
Of course, as the documentary points out, not everybody was happy about it. Carter Glass, a Virginia senator, clashed with Eccles, as he had helped put together the Banking Act of 1913 which created the modern Federal Reserve system. But as the congressional note points out, "Eccles was known as someone who thought deeply about problems and then acted without concern for political consequences."
The film discusses in detail the impact Eccles had in molding the Federal Reserve. He felt that the government should intervene during economic downfalls and stay back during economic success. As one expert in the film states, he used Keynesian economics before legendary economist John Meynard Keynes published his economic theory in 1936. His policies not only included putting Americans back to work on federal projects but also helped to secure home mortgages.
"Eccles taught us that income inequality matters — that if income and wealth inequality becomes too extreme, the entire economy suffers, (and) that a healthy economy has a large and growing middle class capable of buying all the goods and services it is capable of generating," former U.S. Secretary of Labor Robert Reich says in the film. "If you don't have that, if your middle class starts hollowing out, you are in potential trouble."
Once the economy recovered and World War II ended, Eccles transitioned to a different challenge. He helped the country stave off inflation in the years after the war. That was until Eccles was not reappointed to the position amid disagreements with President Harry S. Truman in 1948. He remained on the board and continued to mold economic policy until 1951.
In 1952, Eccles unsuccessfully ran for Senate and put Washington behind him after that.
A toll on family life
While Eccles spent a large deal of time making adjustments to help the American economy, his personal life and family relationships suffered. The documentary doesn't depict Eccles as a terrible husband or father; however, he was described as a "workaholic" whose time in Washington likely led to a divorce from his first wife, May Campbell Young in 1948.
One biographer in the film notes Eccles' own writings acknowledge that he "neglected" his family by focusing so much time with his government position. In 1951, Eccles married Sara Maddie Glassie.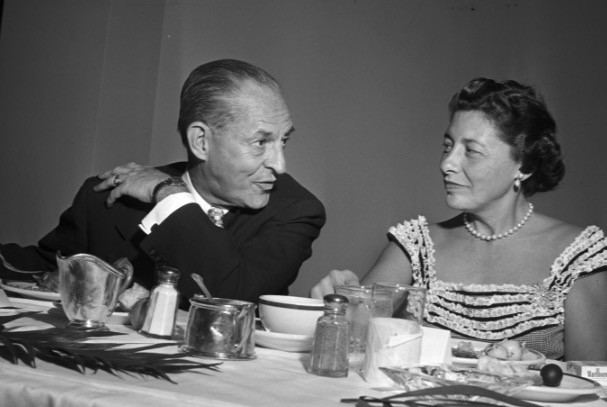 His oldest son, Marriner "Cam" Eccles, died unexpectedly in 1960 at the age of 46, which devastated the elder Eccles. He then essentially served as a father to the grandchildren left behind. The documentary goes into detail about the sweet memories of his grandchildren and other relatives had of him.
Philanthropy and legacy
Eccles spent his remaining years as a businessman living in San Francisco and Utah. By the time of his death in 1977, he had added philanthropy work to his everlasting legacy.
The Deseret News remembered his life as a prominent businessman and financial figure, whose name was revered worldwide. Spencer W. Kimball, who was president of The Church of Jesus Christ of Latter-day Saints at the time, sent a letter to the Eccles family upon learning of Eccles' death, the newspaper reported on Dec. 19, 1977.
In it, he stated Eccles was "a man who has contributed substantially to America's economy and the quality of life."
×
Photos
Related Stories