SALT LAKE CITY — Red, yellow and blue balloons dotted the state Capitol grounds Saturday after about 500 people trekked there from downtown Salt Lake City during a rally against child abuse.
The March to End Child Abuse was led by Sam Young, an excommunicated member of The Church of Jesus Christ of Latter-day Saints who made headlines last year when he launched a hunger strike to protest church policies regarding interviews with children and youth.
Young and other speakers emphasized that Saturday's rally wasn't meant to target the church but to encourage keeping children safe in all circumstances and institutions. The rally was scheduled at the same time the church launched its semiannual world general conference a few blocks away.
"I march today to protect every child in every church in every religion, in every institution that serves our children. And I just want to make sure that is very clear, that there are children being abused around the country, around the world, everywhere. And it's time for that to stop," Young said.
Matthew Sandusky — son of convicted serial child abuser Jerry Sandusky, who was an assistant football coach at Pennsylvania State University — also served as a keynote speaker at the rally.
"The No. 1 rule of any institution that works with children is never, ever, ever is there one-on-one child-adult interactions," Sandusky declared. That statement was met by loud cheers from the crowd.
"And again, that's a very simple concept ... we should all be able to get behind. It protects the institution as much as it protects the child."
He also opened up a bit about his experience facing abuse.
"I always have said from the very beginning, when I came forward with my truth, is that my healing process, what I'm trying to fight for, has to be for something bigger than myself for all the pain that I've been through, for all the agony my family has been through. We have to make that represent something. It has to be for something. And what we've chosen, we've chosen to end this epidemic," Sandusky said.
He told the survivors in the crowd that they're not alone. Though his experience "will forever be a part of me," he said, "it never gets to define who we are, or who we can become."
John Walker, an attendee, said he showed up for the march to say: "Just protect children. Prevent child abuse."
"Because I was abused as a child, and that makes it really important to me," Walker explained.
The abuse he faced created "a long list" of difficulties in his life, he said, including isolation, fear and fear of intimacy. "It just goes on and on. Just a long list of things," Walker said.
Another theme shared at the march was the need for more kindness and positivity in a national culture becoming saturated with negative messages.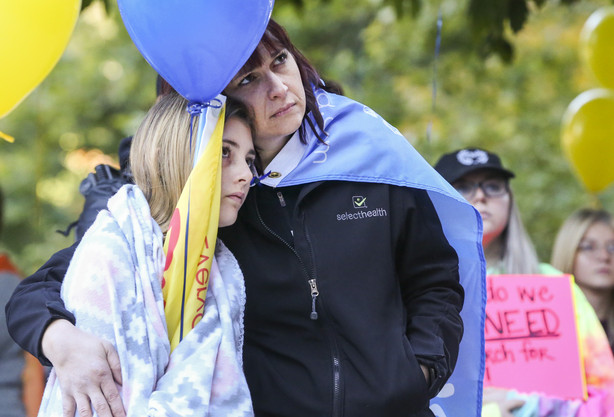 Tanya Brown, sister of Nicole Brown Simpson who was murdered in 1994, emphasized the need for kindness in families, communities and institutions.
"It is time to lift children up. It is time to lift our loved ones up. It is time for us to stop hating people and being mean and ugly," she said.
Brown also said that abuse usually occurs at the hands of those who are unhappy and damaged.
"Hurt people hurt people," she said, encouraging those at the crowd to reach out for help when they're struggling.
Brown also urged people to speak out about sexual and domestic violence.
"I came from such a great family, such a great phenomenal family, so when I hear about stories of abuse, child abuse, sexual assault, domestic violence, everything that I talk about and I share and I advocate for, I never knew any of this even existed before my sister's murder," she explained. "I never knew what abuse was."
"Silence kills," Brown said. "But it is time that we start being bold."
Young's past efforts have focused on encouraging the Church of Jesus Christ to change its policies that allow for youth to attend one-on-one worthiness interviews with bishops.
Last spring, the church announced updates to its guidelines, which directed bishops to share a set list of topics and questions with parents and youth before a youth's first interview so everyone knows what will be covered. Changes also specified that children, youth and women can request another adult be present when they are interviewed.
Additionally, the church provided counsel on how leaders should minister to abuse victims and handle reports.
---
I march today to protect every child in every church in every religion, in every institution that serves our children.
–Sam Young
---
Attendee Courtney Farrell, who attended Saturday's march with her two children, said she marched because she's "trying to protect children from sexually explicit, one-on-one interviews with church leaders" of any faith. "Because I have children, I see now that I don't want my children put in that situation."
Alana Bills, of Idaho, said messages about protecting children have resonated with her, as she was also abused as a child. She attended the rally with her youngest daughter.
When she was a child growing up, she said her parents invited immigrant families, foster children and other people to stay in their home.
"So some abuse occurred from these people that they never thought would happen, because they were doing something good. Because they were doing what they were told, basically, in the church and they felt like it was a good idea to help all these people. But there were no safeguards in place," Bills said.
She said no one in her household questioned the safety of housing strangers with children. She would hear stories about the visitors escaping their countries, and was afraid if she reported them, they would be sent back to those "horrible places."
Now Bills is earning her masters degree in social work with plans to help other people who have shared similar experiences.
×
Photos
Related Stories