Estimated read time: 4-5 minutes
This archived news story is available only for your personal, non-commercial use. Information in the story may be outdated or superseded by additional information. Reading or replaying the story in its archived form does not constitute a republication of the story.
SALT LAKE CITY — The Utah Jazz introduced their new roster at media day Monday, debuting free agent additions all together for the first time in the state.
Notably absent was Derrick Favors, who was the longest-tenured player on the Jazz roster last season. Instead, Favors was introduced to New Orleans media Monday morning after being traded away from the Jazz in July.
Favors, always soft spoken, was never an intimidator in the locker room but was paired alongside Rudy Gobert, who was one of the most intimidating defensive players in the league. The pair gave the Jazz a truly unique look in the NBA with two true rim protectors in the starting lineup.
The Jazz will now roll out a roster in the preseason with just one shot blocker on the team (the Jazz also lost defensively specialist Ekpe Udoh this summer) and will substitute that defensive identity down low for a more versatile skill set.
While Mike Conley and Ed Davis are likely to find most of their respective minutes at point guard and center, Bojan Bogdanovic, Jeff Green, and Emmanuel Mudiay are players that should bring versatility to the roster.
After star Indiana guard Victor Oladipo went down with a knee injury in January, Bogdanovic stepped in not only as a scorer but as a creator for the offense. Having completed more than 40% of his 3-point shots over the past two seasons, Bogdanovic was largely known as a shooter. But in Oladipo's absence, he became a primary ball-handler.
On Monday, Bogdanovic cited his ability to initiate the pick-and-roll as an example of his versatility that he hasn't previously shown. It's a skill he looks forward to being able to show in Utah.
Dennis Lindsey, Jazz executive vice president of basketball operations, echoed the versatility theme among the new-look roster, as well as the potential for adding skills the Jazz may not yet be familiar with. Lindsey said Jazz head coach Quin Snyder may have seen offensive actions going back to Bogdanovic's time with the Croatian national team that could be used by Snyder to further diversify the offense.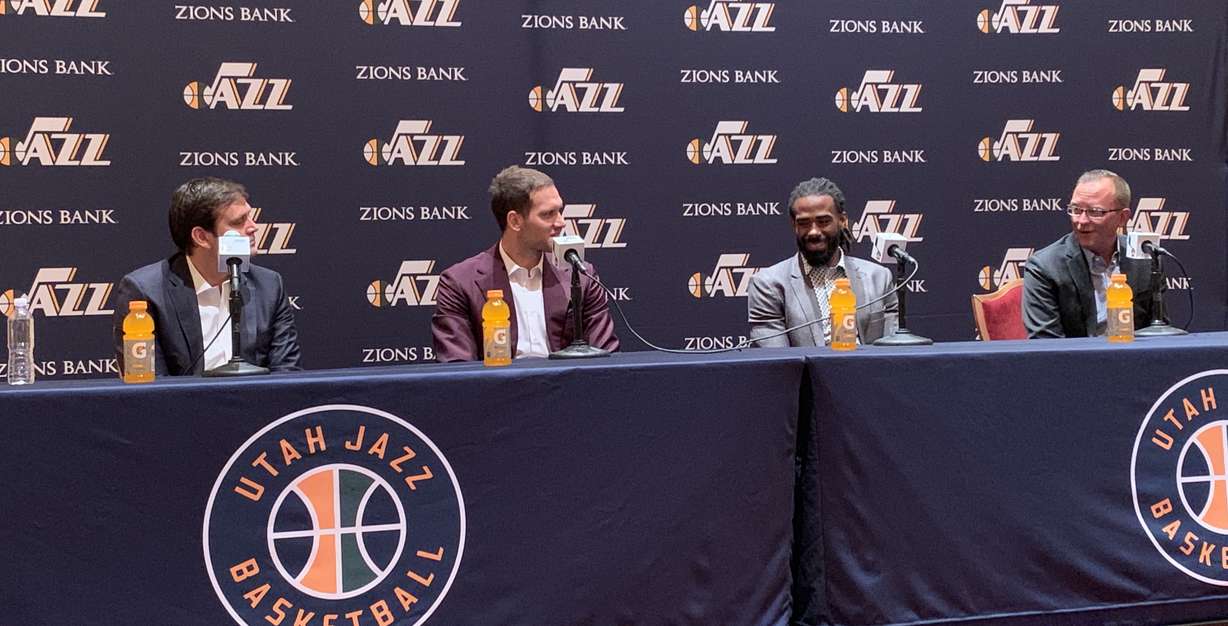 Green is also a veteran that is used as a multi-tool athlete, rather than a specialist. He said he's "played damn near every position" in his 11-year career, though he added that he hadn't specifically talked to the Jazz about playing minutes at the center spot.
The versatility will give the Jazz more options with its roster, which Lindsey referred to as more "customizable" for Snyder. Whether or not that means fans should expect to see a drastically different offensive approach remains to be seen.
Gobert was one of the NBA's most efficient offensive players last year, leading the league in field goal percentage and setting a league record for dunks made in a season. There will be no rush for the Jazz to abandon their ultra-efficient offensive sets that have worked so well for Gobert; though the new versatility and shooting around him make it easier.
When asked about the team's new offseason additions, Donovan Mitchell said: "It's no secret we run pick-and-roll a lot. It makes my life easier when you have probably the most dynamic roller in the NBA, and then you've got Bojan in one corner, you have Mike, you've got Joe (Ingles), you've got Royce (O'Neale)."
Gobert also hinted at the idea the team's offense may be more about improving an existing model rather than reimagining the structure.
"They built a team around us, around our abilities to put a lot of pressure on the rim, and it's on me, defensively, to be the guy that I've been defensively and even better, and offensively be the guy that I've been."
×
Most recent Utah Jazz stories