SALT LAKE CITY — Dennis Lindsey has seen it work. The ball swinging side-to-side; the league's top defenses scrambling; players hitting the open shots.
"When we made (open shots) we beat the best teams in the league," Lindsey said. "We can recall those games over the last four or five years."
But the Jazz's executive vice president of basketball operations can recall other games, too. Ones when the Jazz offense generated the same type of open looks, but the shots didn't fall. It was those type of games that proved to be the Jazz's downfall last year in the first round against the Houston Rockets. Yes, James Harden was good and Eric Gordon stymied Donovan Mitchell, but the Jazz struggled to make open shots.
"I think three years in a row facing Golden State, Houston (in the playoffs) told us the truth that we just, for whatever reason, couldn't keep up with their skill level," Lindsey said.
So the Jazz revamped their roster. They traded for Mike Conley and signed Bojan Bogdanovic, giving Jazz coach Quin Snyder his best assembly of offensive talent he's had.
So will the Jazz look different this season than in the past? That remains to be seen, but Snyder knows one thing: The identity Utah has developed over the past few seasons isn't going to change.
'We still are a team that baseline wants to be an elite defensive team, and that that's what we want to work towards," Snyder said.
An elite defensive unit with a selfless offense — that's what the Jazz have been and that's what the Jazz want to continue to be. But that doesn't mean there won't be tweaks.
Gobert is a defense unto himself. As long as the defense is built around the French center, the Jazz will be a threat to be a top defensive team. But with the new offensive additions, it could open up some options for Snyder to explore.
In the early years under Snyder, the Jazz were regularly near the bottom of the league in pace of play. Last season, the Jazz jumped to No. 13. Ricky Rubio and Donovan Mitchell were confident and controlled in transition, so the Jazz pushed the ball whenever they could. Snyder coaches to his personnel — he's adaptable.
The next three weeks and beyond will be used to discover where the Jazz are at their best.
Snyder and the Jazz brass have watched hours and hours of film studying Conley, Bogdanovic and the rest of the new Jazzmen to learn more about their games, but that doesn't mean they know everything.
"I think you have to be careful not to make assumptions,' Snyder said. "I think players, just like all of us as people, you know, I'm a different coach today than I was two or three years ago, I happen to be in the same place, but I think players change and mature over time."
Look no further than the Jazz's own Bogdanovic, Joe Ingles and Rudy Gobert.
Before last season, Bogdanovic was a well-known sharpshooter, but his reputation grew following a role change. After Victor Oladipo went down with an injury, Bogdanovic became Indiana's No. 1 scoring option. He shined in the role, showing more of an all-around skill set while scoring 19.4 points per game as the team's go-to scorer.
"I started playing a little bit more pick and roll," Bogdanovic said. "So I showed people that I can put a ball on on the floor as well."
Ingles was a journeyman who bounced around Europe and had a few chances in the NBA before landing in Utah. Snyder put the ball in his hand, unlocked his pick-and-roll potential and now he's considered a top 10 small forward in the league.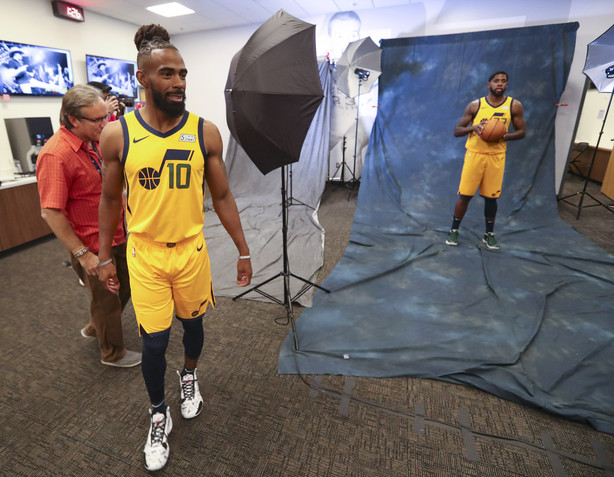 "Now, I'm a 6-9 backup point guard," Ingles quipped.
Gobert set the NBA record in dunks last year after the Jazz utilized a high pass to the big man after he proved he could catch everything up top.
So Snyder doesn't yet know for sure how he'll use all of the new pieces because he doesn't want to just assume he knows how to best utilize their skill sets. But he's excited to find out.
Utah's offense will still be built around heavy doses of cuts, handoffs and screens — it just won't be exactly the same, either.
"We're a team that's been unselfish," Snyder said. "And I think that can apply to a lot of different things conceptually on offense. Whether it's somebody taking a good shot, somebody getting an offensive rebound and kicking it out, high pass to the rim — all those things manifest themselves, but they may look a little differently with different personnel. But I think from an identity standpoint, we like who we are."
And they believe the new guys will like it too.
"Just from the way they played in other places and contact as we're getting to know them, that's something that they will embrace, I'm confident in that," Snyder said.
Now, they're just hoping a few more of those shots go down.
×