SALT LAKE CITY — Salt Lake County Mayor Wilson's eyes welled up and her voice cracked as she recalled a young Latino boy — she guessed he was maybe 13 or 14 years old, the same age as her son — who approached her alone while she toured customs and border facilities in El Paso County, Texas, on Tuesday.
She fell silent, fighting back tears during a news conference on Thursday to recount her visit, before continuing.
"He was scared. I don't know his story. I never will," she said, telling of how he had a birth certificate from Colorado but no passport. "Was that a doctored birth certificate? Was he returning to a family? ... I don't know if that little boy right now has been moved to the children only center ... I have no idea what happened to that little boy."
The boy was just one of "hundreds of individual cases" Wilson said she witnessed over the course of her 24-hour visit to the Paso Del Norte Port of Entry and Border Patrol Satellite Processing Center, a tour she took without staff along with 16 other county officials with the National Association of Counties on Tuesday.
Wilson described to reporters her tour during Thursday's news conference, at times becoming emotional when discussing the border and customs facilities. While she did not say she personally witnessed any jarring conditions — crediting border officials with being friendly, professional and organized — she did describe the tour as "informative, heartbreaking and enlightening."
"I'll tell you, I fought back tears just now," Wilson said. "They were flowing yesterday. More than once."
Showing a picture she took of some shoes she saw laying in the sand, Wilson said, "It just makes you wonder."
---
That's the best 1,000 bucks the county has ever spent.
–Salt Lake County Mayor Jenny Wilson
---
Wilson, who was elected Salt Lake County mayor earlier this year after she lost her congressional bid against now Sen. Mitt Romney, said she took the trip to the border — which cost the county $1,071, according to her office staff — to see what she, as a local official, could learn to help advocate for solutions at both the local and federal levels.
"When the federal government will not solve the problem, it's up to mayors, county electeds, commissioners, governors — we're picking up the pieces," Wilson said.
The tour will "better prepare me as a mayor," Wilson said, in her goal to find solutions, while also continuing to foster a welcoming environment for refugees in Salt Lake County with a growing population of Latino constituents.
"That's the best 1,000 bucks the county has ever spent," she said.
Wilson said her group witnessed behind-the-scenes processing of immigrants seeking asylum or those apprehended at the port of entry, as well as a "makeshift day care center" that held families prior to processing.
The mayor said she also witnessed border patrol agents apprehend a family attempting to cross from Ciudad Juaraz, Mexico, into El Paso — which was "the last thing" Wilson said she expected to witnesses during the tour.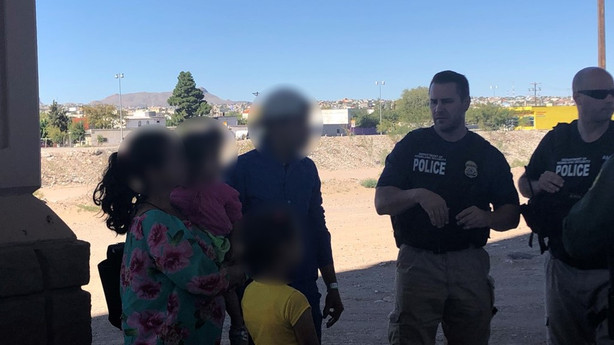 Showing a picture she took of the family with their faces blurred out, Wilson said she decided to alter the photo to protect their identity. She described the mother as perhaps 30 years old, with three other children. The mayor said the mother, speaking in Spanish, told officers she was attempting to cross the border to flee poverty and "very rough conditions and trying to seek a better life for her family."
Wilson said it wasn't clear why the mother didn't stand in line with other asylum seekers; border patrol agents told her the mother could have been carrying drugs or she could have simply not known she was supposed to wait in line.
While Wilson said she did not witness any strained facilities, she said border and customs officials "admitted" the system was "incredibly stressed" last spring when there were larger volumes of refugees seeking asylum.
"They admit there were failures within the system," Wilson said. "They observed situations that created violence ... that were inhumane, a breakdown of the system."
---
We all know the immigration system is broken. I saw it with my own eyes.
–Salt Lake County Mayor Jenny Wilson
---
In a document listing the mayor's "key takeaways" of the trip, Wilson reported border officials were "relieved that the volume of crossings has settled and is now relatively manageable, but are asking for more resources for all immigration-based systems."
"We all know the immigration system is broken," Wilson said. "I saw it with my own eyes."
Though she did not specifically discuss President Donald Trump's wall during Thursday's news conference, the document listing her key takeaways states "Trump's definition of a 'wall' is an insult to all working to address the immigration challenge."
"His political rhetoric and unwillingness to back off the use of the word 'wall' is sophomoric, and politically driven yet also destructive," the document states.
Wilson said the U.S. is "basically passing the buck" by sending refugees to a refugee center on the other side of the border in Mexico to await their court dates as asylum seekers. While she said the refugee center operated by the Mexican government and a nonprofit is "clean" and well-run, she said it's not fair for a nation like the U.S. to ask "one of the poorest countries in the nation to not only take care of their own people, but to take care of other refugees" from other countries.
Wilson noted immigrants attempting to cross into the U.S. aren't just from Mexico, they also come from other countries including Brazil, Cuba, El Salvador, and other countries with violent conditions and poverty.
But in order to come up with solutions, Wilson said, "We need to stop the finger-pointing and partisanship and come up with cooperative solutions."
"Even the most hardened conservative among us ... even he recognized and expressed recognition that his impressions were wrong," Wilson said.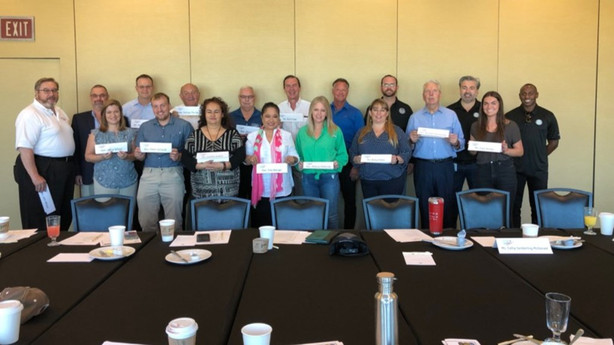 County officials from Arizona, California, Florida, Indiana, Texas, Washington and Wisconsin joined Wilson on the National Association of Counties tour.
The mayor said she aims to advocate to speed up the court system for asylum seekers, which is now a roughly eight month wait. She also said local officials should ask Congress to create a special federal envoy to work on immigration reform.
"I think advocacy is really key, and I do think we're living solutions every day," Wilson said.
Salt Lake County is a member of the National Association of Counties Immigration Reform Task Force, which provides a forum for county officials from across the nation to discuss the impact of federal immigration policy on local governments.
Earlier this year, the Salt Lake County Council called for immigration reform, despite debate among Republicans and Democrats, calling for "immediate" federal action to prevent "the unnecessary separation of families."
Salt Lake County also became the first county in the nation to achieve the status of "Certified Welcoming" by Welcoming America, a national organization that supports refugees.
"We have an ethic in this community: love thy neighbor," Wilson said. "And I think that is a shared value and ethic for all Utah citizens and residents. You know, we have our political differences, but I do believe we care for each other. So as a welcoming community, I think it's incumbent on me to back that up with attention and resources."
×
Photos