Estimated read time: 3-4 minutes
This archived news story is available only for your personal, non-commercial use. Information in the story may be outdated or superseded by additional information. Reading or replaying the story in its archived form does not constitute a republication of the story.
SALT LAKE CITY — A Provo woman who takes CBD oil for chronic pain says she lives in constant fear of losing custody of her children because a Utah judge doesn't understand the state's new medical marijuana law.
"I'm being forced to choose between my pain and my kids. This isn't justice. It's cruel," said Emily Roberts, a married mother of daughters Hannah, 4, and Geneva, 2.
The Utah Division of Child and Family Services became involved with Emily and Doug Roberts while they were temporarily homeless and had argued with each other, she said. The state took their daughters for a week and asked a judge to order Emily Roberts to undergo random drug testing.
Roberts tested positive for THC after taking Endo-C, an experimental cannabidiol gel capsule made by Springville company founded by former U.S. Congressman Chris Cannon. Utah lawmakers a passed a bill in 2017 allowing companies such as Endo-C to conduct cannabis research under the supervision of a doctor and an institutional review board.
"Pain takes me away from my kids. CBD brought me back to them," said Roberts, who suffered nerve damage from a car accident nearly 20 years ago.
The Libertas Institute and the Utah Patients Coalition brought the Roberts family to a news conference Tuesday to highlight what they say is lack of understanding among judges, prosecutors and state attorneys of the medical cannabis law.
In Roberts' ongoing case, 4th District Judge Brent Bartholomew is "completely ignorant" of the law, said Connor Boyack, Libertas Institute president. The judge, he said, has the "audacity" to say that he follows the law in his courtroom when in fact he does not when it comes to medical marijuana.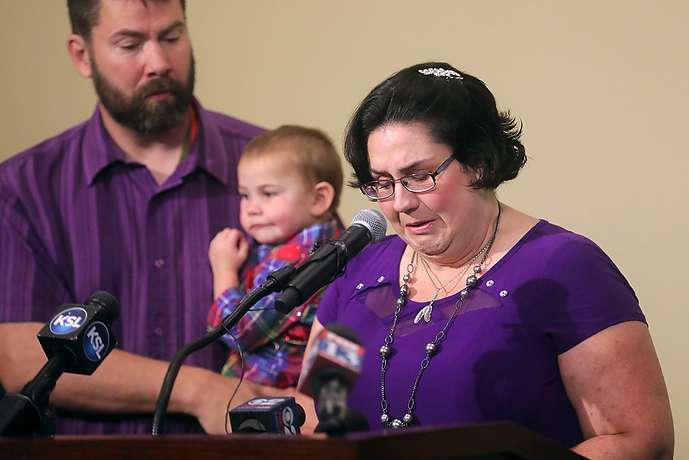 "This case represents a total breakdown of the justice system in Utah," Boyack said.
Roberts' situation, he said, isn't an isolated one and could easily happen to others.
Rep. Christine Watkins, R-Price, said it's clear that people in the state have not let go of their own biases and educated themselves on the law.
Utah courts spokesman Geoff Fattah said judges are doing the best they can under the current law.
"The Legislature, much like the courts, has discovered a number of unanswered questions regarding this law. We will be working with the Legislature during Monday's special session to address these questions and hopefully provide guidance to our judges," he said.
State lawmakers are scheduled to consider changes to the medical marijuana law when they convene Monday in special session, including more protections for patients. One of them would preclude judges from considering that it's not in the best interest of a child to have a parent legally use cannabis.
Related:
Boyack said voters did not approve Proposition 2 — which led to the medical marijuana law — only for childless adults. Proponents knew that parents would be using it in the home, he said.
Roberts said she suffered radiating back and leg pain, vertigo and migraines since she was in a car accident in 2000. No pain medication provided relief until a friend suggested she try medical cannabis while on a trip to Colorado. Roberts said the pain quickly subsided.
A doctor in Utah wrote Roberts a recommendation for CBD and she enrolled in the state-supported Endo-C study. She said the judge won't accept the doctor's recommendation and has insisted on a prescription, though prescriptions aren't currently allowed under the law.
"Emily is experiencing court-ordered pain right now," Boyack said.
Roberts said she is subject to random drug tests once or twice a week. She said she is humiliated when she has to strip naked and urinate in front of someone. Roberts said she stopped using CBD in July so her tests come back clean. She said she's terrified every time she goes to court because of the threat of losing her daughters.
"I know that I'm a better parent when I'm in less pain," Robert said.
Her next court hearing is Sept. 27.
×
Photos
Related stories
Most recent Utah stories