AROUND THE SHIELD — When Taysom Hill is introduced in pretaped media segments ahead of any NFL game where it might be applicable for the New Orleans Saints, he often lists his position as "football."
As in, he's not just a quarterback, nor a tight end, nor a kick returner or special-teams gunner (all of which he's played in his two years with the Saints). He is, quite simply, a football player.
The Saints have a unique weapon in the NFL — a third-string backup quarterback who can do a little bit of everything. And they are better for it.
At least, they are 1-0 for it.
The former BYU quarterback ran for 8 yards on a pair of carries, and caught a 9-yard touchdown pass during a pivotal stretch in the second half as New Orleans turned a 21-10 deficit into a 30-28 victory over the Houston Texans on ESPN's first Monday Night Football of the 2019 regular season.
Hill also played tight end and fullback for the Saints, but that's nothing new.
"He's a stud," said New Orleans quarterback Drew Brees, who threw for 370 yards, two touchdowns and an interception. "That one run he made when we got backed up after the holding call was pretty impressive, in the fourth quarter. He made some great plays all game long, both in the run game and the passing game.
"Having a guy like him is good for me."
Hill was targetted twice by Brees as a receiver, but made the most of his lone reception as the Texans' defense stressed to lock down Saints wideout Michael Thomas.
"I saw Mike Thomas get a ton of attention, and they just let Taysom run free," Brees said of the receiver who finished with 123 yards on 10 catches. "I felt like did a good job all game long with the stuff that they were doing, and yet there were times they gave attention to Mike, and that would open up plays elsewhere. On that play, it just happened to be Taysom."
On the defensive side, the Saints were led by another former local college standout. Former Utah safety Marcus Williams had two tackles, two forced fumbles and an interception for the Saints' secondary, which held prolific passer DeShaun Watson to 268 yards and three scores with a pick.
Williams then got suplexed immediately following his interception late in the third quarter.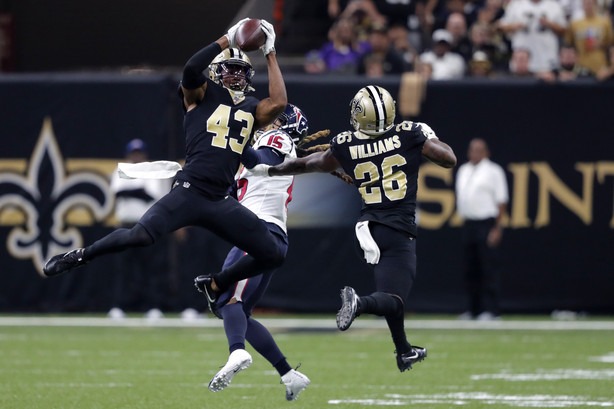 Watson nearly led the Texans (0-1) to a comeback win, hitting Kenny Stills with a 31-yard touchdown strike with 37 seconds left. But New Orleans' Brees led a masterful drive in the final minute, capped by Wil Lutz's 58-yard field goal as time expired to help the Saints open the season at 1-0.
Former Judge Memorial quarterback Kaden Elliss, who played linebacker at Idaho and is the son of ex-Utah star Luther Elliss, took reps on special teams for New Orleans.
Oakland 24, Denver 16
In the nightcap, Josh Jacobs became the first NFL player with more than 100 yards from scrimmage and two touchdowns in his NFL debut since LaDainian Tomlinson did it in 2001. Jacobs rushed for 85 yards and added one catch for 28 yards to help the Raiders run past the Broncos.
Former Utah receiver Tim Patrick, who left the game early with a hand injury, had a special-teams tackle for the Broncos. Former Westlake High, Snow College and Utah offensive lineman Garrett Bolles played left tackle for the Broncos.
Former Utah standout Devontae Booker saw time at kick returner for Denver, which surrendered four touchbacks.
Former Snow College lineman Jordan Devey, an American Fork native, started at left guard for the Raiders. Raiders teammate Andre James, a Herriman High grad who played right tackle at UCLA, made the active roster as Oakland's backup center.
Former BYU and Utah State safety Dallin Leavitt was on Oakland's inactive roster.
Locals in the NFL
×
Related Stories