Estimated read time: 6-7 minutes
This archived news story is available only for your personal, non-commercial use. Information in the story may be outdated or superseded by additional information. Reading or replaying the story in its archived form does not constitute a republication of the story.
PROVO — Few people on BYU's roster know Tennessee like Joe Critchlow.
OK, so maybe the Franklin, Tennessee, native was more of a Vandy guy than a Vols fan growing up — even eschewing Knoxville for the Nashville end of the Volunteer State during his recruiting phase before ultimately signing with Southern Utah out of high school.
Maybe he grew up a BYU fan, with a father from Utah and a family passionate in their support of BYU athletics as members of The Church of Jesus Christ of Latter-day Saints living in the South.
But every year, he'd find himself somewhere inside Neyland Stadium, at some point, taking in a game with friends and family, and he'd notice something he would only see there. He'd see something that can only be described as "the SEC football experience" — whether on the field or off the field.
The biggest comparison he could draw to the revelry that is football in the South, in fact, happens every Sunday at his local ward meetinghouse.
"If you could combine church and a football game at BYU, that's how I would compare the University of Tennessee football atmosphere," Critchlow said. "The people worship the sport; it means everything to them.
"I've seen grown men cry, like when Tennessee threw a Hail Mary to beat Georgia a few years ago. I watched some of my friends' dads burst into tears with how happy they were. It's a different environment, football in the South, and I'm excited for our team, and hopefully to do really well."
The Cougars (0-1) will travel to Knoxville for their 2019 road opener against Tennessee (0-1), a reeling Vols squad still hurting from a stunning 38-30 loss to Georgia State. There won't be a reason for Tennessee to hold back.
But there won't be a reason for BYU to hold back, either, after a 30-12 defeat to rival Utah — their ninth straight loss in the flagship rivalry that, according to some, predates statehood.
No disrespect to that rivalry — which ranks among the best in the nation in passion, hatred and fan-driven fun — but playing in front of 102,000 people at General Neyland Stadium is something extra.
"It's a great atmosphere, a great environment. I'm excited to go (back) there," Critchlow said.
"I remember a time in high school when there was a coaching change and a lot of excitement around the program. There were 100,000 people who showed up for the spring game. That's absurd. … I know Tennessee has had some tough years, but the fan base is just as loyal. They are just as frustrated as all of the coaches and players, and I know that they want to succeed just as much as BYU fans want us to succeed."
Maybe some steam has been taken off the matchup, with two teams that lost their opener playing on a Saturday evening in Knoxville. But it's still the first-ever game between the two teams and one that won't be returned to Provo until the opening game of 2023.
"They could come in with whatever record. I just want to beat them," BYU defensive end Trajan Pili said. "That's my mentality towards it. The more consistent we have with mentality, the better we are. We have the players. The more we have the right mentality, then I think we'll be just fine."
One thing that remains constant across the Southeastern Conference — where, you know, it "just means more" — is the noise.
Whether 6-0 or 0-6, the noise meter is amped up every game.
"The first thing they point out is how loud it gets," BYU receiver Dax Milne remembers Critchlow and other teammates from the South telling him. "In the SEC, they're loud there. That's usually first."
Back to Critchlow.
The 6-foot-4, 220-pound sophomore has seen his career play out in reverse, Benjamin Button-style, in many ways. He came into a BYU team two years ago, fresh off a two-year church mission to Montreal, Canada, and was eventually thrust into the starting quarterback job during a difficult 4-9 season.
Since then, Critchlow hasn't ascended to the QB1 slot, though he maintains a constant place on the depth chart. He's content to do whatever is needed to help the team win, he says, even if that meant taking a redshirt year last year.
BYU is in Critchlow's blood (and marriage), anyway. A finance major who is close to graduating, Critchlow met his wife, the former Allie Romney — granddaughter of Senator Mitt Romney — on campus. So following former Southern Utah coach Ed Lamb to Provo was the best thing he could've done in life, he'll tell you after the last nine months of bliss.
Does he harbor thoughts and intentions of wanting to be a Division I starting quarterback? Sure he does; who wouldn't?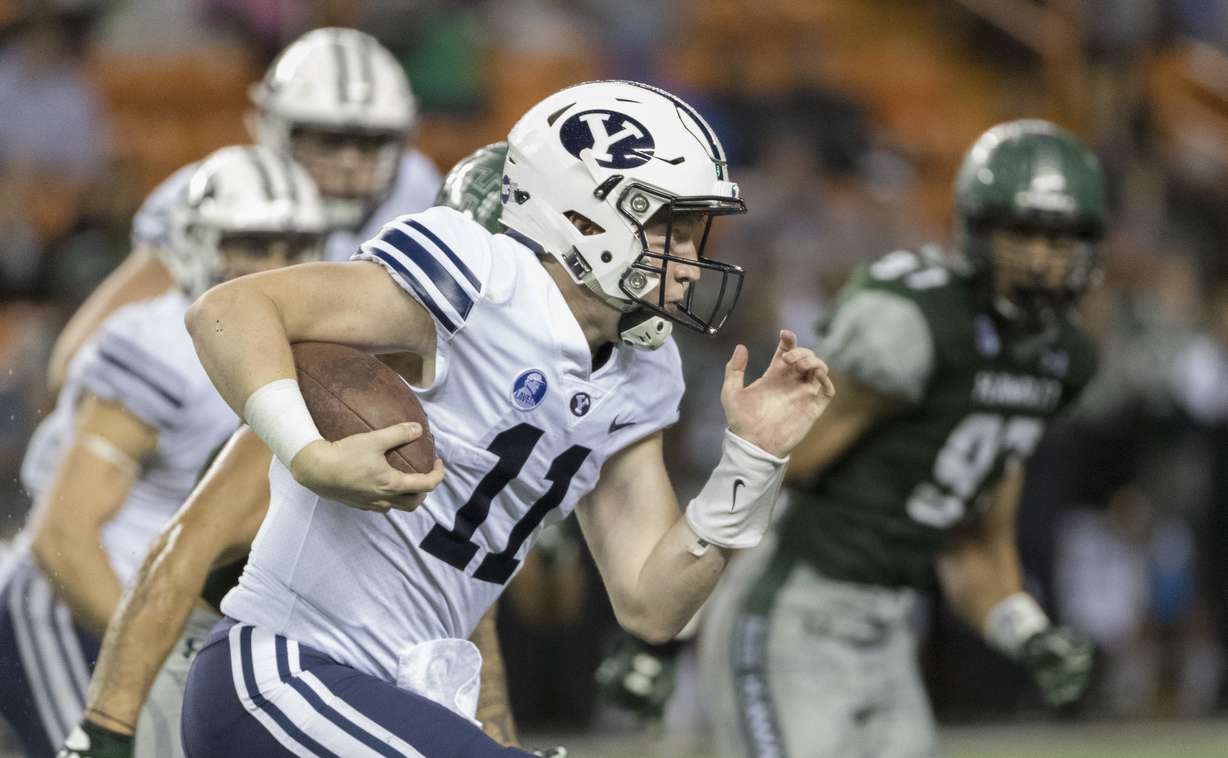 But Critchlow also understands football. He knows that no matter where he sits on the depth chart, every team needs just that — depth. It's why he started as a true freshman returned missionary, and it's why he sticks around even when younger quarterbacks like Zach Wilson and Jaren Hall have passed him on the depth chart.
"I think that any competitive athlete has thoughts of doing the best for them, and they just want to succeed. But I haven't found a different place for me to go yet," Critchlow said, before adding, "I love BYU. I met my wife here. I'm close to graduating. It's a great experience."
On the trip to Tennessee, Critchlow's experience will be vital. Not just the on-field playing experience. Critchlow knows Neyland. He knows the passion for college football in the South.
Of course, he's not alone in that regard.
Running back Ty'Son Williams transferred to BYU for his senior season after a career at South Carolina. He played against Tennessee twice, even ran for 47 yards in Neyland Stadium in 2017. And the experience of running out in the checkerboard end zone in front of 100,000-plus fans is unique amongst college football.
"I remember pulling up to the stadium and thinking how nice it is. You're going into a hostile environment, and you've got to be ready," said Williams, who ran for 45 yards and a touchdown against Utah. "The first time you go to a stadium, you do that kind of stuff. I probably didn't take a selfie, but you have to look around a bit — and then get to business.
"Now that this is my second time riding the roller coaster, I guess I've lost the feeling. Just get to the front of the line, do it, and get to work."
×
Related stories
Most recent BYU Cougars stories