SALT LAKE CITY — Music is rooted in baseball's legacy. Jack Norworth penned "Take Me Out to the Ballgame" in 1908 and that song has been intertwined into the game's seventh-inning stretch for decades. Belting "Sweet Caroline" during the eighth inning at Fenway Park can be described as an ethereal experience.
At Smith's Ballpark, a new tradition formed as the long season played out. It delighted fans and players alike, bringing smiles to both dugouts and even the umpires. When the Salt Lake Bees take to the plate in the bottom of the first, DJ Kass's "Scooby Doo Pa Pa" blasts overhead. That's accompanied by Salt Lake Bees defense/third base coach Ray Olmedo dancing along the third baseline. He usually caps it with a flip of his helmet and a bow to the applauding crowd.
On the final day of the season Monday; the final dance of the year, the song was infectious enough that some of the opposing Reno Aces players hummed the tune as they ran off the field during the end of the opening inning.
It's hard to determine when this exact tradition began. It's something ingrained into Olmedo's personality. He's also the coach who seems to have different secret handshakes with every player — which can be hard given there were dozens of different guys in uniform throughout the season. On occasion, he'll toss a handful of dugout bubblegum to a little leaguer before a game like someone throwing candy during a parade. And when given the chance, he'll dance like nobody's watching.
"I always try to be excited, happy … something really positive for every person around," Olmedo said. "I just try to make everyone relax."
In a mostly frustrating season for both the Bees — which finished the season Monday with a 60-79 record — and the team's parent organization, the Los Angeles Angels, it's always helpful to have someone around like Olmedo, and to have a lighthearted tradition like the first-inning dance.
"He brings energy," said Bees manager Lou Marson, who wrapped up his first season as the team's manager. "He's always laughing. He's always communicating with the players and he works really hard."
It's nearly impossible to sum up the Salt Lake Bees' 2019 season in one word. The Bees shattered their franchise record for home runs in a season. Slugger Jared Walsh tied the team's individual record with 36 homers. Infielder Jose Rojas added 31 more and finished the year just one extra-base hit shy of the club record of 78 set in 1996. He also became the first Bees player to drive in more than 100 RBIs since 2011.
But with it were some difficult lows along the way. The sudden death of Angels pitcher Tyler Skaggs rattled many of the players more than the game ever could. Within the game, there were 342 transactions, meaning many players were consistently traveling between teams on top of daunting team travel. There were also many players just learning how to play in Triple-A for the first time, and some trying to get their groove back and return to Los Angeles.
In a way, Olmedo was sort of an unsung hero throughout it all by keeping players loose and smiling. Whether it's dancing or sharing jokes with players, he said his goal is to help players not overthink on the field. That's because as a former major league ballplayer himself, he knows very well how hard it is to reach the major leagues and how easy it is to lose that job.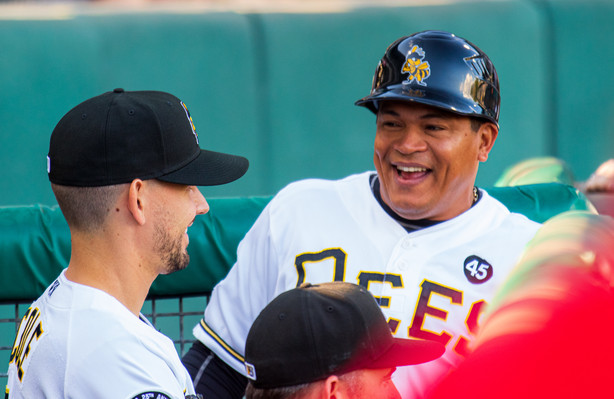 "This is a mentality game," Olmedo said. "I tell them 'you are the only one who can finish your career. Not somebody else.'"
Marson said having a coach on his staff with that type of personality was an asset. He also credited Olmedo with helping current Los Angeles Angel Matt Thaiss learn to transition to third base and Salt Lake Bee outfielder Jarrett Parker learn to play first base.
"I can see (Olmedo) being a great big league coach one day," Marson said.
As for recapping his first season as the Bees' skipper, Marson didn't look at the Bees' final record as the official barometer for success. Instead, he looks at the players' skill set as a final judgment of the season, and since many ended the minor league season in Los Angeles or helped the Angels during the year, 2019 was a success.
"I know wins and losses, we didn't do as well as we wanted to," he said, "but it's for sure about player development and a lot of our players have gone up to the big leagues and have helped up there."
×
Photos