PROVO — Utah's debut of new offensive coordinator Andy Ludwig produced similar results. The Utes had just 125 yards of offense — 68 of them through Doak Walker Award candidate Zack Moss — at halftime, and clung to a 9-6 lead at the break.
But the best offense is a good defense.
Somewhere, head coach Kyle Whittingham is smiling.
Francis Bernard and Julian Blackmon each returned an interception for a touchdown, and Utah pulled away for its ninth-straight win over rival BYU 30-12 in front of an announced crowd of 61,626 fans Thursday night at LaVell Edwards Stadium.
"Our offense really exerted their will on the defense in the second half, especially in the third quarter," Whittingham said. "I thought Tyler Huntley did a great job of taking care of the football, running the offense and making good decisions."
Moss led all rushers with 181 yards and a touchdown on 29 carries for the 14th-ranked Utes (1-0), who have not lost to their in-state rivals since 2009.
BYU running back Ty'Son Williams ran for 45 yards, including a 10-yard touchdown in the fourth quarter, to lead the Cougars (0-1). But after Williams scored BYU's first touchdown of the game in the fourth quarter, rain deluged the near-sellout crowd in Provo and forced an hour-long delay that brought the game's conclusion well past midnight.
"Utah's a really good team," said BYU coach Kalani Sitake, a former 10-year Ute assistant coach. "They've been given a lot of predictions and accolades and rankings, and they deserve it. I thought we were competitive early, but way too many mistakes.
"At the end, we were just surviving."
BYU quarterback Zach Wilson completed 21-of-33 passes for 208 yards and two interceptions, while Utah counterpart Huntley was 13-of-16 for 106 yards in the win.
Tyler Huntley on BYU: "They so poo-poo ... you can tweet that." pic.twitter.com/nM941tE1zm

— Chris Kamrani (@chriskamrani) August 30, 2019
"We ain't never gonna lose to them," Huntley said after completing his unbeaten run against the Cougars. "They poo poo; you all can tweet that."
Wilson started the game strong. But after failing to complete on several promising drives in the first quarter, Bernard's pick six was a morally deflating moment. Ditto when Blackmon, a second cousin of the Wilson family, returned his own interception for a score.
"He's a really smart kid, and he knows his stuff on the football field," BYU tight end Matt Bushman said of Wilson, who was not available after the game. "But when you're trying to play catch up, everyone is trying to do extra. Everyone wants to be the hero. I think a lot of us tried to do more than we needed to."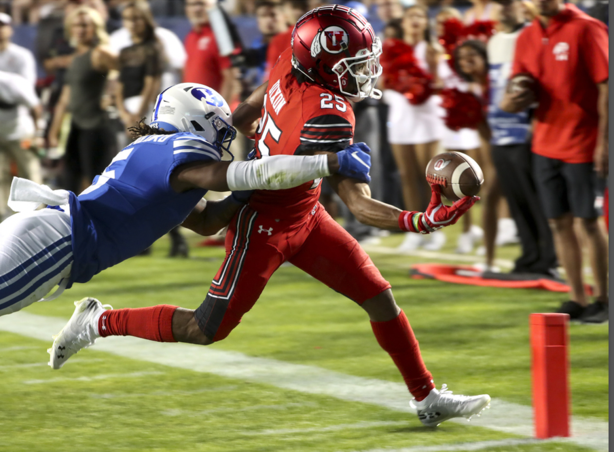 Bernard, the former BYU linebacker who transferred to the U. a year ago, gave the Utes a 9-3 lead midway through the second quarter with a 58-yard pick six. Jake Oldroyd nailed two field goals in his first half since returning from a two-year church mission — from 32 and 37 yards, respectively — but the Cougars trailed 9-6 at halftime.
Wilson's pick was the first of three turnovers that changed the momentum of the game, including a fumble recovery on the 22-yard line by Miki Tafua to set up Moss 4-yard touchdown dive amid a 21-0 run in the second half.
Utah's Jaylen Dixon also capped an 11-play, 75-yard drive with a 2-yard touchdown dive with 9:47 left in the third quarter, giving the Utes a 16-6 advantage as Moss topped the century mark.
Blackmon added a pick six of his own in the fourth quarter. The Layton High product and former basketball standout pulled down a defensive rebound and raced 35 yards into the end zone to put the Utes up 30-6 with 12:25 left.
"This was a competitive game, for the most part. We had a bad string of luck and issues in the third quarter," Sitake said. "But you have to give credit to Utah. Their defense was sound. They gave us a lot of good looks. Kyle said this is one of the best defenses they've had, and I believe it."
×
Related Links
Related Stories