PROVO — Perhaps in another life, Zayne Anderson could've been entering his senior season with the University of Utah.
The veteran BYU linebacker admitted this week that he grew up a Ute fan, along with a host of others at his alma mater Stansbury High and the Tooele Valley.
But in this life, he merely laughed at the now long-ago sentiment.
"I don't know what was going through my mind back then," he said. "Maybe it was family or what. But as time went on, and recruiting came in, I realized this was the place for me. I'm happy with my decision."
The 6-foot-2, 220-pound flash linebacker will suit up in his final rivalry game Thursday night (8:15 p.m. MDT, ESPN), hoping to put an end to eight straight close-but-ultimately-futile attempts to take a win in the series that goes back 94 meetings (or 100, if you are a Utah fan).
Anderson was supposed to be a senior last year, but a shoulder injury in the third game of the season ultimately forced him to accept a redshirt with just four games played. Among the missed games? The Cougars' 35-27 come-from-ahead loss to Utah.
To be the group that finally broke the dubious losing streak to their in-state rivals would mean more than the world to him and his Cougar classmates.
"Right now we're trying not to look back," Anderson said. "Like Kalani says, we weren't a part of the streak eight years ago. But as a senior, it really is important and we want to get these guys. It's a unique opportunity."
Still, there's no doubt this series is special. It' just means more to both teams, with Utah coaches constantly reminding the locker room that "we don't lose to those guys," and BYU breaking the huddle every day this spring and summer with "beat Utah."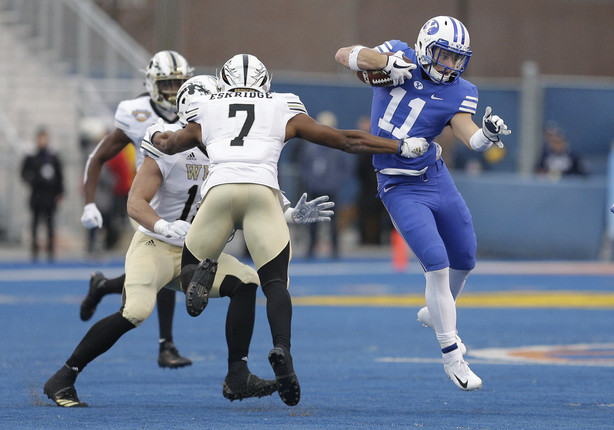 Like the SEC, it just means more — and even the non-Utah products learn that quickly.
"Growing up in this state, this is a huge game," Anderson said. "I don't know if guys who grew up out of state knew, but I think they've caught on about how big this game is and how big this rivalry is."
That's what makes Utah's top college football rivalry so special — not the crass nickname involving military battles that ruffles some feathers and is indifferent to others, or the implication that one side favors spirituality more than the other.
BYU and Utah are two intertwined communities, more alike than different, with an equal opportunity to root against one side on Saturday and walk into the same church meetinghouse on Sunday morning. Neighbors. Friends. Fellow members of the stake's high council.
Even family.
Anderson knows that well. So, too, does his head coach Kalani Sitake, who before becoming the 14th head coach in BYU football history spent 10 years on former BYU linebacker Kyle Whittingham's coaching staff at the U. — rising as high as assistant head coach and defensive coordinator.
Programming guide
Sitake has yet to beat his former team in three other tries, or nearly half of the Utes' eight-game winning streak in the series. But he also insists he feels no more pressure for Thursday's game than he does any other date on the Cougars' 2019 slate.
"The season is 12 games long, and (about) trying to earn more time to get more games," Sitake said. "I don't really focus on end result as much as I do the process and enjoying the process to make memories.
"Sometimes we get so fixated on the result that we forget to stop and smell the roses — and enjoy the process. That's when you miss out on memories. I'm just trying to make as many memories as we can, and that's what I'm going to enjoy."
There's little doubt, though: this game means a little bit more than the other 11 on the schedule.
At least, it does for the players.
Austin Lee's history with the Utes as equally complicated — or maybe not. The Alta High product comes from a long line of Utes, though he admits he has family that played for both sides of the rivalry, as well. His father, Douglas, played baseball at Utah, and grandfather Gordon even suited up for the Utes on the gridiron from 1959-61.
Lee, himself, played for the Utes — a total of seven games as a freshman, with the majority of his snaps coming on special teams. But after a two-year mission for The Church of Jesus Christ of Latter-day Saints in Tulsa, Oklahoma, Lee transferred to BYU (with a brief stop at Salt Lake Community College) and he's slid into the Cougars' defensive backfield handily.
He now anchors the back end of BYU's defense, the starting strong safety opposite fellow senior Sawyer Powell, and a sure tackler with 56 stops, one tackle for loss, and two interceptions in two years with the Cougars.
"After my mission, coming back, things didn't feel right," Lee said. "I had a different perspective. I was married, having a kid; I had a different dynamic and different feel for things. So I ended up here."
Regardless of his previous rivalry affiliation, Lee and his wife, Kortnie — as well as their young children Ledger and Romy — are glad they made the move to blue.
"It was always big, full of emotions, guys fighting one over another," Lee said. "At the time, I didn't have a preference. I've had family on both sides, and being recruited by both sides. But I always remember this game being very intense. It's fun, and it's fun to take part in."
×
Related Stories