HERRIMAN — Friday night's inaugural home game was a tough experience for the Mountain Ridge football team.
Just getting to that night, though, was really hard, too.
About the only ones who walked away happy were the athletes on Olympus' football team, or perhaps its coaches, or maybe Scotty Edwards, or perhaps fans of the Titans after a 56-0 shutout victory over the newest football-playing school in the Salt Lake Valley.
But the Sentinels — the new school in Herriman that will play in Class 5A's Region 7 this fall — may be less concerned about a earning a single touchdown, or even a field goal, or a point in any way they can get it.
Right now, they're happy to have a field.
Because Mountain Ridge is the newest school in the Utah High School Activities Association (which added three football-playing members in 2019, plus a fourth in a charter school that will play an independent schedule). And as such, they'll be expected to take their lumps. Sure, there will be days they compete — in football, in girls soccer, in volleyball and in other sports. The Sentinels won't stay down for long.
But for now? Well, now is not a time to focus on wins and losses, scoring sprees or winning streaks.
There's something a bit more basic for head coach Mike Meifu.
The Sentinels just want a field to call their own — something they've only had for about a week. They just want a school to represent — classes started Monday.
Right now, they'll take a fully-stocked weight room — that's coming around Sept. 5.
But newly-formed Mountain Ridge in Herriman isn't just building a football program. The Sentinels are building a culture, from the ground up.
"Creating a culture for the school, in my opinion, starts with the football program," said Meifu, who played college football at Snow College before earning a degree from Utah State. "This is the first time our entire student body has been together. Being able to create that culture, to do things the right way, has been huge.
"The turnout has been great. The community support has been great. It's just good to be back here."
And even with Friday's tough loss — a stinging one, even if it came against a team rated amongst the top-10 in the state — Mountain Ridge principal Mike Kochevar is confident Meifu is the right man for the job of leading the Sentinels into their first season.
Kochevar learned that early on, before school had begun, before the season drew near. He learned it when Meifu's team wasn't able to practice on the newly installed turf — their first experience on it was Aug. 9, when they scrimmaged in the evening after the installation finished that same morning.
He learned a lot about Meifu when the team's weight room equipment didn't arrive on time, forcing the Sentinels to work out at the nearby middle school.
"It has been challenge after challenge after challenge," Kochevar said. "It's been frustrating, but through it all he has remained very positive — and that's how it's going to be on the field."
The duo first worked together at West Jordan, and now they are tasked with organizing the new school in Meifu's own community, one that has been looking for a standard to call its own for years.
For the first time in the city's short history, Herriman has been divided. The fastest growing portion of the Salt Lake Valley — the area that watches over the western frontier of Salt Lake County and is guided by the Mountain View Corridor — has another boundary to flank off Herriman High.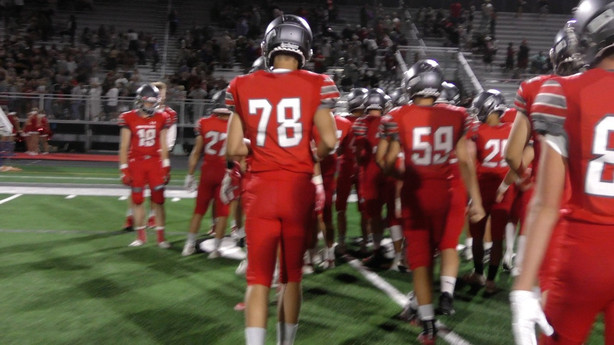 That's presented plenty of challenges, too.
Given the option of finishing their careers at Herriman, why would a football player choose to leave a program as established as the Mustangs, one that competes regularly for state titles and hosts playoff games routinely?
No, the students who will be suiting up for Mountain Ridge this fall might not be the first-choice athletes in some locales. But they all have one thing in common: They're here to work, to build, and to start a tradition.
"A lot of them haven't played a varsity snap before (Friday)," Meifu said. "We've got a lot of youth. But what I love about our kids is they come to work every day. They've gotten better and better, and they competed.
"We've got a long ways to go. But we're going to get there. The kids that we have are the right ones. That's what I'm real proud of."
They're here to be a part of something from the ground, up.
In that regard, the Sentinels are in the same situation as the faculty, staff and administration at Mountain Ridge — building a tradition, one brick at a time.
"I've hired teachers from all over the valley, and we're all coming together," Kochevar said. "That's what we talked about at our meetings: creating that atmosphere for our kids, for our clientele. That's why we're here."
After Friday night's thumping, the Sentinels' schedule doesn't let up. Mountain Ridge will host Kearns this week, after the Cougars' 34-30 win over Box Elder, before finishing nonregion play at nearby Riverton.
Then they'll jump into Region 7 play, a series of contests that features top-tier talented teams like Timpview, Lehi and reigning 4A champions Orem (which just made the move to 5A).
But the Sentinels have already been challenged. They'll be ready for more, Meifu said.
"There are some teams that will go schedule easy," he added. "I want to challenge the kids, and see what they are all about. We know what battle we are facing, and we've got some good tough teams (on the schedule).
"We'll just keep working."
×
Photos
Related Stories