LOGAN — As Utah State University students gear up for the start of the fall semester next week, students can have more peace of mind with the help of an app.
This week, USU launched Utah State Safe, a free safety app that will send users campus alerts through push notifications, allow quick access to call 911, and provide information on campus resources.
"It puts the students, faculty and staff in direct contact with the (USU) Department of Public Safety," said Earl Morris, executive director of the department.
Morris said the app is offered to "anyone who has a smartphone," and will be particularly helpful in situations when someone might not be able to pick up the phone and call the police.
"Pull up the app, push a button and immediately it dials straight in to 911," he said, adding the app has GPS built in.
Additionally, the app includes a feature that allows a friend to track your destination home.
"If you're afraid to go home at night, you can actually call a friend and ask them to activate their 'walk with friends' feature," he said. "If a friend notices an interruption from travel, from point A to point B, the friend could alert the police," he said.
He said the app is tied in to the school's Code Blue Alert System, which issues campus alerts and updates when there is a significant emergency, ongoing threats or safety concerns.
The app also has a feature to report tips of suspicious behavior through USU's online crime form, and provides advice on how to assist a student in distress.
"It's the first time we've had anything like this," he said.
The app will notify students of emergency events ranging from school closures to severe weather and natural disasters.
In situations where someone needs to barricade themselves, users could communicate with first responders to track down their location.
According to a news release about the new app, USU has been working on the app and alert system "due to limitations in its prior system."
In February, the school released a statement apologizing for sending an emergency notification about an "armed aggressor" on campus after technicians had "inadvertently triggered" the alert, which caused panic in the campus community.
Because school hasn't commenced, Morris said the app has been popular so far among faculty and public safety personnel. He hopes "at a minimum" that every single student, faculty and staff member downloads the app.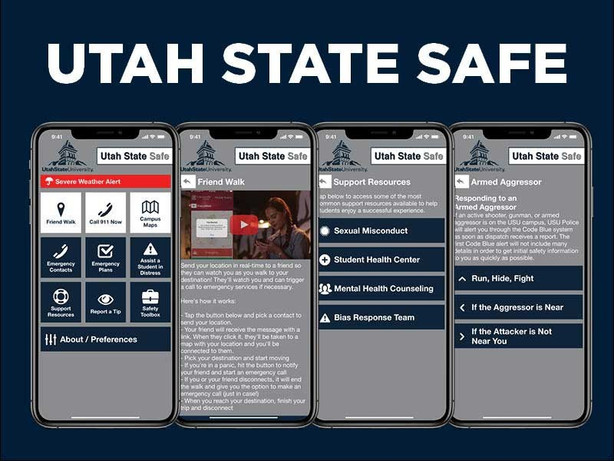 He said there are future plans to introduce the app to the university's satellite campuses in Price and Blanding.
"It's exciting. It's something that we can build upon," he said.
In Salt Lake City, the University of Utah's Department of Public Safety has its own safety app called U Heads Up!
Stuart Moffatt, associate director of emergency management at the U. Department of Public Safety, said their app stemmed from the need to inform local residents and businesses of campus alerts, because currently, only students, staff and faculty are able to sign up for the university's campus text alert system.
"We're co-located in a fairly dense neighborhood with a with a lot of neighbors and partners," he said. "And they cannot sign up for the campus (text) alerts because they're not affiliated with the university."
With a limited number of characters, he said text alerts will oftentimes direct people to a website for more information, whereas the safety app can provide more complete information during an emergency situation.
In addition to sending push notifications to the community, the app includes pre-planning and pre-incident information.
He said students can look up the app's emergency response guide, which contains "a number of hazards or incidents that may happen on campus." The guide also provides recommendations on how to react to certain situations, like how to respond to someone having a heart attack, how to put out a small fire, or events as minor as noticing a trip or fall hazard on school grounds.
He said the school relies on both the school's text alert system and safety app.
"You can't use just one tool … you have to have many tools," he said. "While we recognize the app might not have a lot of downloads, or as much interest as the campus alerts, it serves a purpose."
Through their student account, students can add up to three contacts to receive the school's text alerts to a communication channel to be bridged in case of an extreme emergency.
While having the app on your phone is important, Moffatt advised that students should follow the "16 and 12 Rule," which reminds students to always carry 16 ounces of water and 1,200 calories in snacks with them.
"If (students) have to evacuate, if they have to shelter in place ... they've got food and water so that they can take care of themselves," he said.
Most schools require students to first enroll in their school's alert system before they can receive notifications.
According to Dixie State University's emergency-alert system website, emergency notifications are issued when there is a significant or dangerous situation occurring on campus. Weber State University's Code Purple Emergency Notification System announces health and safety emergency information by text, voice and e-mail messages.
Utah Valley University, Snow College and Salt Lake Community College feature their own emergency text messaging alerts system for their campus communities to opt in and use.
×
Photos