Estimated read time: 4-5 minutes
This archived news story is available only for your personal, non-commercial use. Information in the story may be outdated or superseded by additional information. Reading or replaying the story in its archived form does not constitute a republication of the story.
Athletics have long been recognized by researchers and experts to offer both mental and physical benefits to students, leading to success both on and off the playing field.
"Studies have shown that exercise increases blood flow to the brain and helps the body build more connections between nerves, leading to increased concentration, enhanced memory, stimulated creativity, and better-developed problem-solving skills," the University of Rochester explains. "In short, playing sports helps your brain grow and makes it work better."
While participation in almost any sport offers some of these benefits, golf may be one sport that uniquely supports a child's brain and body simultaneously. Here are a few ways golf is helping kids succeed in school.
Start at an early age
Unlike many other sports where a certain amount of physical maturity is required before a child can participate, kids as young as two or three can start handling a (miniature) golf club while practicing putting a golf ball around the yard.
Starting as young as age six at some golfing locations kids can participate in golf clinics with a game-based learning environment and low student-to-instructor ratios that allow them a real opportunity to learn the basics of the game.
Encourages honesty and integrity
Unique among almost all other sports, there are generally no judges or referees in golf. Golfers are held to a high level of personal integrity as they enforce rules on themselves during gameplay.
This also requires the nurturing of the high moral character which allows golfers to handle setbacks and disappointments without taking out their frustrations on other players. In a study performed by Golf Digest, they said 10 out of 15 survey participants said they never bend the rules of the game.
Students of golf take these lessons of honesty with them wherever they go, on or off the green.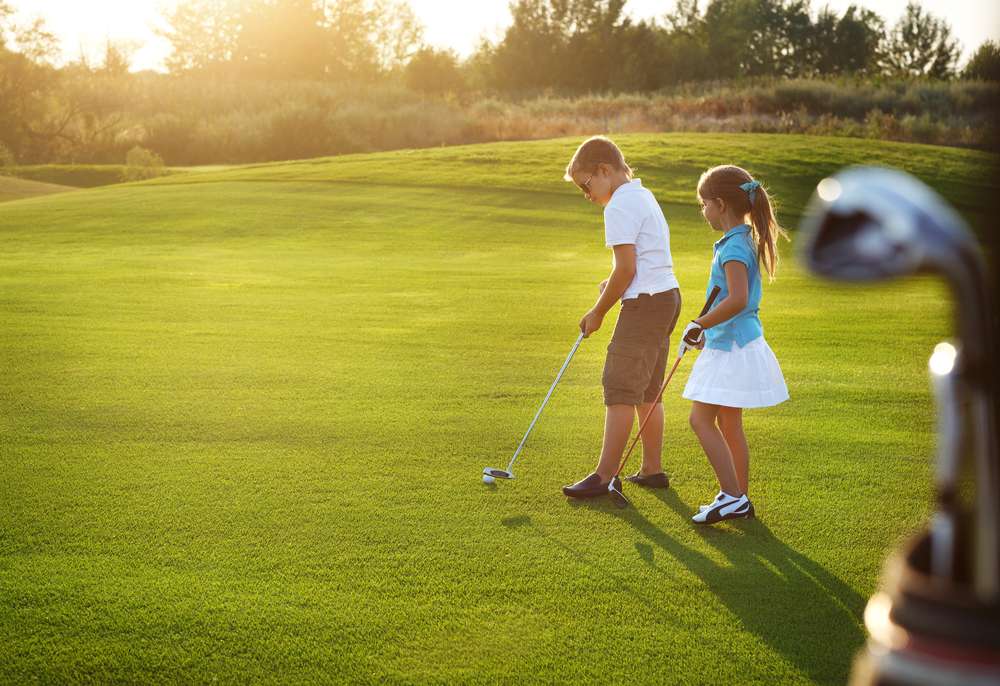 Constant learning
Students quickly learn that both in school and in golf there is never an end to learning.
"One reason golf is such an exasperating game is that a thing we learned is so easily forgotten, and we find ourselves struggling year after year with faults we had discovered and corrected time and time again," said Bobby Jones, an early 20th-century golfer and co-founder of the Masters Tournament.
As students learn to persevere despite repeated mistakes on the golf green, they learn perseverance in their academic studies, as well, which is a skill that then easily transfers to college and careers later in life.
Learn appreciation for exercise and the great outdoors
Spending hours in the outdoors while golfing can't help but influence a golfer's perception of being outside, enjoying the fresh air. Golf also helps burn calories with a low-intensity workout that people of all athletic ability can participate in.
Neil Wolkodoff, director for the Center for Health and Sport Science at the Rose Medical Center in Denver, conducted an in-depth study published in the New York Times which found that a golfer who rode in a cart and golfed nine holes burned 411 calories on average. Golfers who walked with a bag or with a push-cart burned even more, with about 720 calories expended on nine holes.
"We know that the golf swing uses almost every muscle group in the body," Wolkodoff said. "Being in better physical condition would make you better mechanically and mentally."
Reaching this level of physical fitness isn't easy, but it getting there will demonstrate to students what a difference being in shape can make to their quality of life.
A lifelong sport with lifelong benefits
Besides being a sport you can start learning very young, golf is also one that can last your whole life and isn't impacted by school start or end dates. A report from the National Academies of Sciences says, "children who are more active show greater attention, have faster cognitive processing speed, and perform better on standardized academic tests than children who are less active."
Enrolling your child in a sport like golf — and keeping them involved in it — can not only help them stay physically fit but also mentally sharp. Kids can join clubs or attend clinics during almost any month of the year. And it's a pastime they can continue to enjoy with their own kids in the years to come.
For more information about the benefits of golf for kids or to enroll your student in a kids' golf clinic, call or visit Salt Lake City Golf today.
×