Estimated read time: 4-5 minutes
This archived news story is available only for your personal, non-commercial use. Information in the story may be outdated or superseded by additional information. Reading or replaying the story in its archived form does not constitute a republication of the story.
SALT LAKE CITY — Huntsman Cancer Institute on Monday unveiled its first mobile screening clinic meant to bring prevention services to underserved communities throughout Utah.
"We didn't want the patient to feel like they're getting on a bus. We wanted it to feel like we're bringing the Huntsman experience to them," said Lynette Phillips, manager of the Huntsman mobile screening program.
Members of the news media toured the bus parked for its debut in front of the Urban Indian Center of Salt Lake, where the bus will soon stop again for an upcoming health fair.
Having the clinic visit during a health fair will lower "anxiety for a lot of people that have inhibitions of being screened. I lost my father to colon cancer and at the age of 50, I was reluctant to go get a screening," said Mo Smith, executive director of the Urban Indian Center.
"But educating and creating greater awareness of it and how to prevent it is key. ... There's a lot of fears, a lot of paranoia, anxiety, but having a mobile screening here in a Native (center), that makes it a little more approachable. And we can involve some of the Native clinicians as well, so it's huge."
The institute also plans to take the bus to other urban areas, businesses, rural communities and community health centers statewide with hopes of providing the services to many who wouldn't typically seek them out, said Don Milligan, director of outreach and business development at Huntsman Cancer Institute.
Mary Beckerle, institute CEO, said, "We want to make sure that we serve people of the state of Utah, across the entire state of Utah, and beyond."
She said up to half of cancer cases could be prevented if they are detected early. The bus will initially provide breast cancer and melanoma screening, two of the biggest needs in the state, she said.
This year, over 11,000 Utahns will be diagnosed with cancer, including 1,100 people with melanoma and 1,600 with breast cancer, according to Milligan.
"Unfortunately Utah has long been listed as one of the lowest breast cancer screening rates in the United States. We need to change that."
The custom 44-foot-long RV contains a state of the art 3D mammography screening system and other equipment "exactly like we have in our hospital," Milligan said. It also has privacy curtains and changing rooms, and a television for cancer education programs.
The RV's interior was designed to look like the Huntsman Cancer Institute building, with wood detailing and a raised ceiling.
It will be staffed with three clinical technical people when it's out on the road, including a mammography technologist who will take images and send them back to the hospital to be read by a radiologist who specializes in breast cancer medicine. Another provider on the bus will provide skin cancer checks. A medical assistant will help with patient intake and flow.
The cost of visiting the mobile clinic will be comparable to that of a cancer screening in any physician's office or hospital. But the institute has partnered with the the state to provide vouchers for those who can't afford mammography screenings.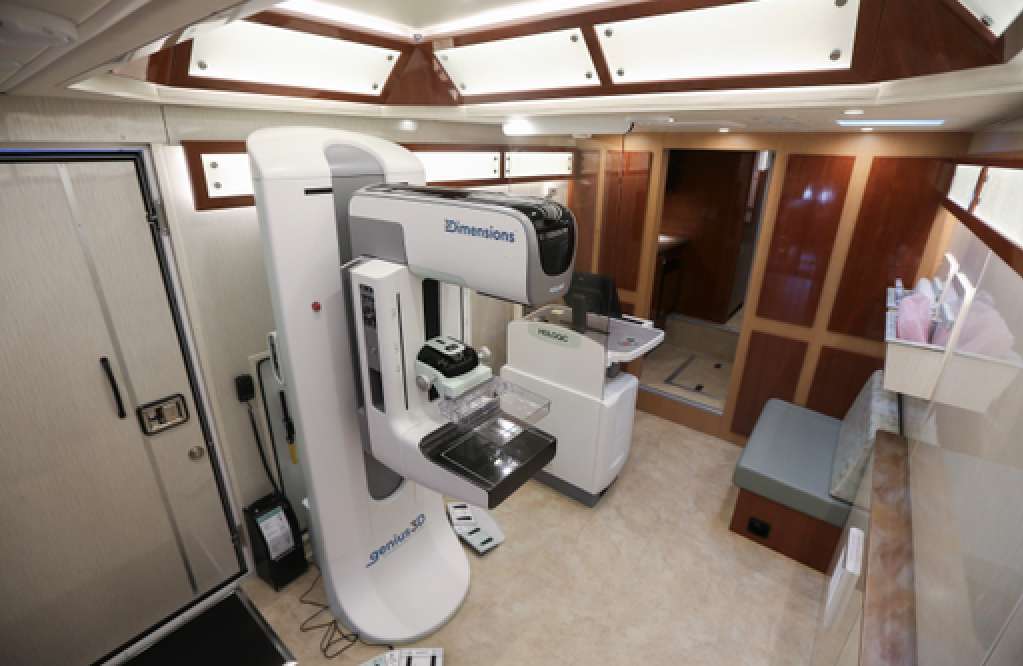 The clinic could provide 20 mammographies and 20 skin cancer screenings per day. Some days, it will provide both services and others it will provide one or the other, depending on the needs of the community it's visiting, Milligan said.
The bus was completely funded by Huntsman Cancer Institute, he added.
"It's a huge need. For a lot of people who are uninsured, it's a huge cost barrier to get cancer screening services. So this is going to be a really big opportunity to get people that chance," said Ryan Ward, wellness program director for the Urban Indian Center.
"I am excited that we are going to be going out into the communities and reducing cancer. I would like to put us out of business. I would like to just completely get rid of cancer," the mobile program director said. Phillips added that the project has been in the works for years, and crews started working on the bus over a year ago. "It takes a lot of people to put something like this together, and a lot of effort."
Shellee Smith, program coordinator for Utah Cancer Control Program, said, "We've seen, in the communities, that it's really difficult for women to have more than one appointment. So if we can bring them together to do everything all in one day in a specific time, then it overcomes barriers of transportation, of child care, as well as work schedules."
"It's overcoming a lot of barriers that are found within a community," she added.
×
Photos