SALT LAKE CITY — A group of local moms and other supporters, spurred by the two recent shootings in El Paso and Dayton, rallied for federal gun reform Saturday in downtown Salt Lake City.
"I think we're just ready for some reform. We've had enough," said Hillary Hewitt, who carried her young daughter on her shoulders during the rally. "I think every time it happens, it becomes a bigger concern, and it's happening all the time. So it is a very real fear as a parent."
Hewitt's daughter carried a sign that read "I shouldn't need a bulletproof backpack" as the group of about 150 gathered in front of the Salt Lake City-County Building, many wearing red shirts. The rally was organized by Utah Moms Demand Action for Gun Sense in America.
"She shouldn't need it. ...It's sad that it's easier for someone to manufacture a backpack than it is to get our legislators to change a few laws," Hewitt said. Recent news reports have noted a spike in bulletproof backpack marketing during back-to-school shopping.
Carolyn Tuft survived the Trolley Square Mall shooting in 2007 that claimed six, including her daughter, 15-year-old Kirsten Hinckley.
When the media attention faded, Tuft was left to deal with up to millions of dollars in medical bills from her own gunshot wounds, as well as the trauma of the loss of her daughter, she said during the rally.
"It's a life sentence that we never saw coming and that nobody deserves," Tuft said.
"I lost everything because of the actions of one and the inactions Congress," she added. "Gun violence is happening around us every day. It's no longer somebody else's problem. It's in our own backyards. We are all vulnerable to it now."
"We are collectively saying to Congress, 'Do something now. Act now, and not one more (life lost).'"
The group is urging senators to pass a strong federal "red flag" law — to allow for removal of guns from someone who may pose a threat — and legislation to require background checks on all gun sales.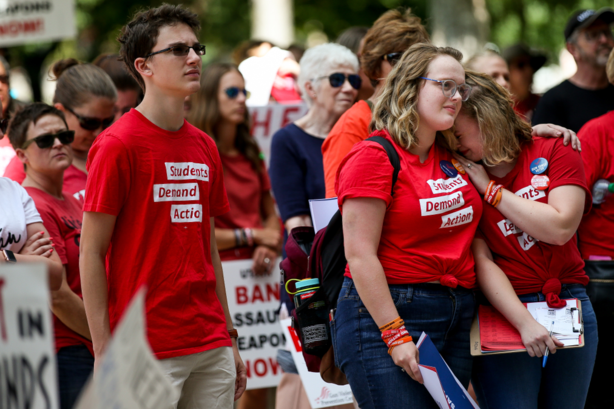 Though the rally focused on federal measures, some state lawmakers showed up to talk about what they're doing to try to make changes in the state.
House Minority Leader Brian King, D-Salt Lake City, said: "We've made great progress as state legislators across the country. Wouldn't know it at times because we don't see the reduction in these mass shootings that we all want to see. But don't get discouraged. We are making progress and we're going to continue to make progress because this problem isn't going away, sadly."
King noted that Rep. Steve Handy, R-Layton, has again proposed a red flag bill in Utah, and King has a background check bill on the table. King said he recently asked bill drafters in Utah to create a bill similar to one recently passed in New Mexico. More information about the bill is expected to be released soon, he said.
"We can make progress here in Utah."
New Mexico's bill, signed into law in March, requires background checks on all gun sales, including those between two people. The law exempts sales and transfers between close family members and between law enforcement officers, the Albuquerque Journal reported.
That law has received pushback in New Mexico, with several county sheriffs vowing to defy it, according to the Journal.
Handy has refiled his red flag bill for the 2020 session. He proposed the bill earlier this year, but it ran up against the gun rights lobby. The bill would allow guns to be taken from someone threatening to harm themselves or others.
Earlier this month, Handy told the Deseret News he doesn't know if he'll be able to get the legislation passed this second go-around, even after President Donald Trump voiced his support for such a law.
Clark Aposhian, chairman of Utah Shooting Sports Council, a vocal supporter of gun rights, said the requests of those at Saturday's rally would be ineffective and would infringe on Constitutional rights.
"Red flag laws are nothing more than gun confiscation orders. The problem we have with those is that's all they do, is separate a gun from a dangerous person, leaving a dangerous person there. Any red flag law that doesn't address what we do with a dangerous person is illogical," Aposhian said when reached for comment Saturday.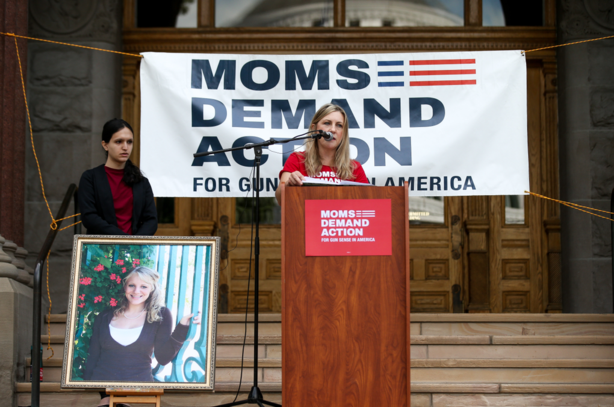 Additionally, such laws would take away people's due process. Someone should have the chance to give their side in front of a judge, he said, before their gun is taken away. He also noted that red flag laws require low evidentiary standards.
In states where universal background checks are required, there's no evidence that shows crime drops afterward, Aposhian said. "In addition, the only way to logically administer background checks of that type would be to also require that all firearms be registered."
The Utah Shooting Sports Council has been working with clinicians, health professionals and legislators for the past several years and has encouraged its members to "secure their loved ones' firearms when they're at risk" voluntarily.
But people at Saturday's rally said they believe the gun control measures are needed for children's safety.
Mary Ann Thompson, chapter lead for Moms Demand Action, told the Deseret News she was spurred to action after the mass shooting at a high school in Parkland, Florida, last year.
"As I see gun violence, the number of shootings increasing, and people using guns for road rage, that, I mean guns and the gun culture seems to be kind of getting out of control. I know it's a symptom of other things, but easy access to guns is one of the main things that makes it prevalent."
Thompson said she believes children are being "adversely impacted significantly" by anxiety about mass shootings.
"Children will come to me and say, 'So if you do what you do, will I be able to not have to go hide in the bathroom or hide under the desk?' They're frightened," she said. "I don't think we have any idea the psychological impact on our kids to have to hide from possible active shooters."
State laws can help, but gun reform should take place on the federal level, according to Thompson.
Gay Lynn Bennion said she became involved with Moms Demand Action after meeting Tuft.
"My kids were in elementary school when Columbine happened. So for that long, our kids have been going to school afraid, and that is not how it should be. That is not OK," Bennion said.
"We just need to address this fact that we need to have federal background checks nationwide so someone can't just go to the next state. And we need to have red flag laws so that someone who knows that someone's in danger to themselves or others, be safe. That's all we want right now."
For Larry LaCone, "I'm retired military, been to the Persian Gulf three times, I know what automatic weapons can do. I've seen the results of it ... and Sandy Hook turned me against them."
"I've shot these weapons. I've seen it," he said. "These kids have a right ... let kids be kids, and not afraid."
×