Estimated read time: 7-8 minutes
This archived news story is available only for your personal, non-commercial use. Information in the story may be outdated or superseded by additional information. Reading or replaying the story in its archived form does not constitute a republication of the story.
SALT LAKE CITY — With the creation of the Utah Predator Control Program managed by the Utah Division of Wildlife Resources, more hunters are looking for opportunities to hunt coyotes and collect the bounty.
To qualify for the bounty, hunters must follow the regulations found on the predator control website. The basics include taking the online training and registration course and submitting the coyote's lower jaw and either a full pelt or the scalp with the ears still attached on and at the designated sites, dates and times. There is also a new smartphone application that must be used.
Seasoned coyote hunters can be quite secretive about the spots they hunt and even about the techniques they use. You can't blame them as they have put in the time and gained this hunting knowledge by trial and error. A few hunters will be willing to share. Most of the information in this article was gleaned through expert coyote hunter Dave Perkins of Utah. A beginning coyote hunter must earn his way by the same path. There are, however, a few basics that will get the beginner afield with a chance of being successful.
Getting to know coyotes
As with all types of hunting, knowledge of the animal is paramount to success. Coyotes are one of the smartest animals on Earth. They use highly sensitive noses, ears and eyes for survival. As members of the canine family, their brains can analyze and respond to stimuli. It is the response to certain stimuli that can be used by a hunter to trick the coyote to coming within in range of a shot. A good coyote hunter will read everything available about where coyotes live, what they eat, when they mate, when offspring are mature, how they hunt, and even how they communicate through vocalizations.
Camouflage
Blending in with the environment will increase success. Wear camouflage clothing. Some hunters suggest using face paint or camo masks, while others do not find it necessary. Try to keep highly reflective rings and watches in pockets.
Proper stand set-up
Most coyote hunting is done by calling a coyote to a stand (a place where the hunter is positioned). The most important thing to know about stand set-up is making sure you are in an area that is inhabited or frequented by coyotes. Coyotes are found in just about any type of habitat, so chances are you can call them in most mountain, steppe, foothill or desert locations. You can look for coyote sign by actually observing them, finding scat, seeing footprints — in snow, mud or dust — or by hearing their vocalizations early in the morning and in the evening.
Because coyotes have a keen sense of hearing, sight and smell, those three things need to be considered before entering their habitat. Hiding a vehicle is important. Closing the doors as softly as possible, not talking, and not wearing strong deodorant or after-shave is important. Hunters must think: Can a coyote see me? Can a coyote smell me? Can a coyote hear me?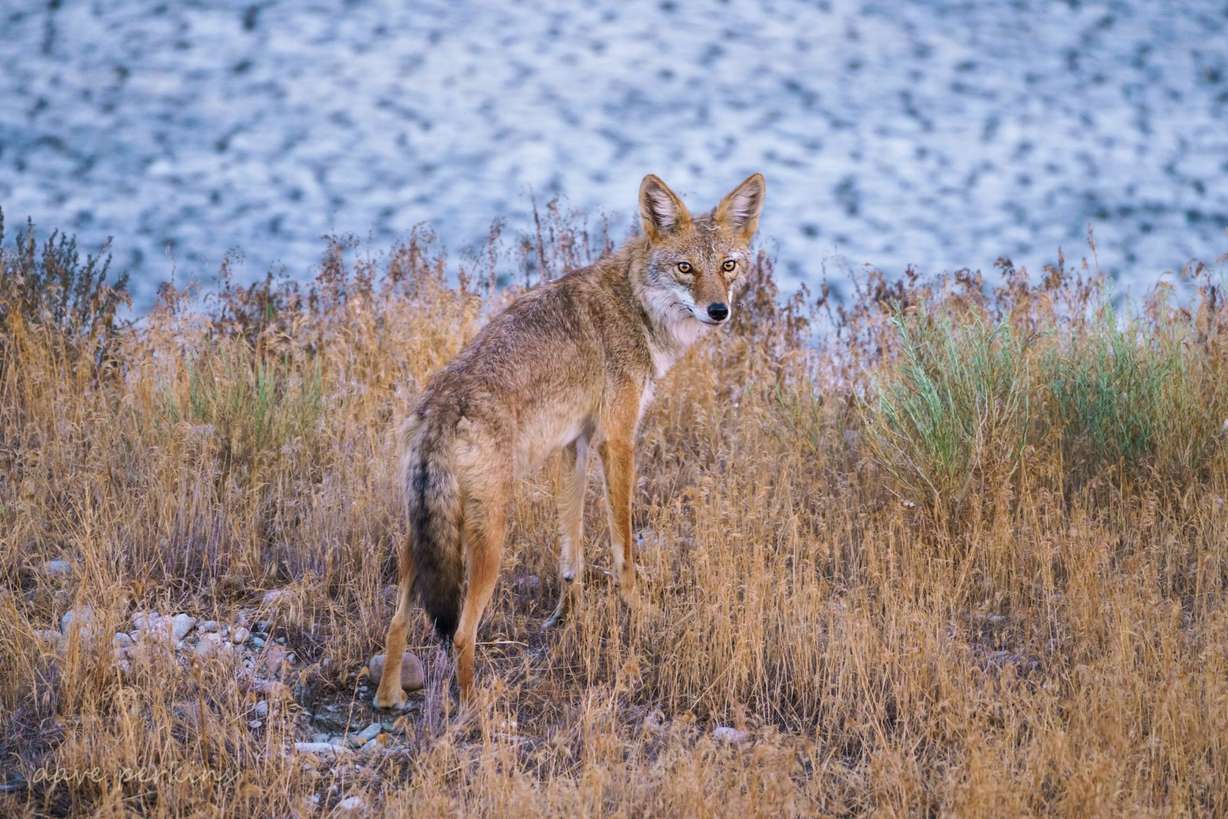 Hunting in a small group is best — maybe two or three hunters at most. Hunters should walk directly to the stand trying to not be highlighted with the skyline. The stand is made where hunters have a good view of the surrounding area. Once at the stand location, hunters will sit down with a backdrop behind them. This can be rock or most commonly sagebrush or shrubs or trees.
All hunters need to work together to make sure everyone is safe. Use common sense and never shoot at coyotes that run between hunters or cause you to shoot toward another hunter. Veteran coyote hunters will have a rule that the hunter on the left shoots at coyotes out in front of him and to the left, and the hunter on the right shoots at those in front of him and to the right. This rule keeps hunters from shooting across each other.
There are two schools of thought when picking a stand and approaching it. Some hunters believe you should always walk into the breeze and call into the breeze. This keeps the coyote from smelling your scent. Other hunters believe that a coyote is going to circle around and come in from downwind anyway so they actually call with the breeze or wind. It is best to try both methods and then decide which method works best for you most times.
Calling
There are two ways to call coyotes: hand-blown calls, which include animal-in-distress calls and howlers, which mimic coyote vocalizations; and electronic callers that have recorded animal distress sounds and coyote vocalizations. A quick internet search will bring up the latest, greatest handheld and electronic callers. There are many internet videos that show how each style of caller is used. There is a certain measure of satisfaction in using a handheld call and howler because of the feeling that you personally tricked a coyote.
The secret to calling is to mimic the distress cries of the prevalent food source the coyotes might be feeding on. Sometimes, however, if coyotes have been called a lot, using a different sound can increase success.
Some hunters have become experts at howling and using coyote vocalizations. Knowing which coyote sounds to use at certain times of year will increase success. Howling, barking, yipping and combinations of these sounds are ways coyotes communicate. Learn their language and increase your chances. Coyotes also use warning barks to let other coyotes know something is wrong. Use the wrong vocalization and you may decrease your chances of seeing coyotes.
Most hunters will stay at each calling place for about 15 to 20 minutes before moving. If you shoot a coyote continue calling for a few minutes after the shot. It is possible to have another coyote still show up. Also be ready of multiple coyotes to show up at the same time, as they sometimes run in groups.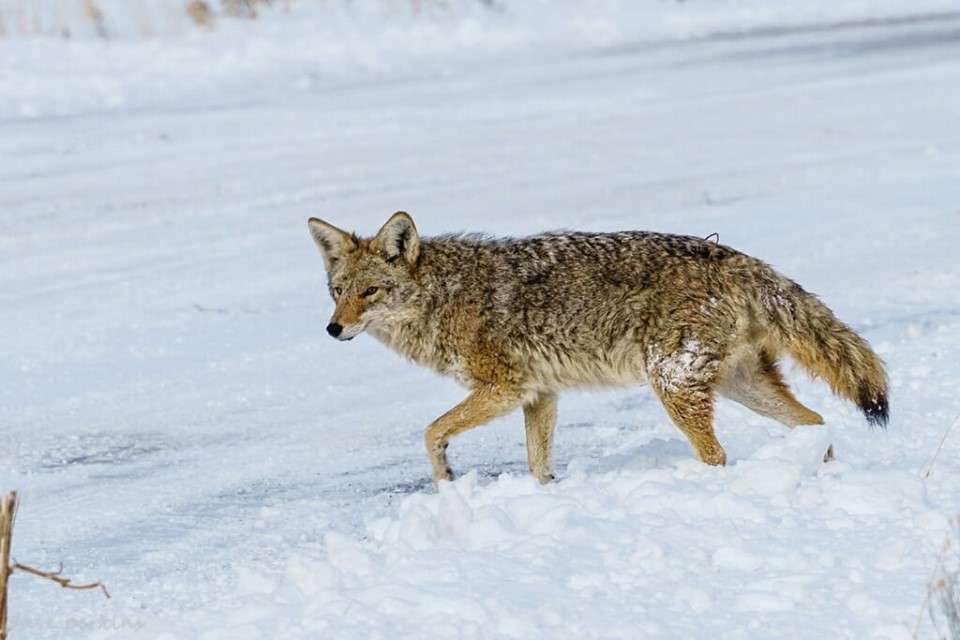 Best time of year to hunt
There is no hunting season on coyotes in Utah. If you are hunting to harvest fur, you want to hunt when the fur is primed up; fur is best late fall and winter. If you are hunting for the bounty, you can hunt year-round. Hunting in the fall when pups are full-grown is a good time for the beginner. Each year new pups have to learn to fend for themselves and as part of their learning, they are vulnerable to calling.
Guns and scope
Most high-powered rifles can be used in coyote hunting. It is also possible to call coyotes in close enough for shotguns and handguns. Most hunters will choose calibers that allow for longer range shooting, as some coyotes will stop out as far as 300 to 400 yards. The most popular rifles are .223-caliber, .22-250-caliber and .243-caliber. If you are hunting to harvest the coyote's fur, those calibers are best for not destroying all the hide. A good scope is almost a must when hunting coyotes, especially for coyotes that stay out a few hundred yards.
Predator management
While somewhat controversial, coyote hunting is used as a wildlife management tool. The coyote is considered a predator because it preys on rabbits, deer, game birds and waterfowl, as well as other available wildlife. Keeping coyote numbers in check helps maintain a balance in animal populations. Coyotes are also known to prey on domesticated animals. Ranchers and farmers have documented losses to sheep, cattle and chickens. Hunting coyotes can keep livestock losses to a minimum.
Whether you are looking to collect bounty money, sell a pelt or two, or just want want to hunt when other hunting seasons are over, coyote hunting is another opportunity to get outdoors.
Robert Williamson is a graduate of Weber State College and the author of "Creative Flies: Innovative Tying Techniques."
×
Most recent Outdoors & Rec stories