SALT LAKE CITY — Two weeks into fall camp and the University of Utah depth chart is slowly starting to take shape. But one area of concern is Utah still hasn't found a starting placekicker.
On Monday, head coach Kyle Whittingham said all three of his kickers — senior UCLA transfer Andrew Strauch, and walk-ons Jadon Redding and Nels Haltom — have yet to separate themselves. He added that the trio has relatively similar accuracy numbers, which makes it hard to eliminate one from the mix.
That leaves Whittingham with a difficult decision by the end of the week.
"If they don't separate themselves in the next three or four days, I'm going to have to cut one of them out of the group, just as a gut feel, because we've got to get it down to two," he said. "But right now, at least statistically, there's nobody that's eliminated themselves. That's good and bad. They're all kicking at a pretty decent level."
On Saturday, Whittingham said the group "took a step forward" and that they're all around 70% accuracy. He added that they're hoping to get the kickers up to about 80% by the time the season starts. As context, Whittingham said Lou Groza Award winner Matt Gay was kicking at 65% around the same time in camp two seasons ago when he was competing for the job.
Solidifying the linebackers
Since the departure of senior Manny Bowen, Utah has been a little thin at the linebacker position in terms of overall depth. On Monday, Whittingham said the linebacker depth sits at about four or five guys. The staff hopes to sit around six guys capable of playing.
"Linebacker depth is still a concern," Whittingham said. "It will be until one or two guys step up."
The starters remain Francis Bernard and Devin Lloyd, but beyond that the depth gets a little tricky. Whittingham identified Sione Lund and Trennan Carlson as strong backups, though he said Carlson has been out a bit due to minor injuries. Carlson, though, is back working out with the team.
Moroni Anae, a walk-on junior, has started "to do some good things," and is the fifth guy to step up, Whittingham said. Anae spent most of the 2018 season on the scout team. Redshirt freshman Andrew Mata'afa remains in the mix, though his smaller frame will likely keep him off the field.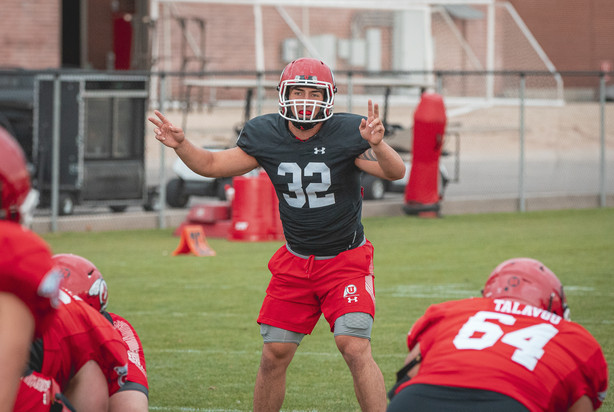 Offensive line taking shape
With about two weeks to go until Utah opens up on the road against in-state rival BYU, Whittingham said the team has found four of their five starters for the offensive line — guys that they "feel really good about." Those four players include Nick Ford (RT), Darrin Paulo (LT), Orlando Umana (C) and Braeden Daniels (RG) — positions could still change.
Finding that fifth starter soon is imperative to Whittingham, who hopes to have someone identified by Thursday to give the team consistency for a couple of weeks before the season starts. While there are many candidates to fill the role, the spotlight is on junior college transfer Bam Olaseni, a 6-foot-8 athlete with an 88-inch wingspan, according to Whittingham, to fill that last starter spot.
Olaseni recently joined the team and is left playing catch-up, but Whittingham said he "looks really talented." The likelihood of Olaseni being added to the starting lineup by Thursday, though, is not likely and would be "a tough deal," Whittingham said.
"I don't want to make it sound like once we get the five guys that's it, there's no more competition," Whittingham said. "But at least those five guys will start working together. He can work into that if his play dictates it."
Beyond Olaseni, guys in the mix include Paul Toala, Noah Reneau-Myers, Johnny Maea, Paul Maile, Alex Locklear and Luke Felix-Fualalo. Toala has playing experience on Utah's line and would be the favorite, but Maea has made great strides and could be a viable option.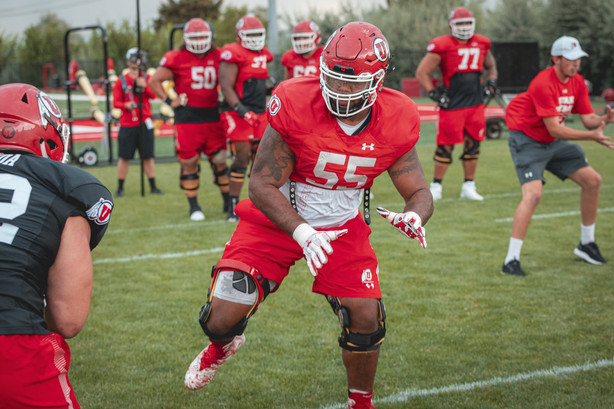 ×