SANDY — There was something different about Real Salt Lake in its 3-1 win Saturday night over New York City FC.
It wasn't Albert Rusnak's perfect strike, what amounted to the match-winner, in the second half. Nor was it Nick Besler's cheeky back-heel, his first goal of the season and one that assistant coach Tyrone Marshall likened to MLS's all-time leading goal-scorer Chris Wondolowski.
It wasn't even Jefferson Savarino, the undisputed leader of the group who had a goal and an assist — it was his slightly off-target shot that spurred Besler's redirection.
Saturday's match may be the start of something new. It may be the continuation of a four-match unbeaten run in MLS play, a spurt that includes last week's scoreless draw at FC Dallas in the first of a three-match suspension for head coach Mike Petke.
Or it may be a flash that fizzles, much like the club has had this year and in previous years, unable to capitalize on momentum much more than appearing around the fringes of the Western Conference playoff line, much like where they currently sit — sixth place, or three points above the postseason line.
But players and coaches at RSL (10-9-4, 34 points) hope this is more, in part because Saturday was the first time the club has overturned a deficit to collect all three points.
Real Salt Lake trailed from the fourth minute, after NYC FC captain Alex Ring struck from just inside the 18-yard box until the 37th minute, when Savarino scored the club's first goal.
"Giving up that goal early, I think it kind of calmed us down a bit because after they scored, we dominated in terms of the possession," Marshall said. "It's unfortunate that Corey (Baird) had a little lapse and they got in and everything came across; it was a turn and hit a little ball towards the near post beating Nick.
"But we rebounded very well. I thought the guys showed fantastic resilience and getting back to our game plan, what we were talking about all week, and what we prepared for, and that was fantastic."
Savarino's goal led to a halftime stalemate. But for much of the second half, NYC FC pressed for the go-ahead goal again.
Even without another result, RSL had one thing that didn't count on the score sheet: confidence.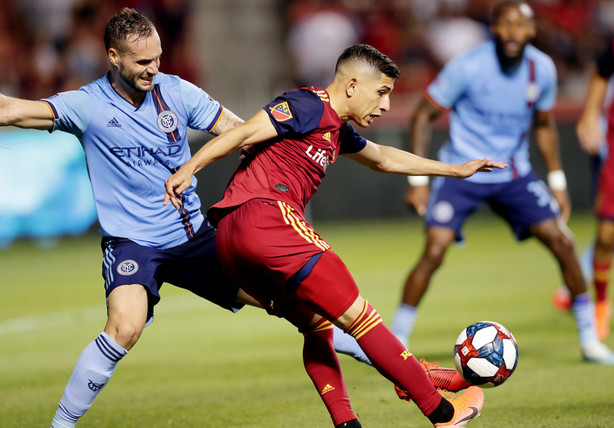 "The goal in the first half was big," Besler said of Savarino's mark. "I think based on the way we played, we deserved a goal. Unlike in Dallas, we had some good play.
"To get that goal gave the guys confidence that the game was there for the taking in the second half. It was a good response by everybody."
The home side looked content to salt away another home draw, though New York City's defense can be credited for much of the apparent malaise through the 70th minute. While the club owned by City Football Group (ye of Manchester City in England's Premier League, among others) held possession of 56 percent or more through the first 20 minutes of the half, Real Salt Lake flipped a switch around the 70th minute.
"We just weren't super clean in the very beginning, and it ended up costing us a goal," RSL captain Kyle Beckerman said. "But I thought after they scored, we really got into the game. Then it was just about scoring a goal and keeping momentum.
"But we've got to be cleaner."
From the 70th through the 75th minute, RSL held 54.8 percent possession, capped by Rusnak's stunning strike to sail ahead.
But moreso, RSL didn't sit back. The club followed up that spell with 69 percent of possession over the ensuing five minutes. Real Salt Lake had 60 percent of possession or more for each of the final four five-minute increments — and when Besler's back-heel found the back of the net in the 88th minute, the team knew it had something.
"Funny thing was, I said to Freddie and the guys on the bench, 'we need a third one to put things away,'" Marshall recalled. "As soon as I said that, it happened where Nick got the deflection and in. Fantastic effort from him."
×
Related Stories