This archived news story is available only for your personal, non-commercial use. Information in the story may be outdated or superseded by additional information. Reading or replaying the story in its archived form does not constitute a republication of the story.
SALT LAKE CITY — Real Salt Lake's run of form has at home has been on the upswing.
But to keep pace in the crowd MLS Cup playoff chase, it needs to start picking up points on the road.
How about three points this weekend?
And how about taking them from a heated rival?
Corey Baird bagged his first brace of the year, scoring a goal in either half to help Real Salt Lake rally for a 2-1 win Saturday night over rival Sporting Kansas City at Children's Mercy Park in Kansas City, Kansas.
"I think it's very good, of Corey especially," RSL assistant coach Tyrone Marshall told the TV broadcast in the third of head coach Mike Petke's three-match suspension. "Corey's one of those guys who needs to get in a rhythm, and previous games he looked like he was out of rhythm. We gave him an opportunity to rest … and I'm glad to see Corey in good form. This is where we want to see guys clicking.
"That's the Corey that we saw last year and that's the Corey we want going forward. Kudos to him."
With the win, Real Salt Lake sweeps the season series, including a 2-0 win over Sporting (7-10-7, 28 points) at Rio Tinto Stadium.
RSL goalkeeper Nick Rimando made two saves — and got the help of the post on a penalty kick — to earn the win.
Real Salt Lake (11-9-4, 37 points) stretched its unbeaten run to five-straight matches. But perhaps more importantly, the club overturned a 1-0 first-half deficit to take three points in back-to-back weeks.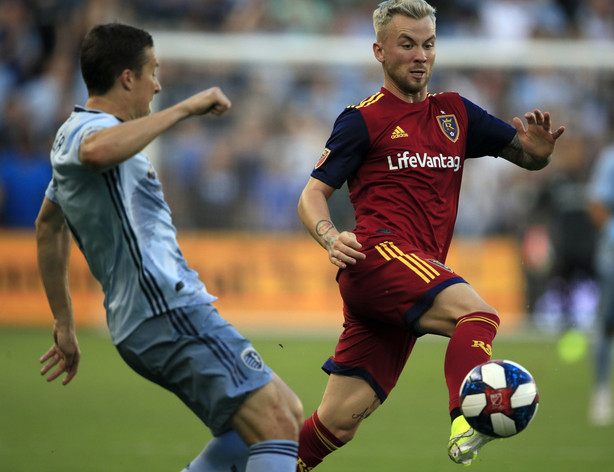 "That's the mentality of this group," RSL midfielder Damir Kreilach said. "It's not so easy that two times straight, we turned the game. It shows that every one of us is on the same page, and this is how you have to work and have to learn and have to play to the end."
Neither side could break through until the 31st minute, when Russell whipped in a freekick from just outside the box that sailed inside the far post, just out of reach of Rimando. The forward scored his eighth goal of the season on Sporting's fifth shot of the match, but Kansas City could only hold the lead for six minutes.
That's when Baird scored his second goal of the season in a phenomenal manner.
Albert Rusnak stood over a free kick in the 38th minute, but as his shot caromed off the post, Baird pounced and put it back for the 1-1 tie with seven minutes left in the half.
Comeback. Resilience. RSL had it again.
"Coming into this game, the talk was having a good road mentality," Marshall said. "I thought the boys were fantastic tonight. We went down early, but we showed resilience.
"We've been in the trenches before, and came out on the wrong side of those games. That character showed for us."
And Sporting once again nearly took a lead into halftime when RSL defender Donny Toia was called for a foul in the box, But Felipe Gutierrez missed the ensuing penalty kick — his first miss in six penalties on the season — and Albert Rusnak's counter-attacking charge was snuffed out in the final seconds of first-half stoppage time to keep the match level, 1-1 at the break.
Sam Johnson, the star striker who spent the previous five matches nursing a right quad injury, made his first appearance with RSL since July 3 when he entered the match in the 60th minute as a second-half sub for Nick Besler — the hometown kid whose brother Matt plays for Sporting Kansas City.
Just 10 minutes later, Baird bagged his brace.
The sophomore and reigning MLS rookie of the year scored a banger for his third goal of the season, taking a cross from Jefferson Savarino and whipping a left-footed shot inside the far post to give the visitors a 2-1 lead.
The game between two rivals featured six card-worthy infractions, including a red card to KC's Daniel Salloi for a bone-crunching tackle on Damir Kreilach. The decision dropped Sporting to 10 men for the final six minutes of regulation.
Against the shorthanded competition, Rusnak nearly scored the visitor's third goal of the night. But former RSL goalkeeper Tim Melia made a remarkable save to keep Sporting down just 2-1 in the 89th minute.
It just wasn't enough for Kansas City to find a second goal, and RSL took three points after trailing 1-0 in back-to-back weeks.
"We knew before the game that this is not a three-point game; this is a six-point game," said Kreilach, referring to the Western Conference standings. "I want to say, we took the six points and left Sporting nine points behind us. That's so important."
Next up
Real Salt Lake returns to Rio Tinto Stadium to host Seattle Sounders FC on Wednesday night. Kickoff is scheduled for 8 p.m. MDT on KMYU and KSL.com.
×
Related Stories