PROVO — When asked who was the biggest standout at BYU football's first live-action scrimmage of fall camp, head coach Kalani Sitake immediately said two words — one name — without hesitation: Ty'Son Williams.
Sitake reacted quickly, adding that the core group of running backs — Williams, fellow graduate transfer Emmanuel Esupka and incumbent starter Lopini Katoa — were among the bright spots of the 107-play live-action scrimmage held Saturday morning at LaVell Edwards Stadium.
"I had him break the team because he stuck out," Sitake said of Williams. "He's starting to feel more comfortable in the program, but he's also someone who has a lot of legitimate ways of being a leader. I think he did some really good things today."
Media weren't allowed to watch (a handful of parents and Cougar Club members were present for the whole practice, which featured around 75 "live" reps), but offensive coordinator Jeff Grimes seemed to agree.
While Williams wasn't named an every-game starter — the Cougars still feel like they have three in Katoa, Esupka and the South Carolina transfer — the progression in such a short time on campus has coaches confident in three standout performers at running back.
"He's exactly what we're looking for in a back," Grimes said of Williams. "He can catch, he can block. He's a willing blocker and a lot of tailbacks don't like that.
"Then he showed the ability today to break a tackle or make a guy miss. You think you have that in a back, but you don't really know until you go live. He certainly showed well."
The "pop" was there, at least for the players allowed to play live. That included two quarterbacks, backups Baylor Romney and Joe Critchlow, while presumed starter Zach Wilson and first-choice backup Jaren Hall kept the green non-contact jersey as the former continued his recovery from offseason shoulder surgery.
It's the sign of an experienced offense — one that the Cougars hope can build off last year's 7-6 season and a resounding victory over Western Michigan in the bowl game.
That experience, especially on the offensive line, is helping Williams adjust to his new team.
"A lot of these guys, it's their second year in the offense," he said. "It's easier for me to transition in because I'm around guys who know what is going on and they can help me, build me up to speed."
No statistics were kept for the scrimmage, but Wilson, too, noticed the improved workload of the running backs — the explosive way they drive the football, the way they handle contact, and the strides downfield for extra yardage.
BYU's Kalani Sitake likes what he sees out of RB (times-3) in Williams, Lopini Katoa and Emmanuel Esukpa. pic.twitter.com/GBnFFyYwx3

— KSL (@KSLcom) August 10, 2019
The scoreboard showed 54 points scored, though that could be a misnomer with the amount of situational drills and so forth the offense was running by the end of the scrimmage.
But the score doesn't matter. Williams said there were enough explosive offensive sets that could translate to points in a real game.
"I'm seeing a lot of it," he said. "We had a lot of explosive plays up to this point and today. You just want to keep building upon that."
The fact that Williams, who joined the team this spring after two seasons at South Carolina, has jumped right into the BYU offense has also been noticed. Coaches said he has a chance to be "a really special player," while Wilson added the GameCock transfer is a "dude" and a "football player."
"He's out here, whether he knows exactly what he's doing or knows the playbook, he's just a football player. He knows how to run the ball," Wilson said. "He's that kid who wants to do extra, learn the plays. He knows how important that is."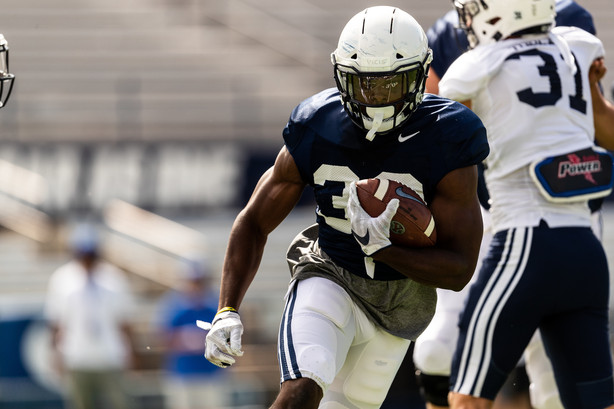 Injury notes
Tight end Matt Bushman was held out of the live portion of the scrimmage, though mostly for "precautionary" reasons, Sitake said. Bushman was one of several players recovering from offseason shoulder surgery. Wide receiver Aleva Hifo also missed portions of the live scrimmage, according to Grimes, but he did participate for most of practice.
On the defensive side of the ball, defensive coordinator Ilaisa Tuiaki confirmed that several starters — Dayan Ghanwoloku, Khyiris Tonga, Zayne Anderson, Isaiah Kaufusi and Austin Lee being chief among them — were held out as precautions, as well. Devin Kaufusi, Lorenzo Fauatea, Chaz Ah You, Keenan Pili, Max Tooley and Malik Moore also received limit reps during portions of the live scrimmage.
None of them are injured, but the coaches are taking precautions with several presumed first-string playmakers.
"I know that we'd be a different defense if we lost any of those guys in a scrimmage," Tuiaki said. "We've got to get those guys to the Utah game and that's the most important thing."
×
Photos
Related Stories