SALT LAKE CITY — The Utah football program opened its fall camp Wednesday, ushering in the beginning of the 2019 season as the perceived top dog in the Pac-12.
The players were not in full pads as the team has to take part in the NCAA's acclimation period, but were able to go through various drills and plays to start camp.
A day before camp started, Steve Bartle of Utezone reported that senior linebacker Manny Bowen informed Utah that he was quitting football. On Wednesday, head coach Kyle Whittingham said Bowen told the coaching staff that he was quitting football to pursue a "business opportunity that he felt was too good to pass up."
"He is exiting football and starting a business career," Whittingham said. "We wish him the best and hate to see him go. We were excited about what he brought to the table this season."
Whittingham added that the news "surprised us" because there wasn't any indication that Bowen would leave the program during summer conditioning.
"We're moving on and we've got guys to fill that spot," defensive coordinator Morgan Scalley said.
Bowen's departure leaves a spot open at the rover position, but Whittingham said sophomore Devin Lloyd is the expected to fill the position alongside starter Francis Bernard.
"He's a guy that we have a lot of confidence in," Whittingham said.
"He's the one that deserves the reps," Scalley added. "He's athletic and he's a good football player, and he'll show it."
Whittingham said there's about three or four players in the position that are "game ready," but they're looking to get at least six guys that can be ready in that position. Others options at linebacker include junior Trennan Carlson, who joined the program earlier this year; sophomore Sione Lund, who redshirt last season; and redshirt freshman Andrew Mata'afa, who Scalley said needs to put on weight.
A look at the offense
With Andy Ludwig joining the offense as the team's offensive coordinator, there will be some changes to the scheme implemented on the field. Senior Zack Moss said the offense will be "slowed down" a bit as the team utilizes the huddle more. He added that the offense will run the ball more because "we know our identity starting in fall camp."
Moss, who is coming off a season-ending knee injury, will be limited in his reps in fall camp to ensure he's healthy when the season starts. Behind Moss, Whittingham said Devonta'e Henry-Cole is the expected backup at this point, but Devin Brumfield and incoming freshmen Micah Bernard and Jordan Wilmore are pushing for playing time as well.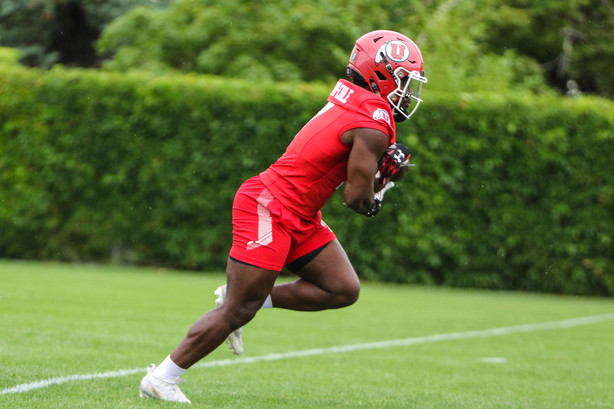 On the offensive line, Whittingham said he's confident in his three "proven commodities" — Darrin Paulo (left tackle), Orlando Umana (center) and Nick Ford (right tackle) — but he wants to have at least four or five more people to add to the starting rotation.
In the mix is senior Paul Toala and redshirt freshman Braeden Daniels as the favorite to start at the guard positions, with senior graduate transfers Noah Osur-Myers and Alex Locklear, and junior college transfer Bamidele Olaseni as viable options to be in the rotation.
Whittingham said Olaseni, who is currently not with the team as a result of a need to graduate from his current junior college, is expected to join the program by Wednesday. Olaseni, a 6-foot-7, lineman is expected to bring experience to the line, but it will take time to acclimate to the program since he wasn't with the team during summer conditioning.
The kicking game
An area that has traditionally been Utah's strongest area will be a question throughout fall camp as coaches look to replace its starting placekicker. Freshman walk-on Jadon Redding, who showed well in spring, and graduate transfer Andrew Strauch, who was previously with UCLA, are the leading candidates to win the job.
Whittingham said the kicking game went well Wednesday and that there was only one kick missed all practice; from what distances, though, is unknown. He said it's similar to what Utah had to go through two years ago when Matt Gay and Chayden Johnston competed for the starting role.
"Hopefully someone emerges like we did two years ago and just takes it and runs with it," Whittingham said.
×
Photos