Estimated read time: 4-5 minutes
This archived news story is available only for your personal, non-commercial use. Information in the story may be outdated or superseded by additional information. Reading or replaying the story in its archived form does not constitute a republication of the story.
SALT LAKE CITY — Four years ago, the Utah Legislature passed a bill that banned discrimination against lesbian, gay, bisexual and transgender people in housing and employment while also protecting the rights of religious organizations.
Known as the Utah Compromise, the bill garnered support from both sides of the political aisle for its ability to protect both LGBT and religious people — though some argued it didn't go far enough to either side.
Since 2015, it appears the bill's sentiment has garnered even more support throughout the Beehive State.
According to results of a poll administered in 2018 and recently released by the Public Religion Research Institute, 77% of Utahns said they either favor or strongly favor "laws that would protect (LGBT) people against discrimination in jobs, public accommodations and housing." Nineteen percent said they opposed such legislation, and 4% said they didn't know or didn't want to answer.
This ties Utah with Vermont in second place for the highest level of support for certain nondiscrimination laws in the nation.
"We have created a space for people who have not shared our political views to move toward us," said Equality Utah executive director Troy Williams. "But we still have a lot of work to do."
By state
While the majority of residents in all 50 states showed support for nondiscrimination protection, New Hampshire had the highest level of support at 81%. Residents of other New England states expressed similarly "robust" support, with Vermont at 77%, Connecticut at 76%, Massachusetts at 75% and Rhode Island and New York at 73%.
Western states also showed high levels of support, with Washington at 75%, California at 73% and Oregon at 72%. Utah, however, was nearly 10 percentage points higher than its neighbors Idaho, Nevada and Arizona.
Southern states showed the least amount of support, with Mississippi, Kentucky and Alabama at 59%; South Carolina at 58%; and Arkansas at the lowest with 56% of respondents who said they would support those laws.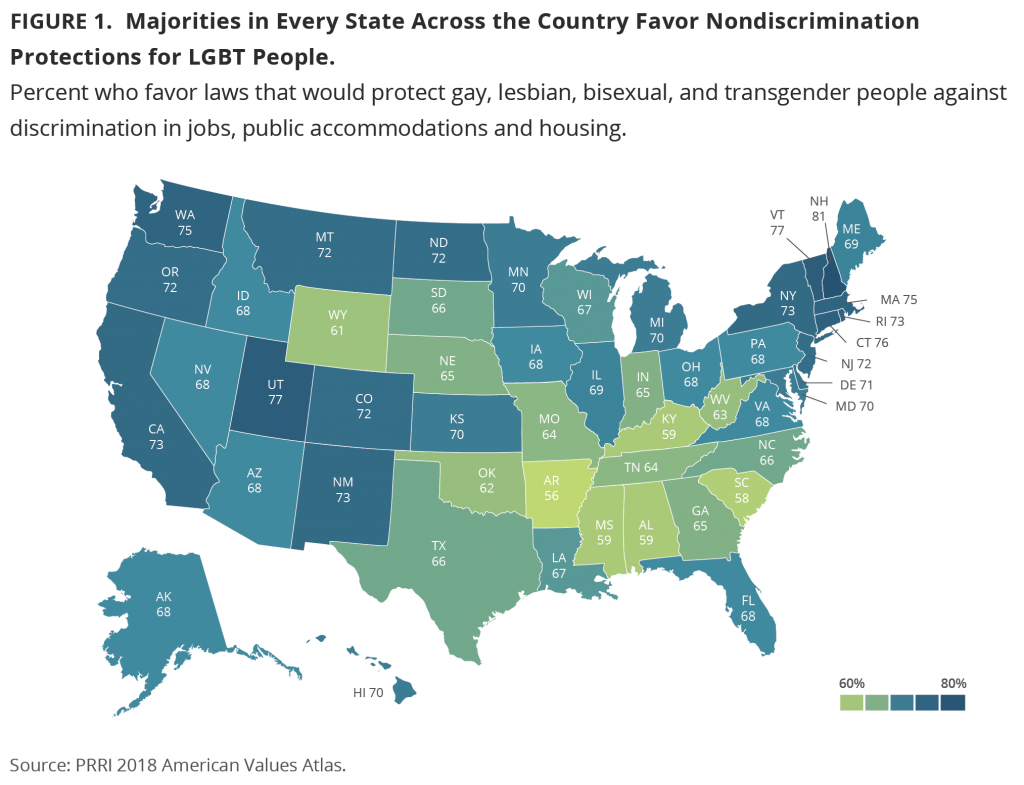 By age
Younger Americans were 17 percentage points more likely than older Americans to say they supported laws protecting LGBT people from certain forms of discrimination. More than three-quarters of younger Americans ages 18 to 29 favored such laws, compared to only 59% of seniors ages 65 and older.
By political affiliation
Nearly 80% of Democrats and 70% of independents nationwide said they favor laws that protect LGBT people from some certain forms of discrimination. But while support among Democrats and independents has remained mostly constant over the years, support among Republicans has dropped from 61% in 2015 to 56% in 2018.
Yet "ideological differences are more pronounced among Democrats and independents than among Republicans," the research institute found. "The biggest intra-party divide is among Democrats."
Liberal Democrats are a full 26 percentage points more likely to support laws supporting LGBT nondiscrimination than their conservative Democrat counterparts. Moderate Republicans are the most likely of all Republicans to support such laws, while liberal Republicans are about as likely as conservative Democrats to favor nondiscrimination protections for LGBT people.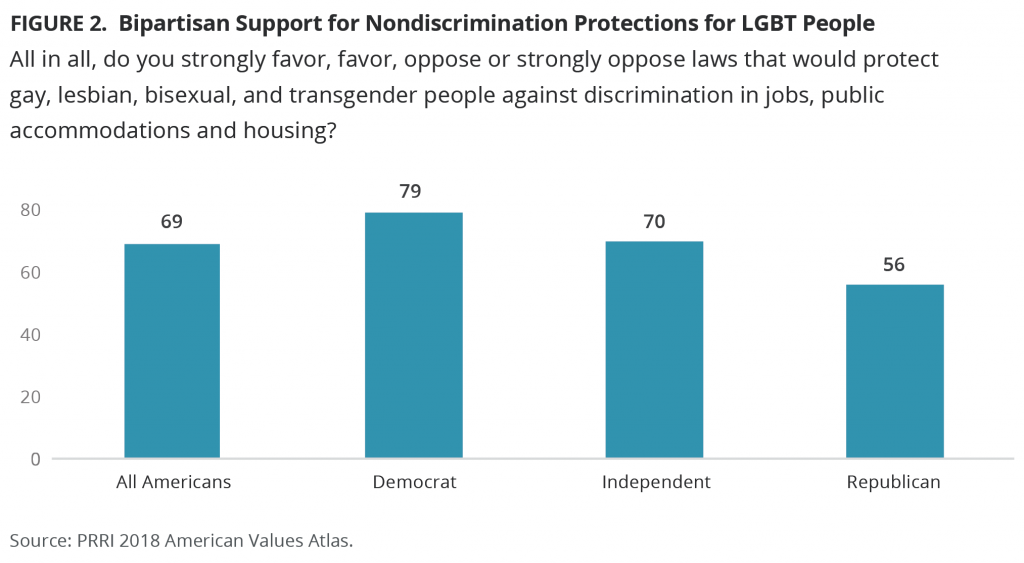 By religious affiliation
The majority of all religious groups polled support nondiscrimination laws for LGBT people in housing, public accommodation and employment.
The most supportive of religious groups, including those who identify as non-religious, are those belonging to "New Age" religions at 86%. They're followed next by Jews, then Hindus, then religiously unaffiliated Americans, then Buddhists.
The faiths least supportive of LGBT nondiscrimination laws are non-white Protestants with 61% supporting, Muslims at 60%, Hispanic Protestants at 60%, and Orthodox Christians at 59%.
Members of The Church of Jesus Christ of Latter-day Saints fall somewhere in the middle of the reported support spectrum, with 70% of members saying they support laws that protect LGBT people from certain discrimination.
Methodology
The research institute has only released results from the poll question that asked respondents about support for nondiscrimination protection in housing, employment and public accommodations for LGBT individuals. The institute has withheld results from other questions for "future release."
While the details of those questions are still unknown, past polls included questions about support for same-sex marriage and refusal of service to LGBT people. Utah's current level of support for those issues has not yet been released by the research institute.
The poll's survey size was over 40,000 in total. Nearly 500 of those respondents were from Utah. Those interested in the survey's results can find more information about the research institute's methodology as well as results from past years.
×
Related stories
Most recent Politics stories