SALT LAKE CITY — Several roads near The Gateway mall will be closed most of the day Saturday for the inaugural Salt Lake Criterium.
USA CRITS is bringing a 1.1-mile, multi-circuit bicycle course through downtown Salt Lake, the first time the race series has come to the city. Professional racers and amateurs alike can participate in the race, and spectators can enjoy the race from a beer garden or festival area near the finish line, which is near the Olympic Legacy Plaza.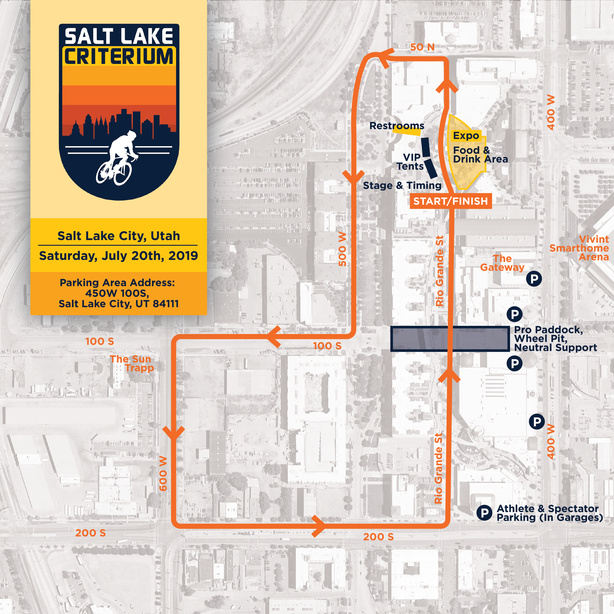 According to race director Eric Gardiner, the race will cause road closures from 1-9:30 p.m.
The following roads will be affected during the event:
All westbound lanes on 200 South will be closed from 400 West to 600 West. Salt Lake City police will shift all traffic on westbound 200 South to eastbound 200 South, which will be split to provide two-way traffic. Police will also assist drivers crossing 200 South at the 500 West intersection.
Rio Grande Street will be closed from 200 South to 50 North.
100 South will close between 400 West and 600 West during the event. Those who live on 500 West can exit the area between their condos and 200 South. Other local traffic will be guided through the area by Salt Lake police. Underground parking on 100 South will still be available between 400 West and Rio Grande Street.
All northbound lanes on 600 West will be shut down between 100 South and 200 South during the event. Southbound lanes will remain open.
Roads on 50 North will be closed between 400 West and 500 West. Residents can park behind Hyatt Place and in the parking lot at 50 N. 460 West.
Cars cannot park on 500 West between 100 South and 50 North the whole day. Vehicles that park here will be towed.
The Hyatt Place and 100 South underground parking will remain open to local traffic.
Alta Gateway Station, Altitude on 5th and The Parc Condos residents will all have normal access to their parking structures, as well. Those who live at Liberty Gateway will not have access to their garage as soon as the race starts.
---
Editor's note: The content of this article was taken from a press release from the Salt Lake CRIT organization. This is not information gathered by KSL.com reporters.
×