SALT LAKE CITY — Ahead of Pac-12 media day next week, Utah football is expected to be the favorite coming out of the South Division to return to the conference's championship game. It's a season full of high expectations as Utah looks to claim its status as the premier team in the conference and make a case for one of the top college football bowl games.
Expectations and reality don't always match up, though. But given Utah's returning talent and a favorable schedule, the conference is for Utah's taking; it's just a matter of whether the Utes can live up to the expectations required to come out on top.
Utah has the 47th hardest strength of schedule in the country, which is the 11th hardest in the Pac-12. Only Washington State has an "easier" schedule, according to ESPN's Football Power Index. It's a much more favorable position for a Utah team that finished 9-5 in 2018 with a Top 20 strength of schedule, according to Bill Connelly's S&P+ rankings.
The Utes enter the season with a projected No. 17 S&P+ ranking and a potential spot in the Top 15 of the Associated Press Top 25 Poll. Furthermore, Utah features four of Sports Illustrated's Top 100 players, which is the most of any team in the Pac-12 coming into this season.
With that in mind, the following is my game-by-game predictions for the first half of the season.
@ BYU, Aug. 29
First games of the season can sometimes be the hardest. There's a lot of energy coming off the long month of fall-camp practices preceding it, but it's not always the prettiest game because teams are getting their first look at a real-game scenario. This, in addition to the first game of the season being a chaotic rivalry, only adds to the intrigue of this game.
Utah has won the last eight games and arguably has the better talent on paper, but anything can happen in this game. Utah is currently projected as a touchdown favorite in this game.
In last year's meeting, BYU took a commanding early lead before losing it late in the game, but that was without several key offensive players for the Utes. If Utah can just take care of its business — which isn't necessarily an easy ask sometimes in these games — the fans' cry for #9iscoming will become a reality.
The game may be at LaVell Edwards Stadium, but give Kyle Whittingham a year to prepare for a game and he's hard to beat. The Cougars have fared well in opening games, so there's room for an upset, but not this year.
Result: Utah win (1-0)
What will be @Utah_Football's first half of the season record?

@ BYU
vs. Northern Illinois
vs. Idaho State
@ USC
vs. Washington State
BYE
@ Oregon State

— Josh Furlong (@JFurKSL) July 16, 2019
vs. Northern Illinois, Sept. 7
Last season, Utah's game against Northern Illinois on the road was uninspiring and void of action. Coming off an emotional rivalry game the week prior may lend to a bit of a trap game as NIU comes to town. Utah traditionally struggles off of rivalry games, but they'll have nine days to prepare.
The Huskies feature a Top 25 defense and will give the Utes one of its better tests of the season — more so than its Week 1 challenge — but its offense is less than impressive and will not give Utah much of a test, particularly against a stout Utah defense that is expected to be one of the best in the Pac-12.
Result: Utah win (2-0)
vs. Idaho State, Sept. 14
What's there to write about a game where Utah has a 99% chance of winning? The biggest thing for this game is making sure Utah's depth gets some experience in this game. Jason Shelley and the second/third unit should see a lot of playing time in this game. Anything less than a 35+ point blowout will be a disappointment.
Result: Utah win (3-0)
@ USC, Sept. 20
This game alone could be the game to determine the South Division winner, and Utah struggles to capitalize at the Los Angeles Coliseum. But it's rare for Utah to get blown out in this matchup, though it's happened. But given the talent on both teams, the matchup should be a good one to kick off Pac-12 play for the Utes.
The Trojans had a rough offseason and failed to spark confidence in those that paid attention, but they still get the top recruits and talent and have the pieces capable to make things difficult for the Utes. The biggest question about the Trojans is whether Clay Helton will have a job by the time Utah travels to the Coliseum. Unless the wheels completely fall off, he will most likely be coaching against the Utes — which could be good or bad depending on what side of the aisle you sit.
Additionally, USC sophomore quarterback JT Daniels will be much improved and will make Utah's defense earn the win, but Utah has faced good quarterbacks before and has the defense capable of stopping the Trojans' offensive threats.
The margin of victory in this game for either team will most likely be slim, so don't be surprised to see a game end on a field goal … or a 2-point conversion as the clock expires (too soon?). Regardless, Utah has to take care of business and get the crowd out of the game. The Coliseum is a magical place, so you can never count the Trojans out until the final whistle blows.
Because this game is essentially a 50/50 game, we'll finally give the Utes the upper hand in this one, but it could also easily be a loss, too.
Result: Utah win (4-0)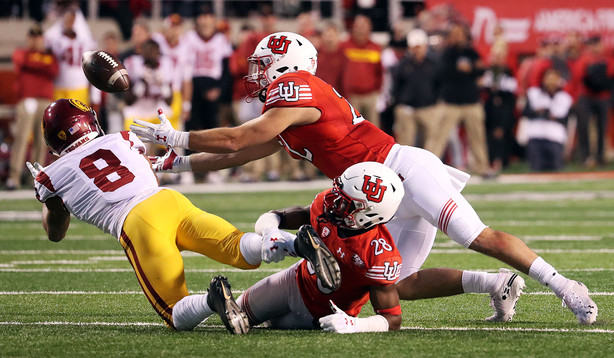 vs. Washington State, Sept. 28
Repeat after me: Trap game.
Gardner Minshew is no longer slinging the rock for the Cougars, but Mike Leach has a way of making Utah look average at times. On paper, Utah easily has the upper hand coming into the game; but after a tough game against USC the week prior, it's not such an easy task.
Washington State is the only other team in the Pac-12 that has an easier schedule than Utah, so both teams will have a fairly even task when they meet in Salt Lake City. The Cougars open up Pac-12 play at home against a rebuilding UCLA team, but that's easily their biggest test up until that point in the season.
As long as Utah can get some points against Washington State's average defense, they'll likely be able to weather the air raid game. With Julian Blackmon at safety and Jaylon Johnson at corner, Utah's in a good position to counter the passing game. Still, it's never an easy bet against the Cougars — even at home.
Result: Utah win (5-0)
Bye Week
The bye week comes at a good time for the Utes. Get two conference games out of the way, heal up and get back to the grind. It's at this point in the season where Utah could potentially be a Top 10 team and showing a potential path to the College Football Playoffs or New Year's Six Bowl if all the above takes place. There's still a long season ahead, but it's a good stopping point to refresh and reset the focus (if one is needed).
@ Oregon State, Oct. 12
Even at home for the Beavers, Oregon State has a terrible defense. And as long as Utah's offense hasn't sputtered up until this point in the season, this should be as much as a guaranteed win as possible in the Pac-12. Their offense is average and nothing to necessarily fear.
Still, you can't count out anybody in football; crazier things have happened. But the chances of Oregon State upsetting Utah is only at about 10%, according to S&P+ projections.
Result: Utah win (6-0)
×