This archived news story is available only for your personal, non-commercial use. Information in the story may be outdated or superseded by additional information. Reading or replaying the story in its archived form does not constitute a republication of the story.
MARRIOTT-SLATERVILLE, Weber County — The roads were still wet with rain as Judy Nye's nephew and sons drove off on their motocross bikes to the railroad tracks.
Nye's nephew was riding slightly ahead, just out of sight, when his bike slipped on the slick road and he flew up, landing on a pole that drove through his hip. When his cousins heard his bike engine die, they rushed over and found him lying, bleeding on the ground.
They quickly brought him home, and Nye called 911 as she applied pressure to the wound. But as the ambulance approached, it was stopped by a train sitting on the tracks at the intersection leading to Nye's house.
"They had to call the train station and have them move the train so the paramedics and the ambulance could get through," Nye said. "That's when I started saying, 'No more of this.'"
Nye lives in a small town near Ogden called Marriott-Slaterville. The town is no stranger to long Union Pacific trains that rattle through, often blocking the intersections for minutes or hours at a time as they roll by or stop on the tracks to switch freight cars in the yard.
But Nye's neighborhood is uniquely situated so that, if a long train has stopped on the tracks, she and her neighbors have no way out. In fact, the mayor of Marriott-Slaterville, Scott Van Leeuwen, said Nye's street becomes "an island" if a train is long enough to block the only two intersections leading in and out of the neighborhood.
This worries Nye immensely. There are elderly and diabetic people who might need urgent medical assistance, and a lot of the area is industrial, she said. She wonders what would happen if one of the workers had an accident or there was a fire.
Van Leeuwen said he was once driving down the road that leads to the neighborhood when an ambulance rushed past, sirens and lights blaring. When it came to the intersection, however, it was stopped by a train sitting on the tracks. So it turned around and drove the other way.
Kristen South, a spokeswoman for Union Pacific, said there's a phone number emergency personnel can call if a train is blocking their way, but she's unsure how aware first responders are of that option. The amount of time it would take to move the train out of an emergency vehicle's way depends on the situation, she said.
Nye feels that's still leaving a lot to chance.
"(In an emergency), it's just a matter of minutes," she said.
But it's not just emergencies Nye's worried about. The Utah mother said she would often leave for work at 5:30 a.m. but would have to wait for an hour before the train would move out of her way. She's especially concerned when she sees children ducking under the stopped train so they can get to school.
"That's a dangerous situation. … My son went underneath it. That's when I freaked out," Nye said. "I've seen quite a few people doing it. … That's another reason why I started calling."
Soon after her nephew got hurt, Nye decided to finally get in touch with Union Pacific, then asked Van Leeuwen to get involved as well. She pleaded with the railroad to improve the issue, and they did — for a while, she said.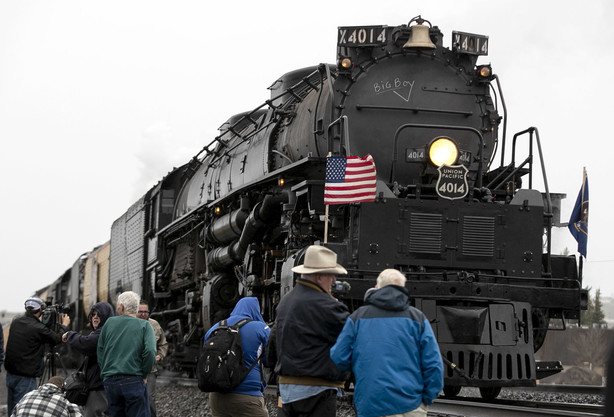 But when the Big Boy locomotive headed to Utah for the 150th anniversary of the transcontinental railroad, Nye's neighborhood was trapped for several hours as the long train pulled in. They eventually had to call the railroad to come unhook the train cars and let them out, she said.
Union Pacific said the company began a new operating plan in October that focuses heavily on moving its freight cars from point A to point B. This means the trains themselves are longer and may block intersections for greater periods of time.
Union Pacific encourages commuters to call the same number the company has available for emergency responders, 888-877-7267, if they see a train blocking a crossroad for a long time. The more feedback the company hears, the better they'll be able to adjust to commuters' needs, South said.
While the issue has partially improved since Nye spoke to the railroad, she said there is still a myriad of issues.
And it's not just Marriott-Slaterville that has dealt with them.
Last legislative session, Rep. Joel Ferry (R-Brigham City) sponsored H.B. 205, a piece of legislation that attempted to regulate how long trains can sit at a crossing. The bill eventually died on the House floor.
Current legislation dictates that trains cannot block intersections for longer than five minutes, but there are several exceptions. If a train has stopped to perform an active switching operation in the yard, it can be stopped for as long as it needs to be. If a train is sitting on the tracks at an intersection, that's usually what's happening, South said.
Ferry's bill attempted to prohibit a train from blocking a roadway for more than 15 minutes if the roadway had traffic of more than 5,000 vehicles per day and if there were five or more vehicles waiting on the roadway in either direction.
The inspiration behind Ferry's bill is an intersection in his hometown of Brigham City that is often blocked by trains for hours, he said. It's a particular concern because the intersection is right next to the public safety building, including the fire and law enforcement stations.
"That becomes a real concern," he said. "It increases the (response) time significantly to have to go clear around (to another route)."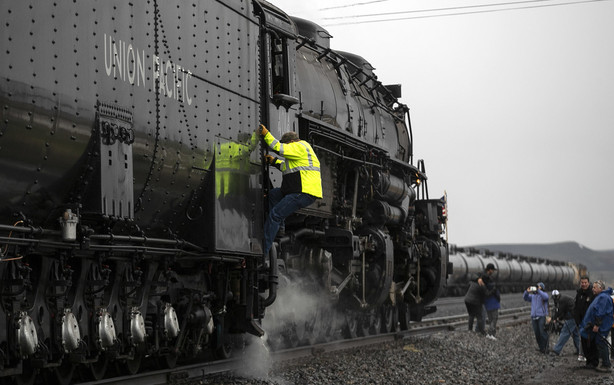 It's also difficult for large trucks or tractor-trailers to turn around on that road if they get stuck behind a long train, he said. He hoped to bring his bill back up during the next legislative session and said he's gotten a lot of support from people in other areas who say they've also had the same problem.
"I couldn't believe the number of people that, when I introduced this bill, kind of came out of the woodwork and said, 'We have a very similar problem in our community. Thank you for doing this.'"
But while Ferry hoped the legislation could make more headway next time around, he was also aware of a slight snag. Even if the law does pass, federal rule may trump state law, he said. Though Utah may dictate how long a train can stop at a crossing, federal law says the train has the right of way.
"A lot of these rules that we make, it's to try and nudge the railroad in the right direction, and federal law may or may not trump that. It's something that's yet to be determined," Ferry said.
Federal law has generally trumped state law in the past, however, most notably in CSX Transportation Inc. v. City of Plymouth Michigan, when Plymouth tried to enforce a five-minute time limit for trains blocking the roadway.
Because of this disadvantage, Ferry said he would also try to work with the railroads to find a different solution.
When Kaysville faced a similar issue, the city built an overpass, though that's not always an option for a city or town, Ferry said. It would cost millions to build an overpass in Marriott-Slaterville, Van Leeuwen claimed, and the town would have to buy out and displace businesses that have built up to the edge of the railroad tracks.
As a cheaper alternative, Ferry is looking into erecting road signs that would notify vehicles of the closed crossing ahead.
"We recognize this transportation via rail is really important for our local economy, and they have the right of way to do what they do. But at the same time, if you have a train that's just sitting there for three hours, that's unacceptable," Ferry said. "I do think there's a lot of middle ground. There's a lot of areas we can work together. It's not a zero-sum game."
×