This archived news story is available only for your personal, non-commercial use. Information in the story may be outdated or superseded by additional information. Reading or replaying the story in its archived form does not constitute a republication of the story.
SALT LAKE CITY — A report from the national Centers for Disease Control and Prevention shows nearly one in every three Americans don't get enough sleep each night, leaving many people turning to sleep aids for a little more shut-eye. If used the right way, melatonin could be the choice for you.
Boris Beta meal preps weekly to be ready for his long workweek as a certified nursing assistant. "I'm on my feet almost for the full 12 hours of my shift, and putting in a good, probably, 7 to 8 miles on average just moving around helping patients," he said.
By the time he gets home, Beta said he is exhausted. "I'm pretty wiped, especially because I usually go to the gym after work," he said.
But even though Beta is tired after working a long day, he said he has a hard time staying asleep at night.
"I just find that I'm restless because of what I do for work and the active lifestyle that I have," he said.
About once a week Beta takes 1 milligram of melatonin before he goes to bed. He said it does the trick.
But if he takes too much, he finds he is groggy in the morning. One time, Beta took 3 milligrams and had a negative response, including weird dreams.
"I slept really heavy. I even slept through all my alarms and woke up about 15 minutes before my shift started," he said.
Casey Rosenhan turned to melatonin several years ago while she was serving a mission for her church, but found it had the opposite effect.
"I got in bed and just laid awake all night, just staring at the ceiling," she described. "So I woke up, obviously, really tired."
Intermountain Healthcare's Dr. Kelly Woodward, medical director at the Park City LiVe Well Center, said although melatonin is not highly regulated, it's safe. He said melatonin is a hormone the body naturally produces, meaning it's not completely foreign to the brain.
There are lots of choices when it comes to supplemental melatonin at the pharmacy, but Woodward said the key is starting out with the right dose. He tells people to start low, anything from 0.3 to 0.5 milligrams, and make adjustments as needed.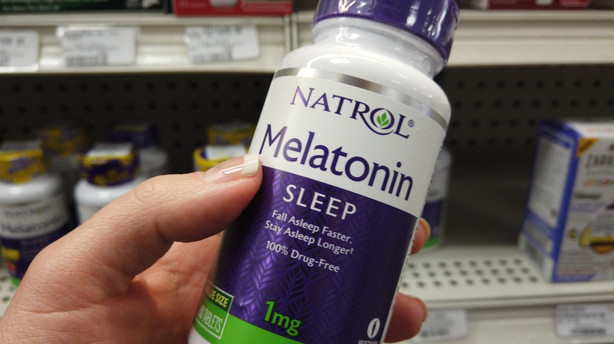 "People should definitely start with the lower amount because, again, that's really mimicking, or what's going on in your body," he explained. "It doesn't take very much melatonin to kind of mimic our own natural melatonin."
He warns people not to take it consistently for more than three weeks. "You should take a holiday, where you stop it for seven or 10 days, (to) let those receptors kind of reset," Woodward said.
Otherwise, he said it might not be effective. Woodward said your brain receptors get used to the extra melatonin, blocking the body's response to it.
Woodward said taking too much melatonin could result in negative side effects. He said he's never seen anyone benefit from taking more than 10 milligrams.
"But it can also, in some people, create a little bit of a daytime drowsiness. It can cause some headaches, it can cause a little bit of confusion in some people," Woodward said. He mentioned some patients have also reported headaches, stomach aches and funky dreams.
He warns parents not to give melatonin to babies or toddlers. "It's very easy to get a really, really, really high dosage, much more than those small children (or) those infants would need," he said.
Above all, Woodward said nothing replaces the basics for getting good sleep. He reminds people to set the stage with a dark, quiet room at a comfortable temperature without distractions.
Beta puts away his electronics before bed. "My laptop stays in the living room," he said.
Rosenhan tries not to miss her natural drive for sleep. "I also listen to my body. When I'm tired at 9 o'clock, I go to bed at 9 o'clock," she said.
Woodward said melatonin can be helpful if you are traveling across time zones and trying to manage jet lag. "When you get off sync, it can help you get back on synchronization," he said.
×
Photos
Related Stories