Estimated read time: 7-8 minutes
This archived news story is available only for your personal, non-commercial use. Information in the story may be outdated or superseded by additional information. Reading or replaying the story in its archived form does not constitute a republication of the story.
This story is sponsored by Robert J. DeBry—more than 200 years of combined experience practicing personal injury law.
No matter the season, people from all over the world come to Utah to tour the breathtaking national parks and to experience the greatest snow on earth. However, not everyone likes to brave the crowds of tourists and locals that frequent places like Zion National Park or Park City.
While visiting tourist hot spots during their respective off-seasons is one way to beat the crowds, you can also visit places that are, by their very definition, ghost towns. Some are spooky, some are shocking, but each one has a different story hidden in the decaying wood.
It is important to recognize, however, that just because a town is abandoned does not mean the property is open to the public. Many Utah ghost towns sit on private property and others have active mining claims. If you visit, please don't violate trespassing laws.
Visiting ghost towns can help you gain an understanding and appreciation for the people who lived there in an earlier era. Make sure to take a camera to capture the beauty and solitude of these unique areas, but leave remaining buildings and relics alone so others can enjoy the experience as well.
Half the fun of visiting a ghost town is the journey there, where you'll explore quiet highways and unsettled areas of Utah.
Ghosttowns.com lists more than 140 abandoned communities in Utah. Here are a handful of Utah's lost communities worth a visit.
Although it wasn't technically a town, Topaz was a relocation settlement that has since been abandoned. The settlement was home to a Japanese internment camp during WWII. Unfortunately, more than 120,000 total people were displaced because of wartime hysteria, racial animosity and economic opportunism on the West Coast, explains greatbasinheritage.org. These innocent victims, many of them American citizens, were held in ten different internment camps, but Topaz is perhaps the most well known. Holding approximately 9,000 Japanese-Americans, Topaz became the fifth largest city in Utah in 1942.
Although it wasn't an ideal situation, the Japanese worked hard to make Topaz a liveable place with schools, churches, adult education courses, a hospital, sporting leagues and a newspaper. Topaz was later disbanded in 1945, where released people were given a train ticket and $25 to rebuild their lives.
You can visit the Topaz Museum in Delta, Utah, or read signs posted along the area from US Highway 6.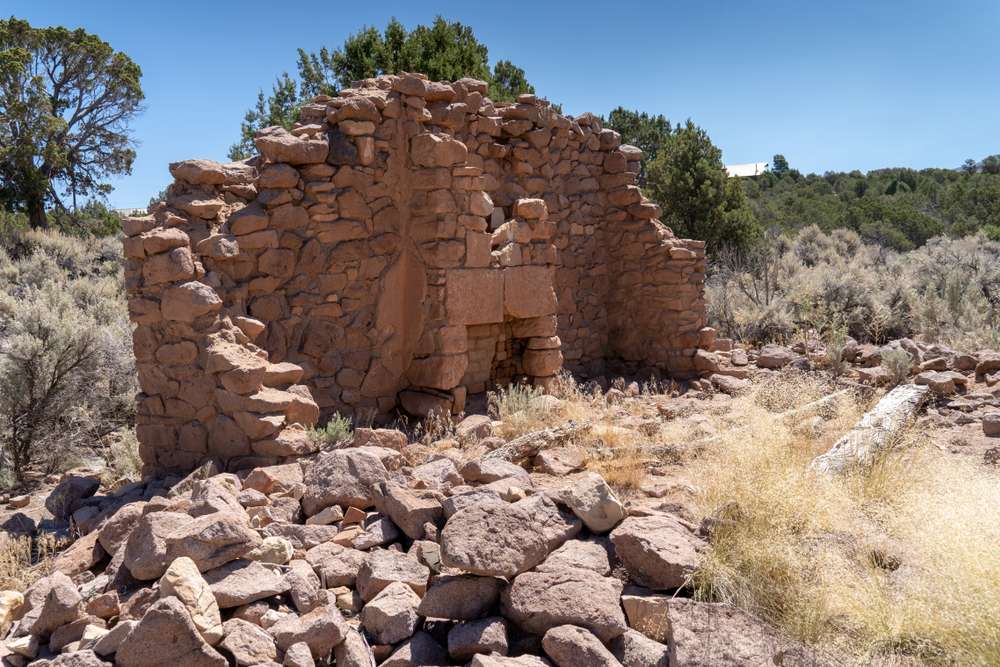 Although it's only three miles away from Mercur, another ghost town, Sunshine has its own history. Located at the southern tip of the Oquirrh Mountains, Sunshine was a small mining town established in the 1890s when gold ores were found.
One publisher claims it's been deserted since 1910 when investors realized their money would be better spent in a higher-output mine. While there are still a few brick building foundations and a mine dump, most of what was once Sunshine is in the past.
Visitors can make it there with a normal vehicle, but higher clearance and four-wheel drive vehicles are recommended.
What started a strategic location during the Utah War is now just remnants of what used to be. Echo is located near Echo Canyon, between Ogden and Salt Lake City. According to Intermountain Histories, it was once a stop for the Pony Express, the Overland Telegraph, the Lincoln Highway and the Transcontinental Railroad. Once Interstate 80 went in, the town quickly became isolated.
The ghost town, Home of Truth, has a particularly unusual history. Started by a grieving widow, Marie Ogden claimed to have conversations with Jesus Christ, according to Deseret News. She said she received a vision to move out to Utah from New Jersey to the only spot she claimed wouldn't be destroyed when Christ came. That was in 1933. What was once referred to as Dry Valley is now living up to that name.
Ogden's religious band of followers eventually grew suspicious of her visions, and most left the Home of Truth around 1935 when the second coming never happened.
When she died in 1975, the land became private property. The current owner preserved and restored some of what used to be more than 20 buildings, opening the ghost town for public visitation. You can still see the "inner portal" where Ogden lived in the center of the compound, but most just know the place by its sign in the front: Marie's Place. The site can be accessed via Utah State Route 211 from Moab.
This old mining town located in Juab County is unique in that it was settled by an inexperienced proprietor long after the initial mining boom. Jesse Knight, a devout member of The Church of Jesus Christ of Latter-day Saints, arrived in the area in 1896. According to Western Mining History, investors scorned his choice for a mine saying it wouldn't pan out.
His plan worked, though, and the mine produced lots of silver and lead. Knight insisted that his miners abstained from alcohol and tobacco, explaining why the mining town never had a saloon. Knight went on to own several mines, becoming one of the wealthiest men in the area. Later into the 20th century, mines were in decline across the nation, so what was once a settlement of over a thousand dwindled to nothing by the 1950s.
Visitors can access this ghost town via Highway 6 east of Eureka.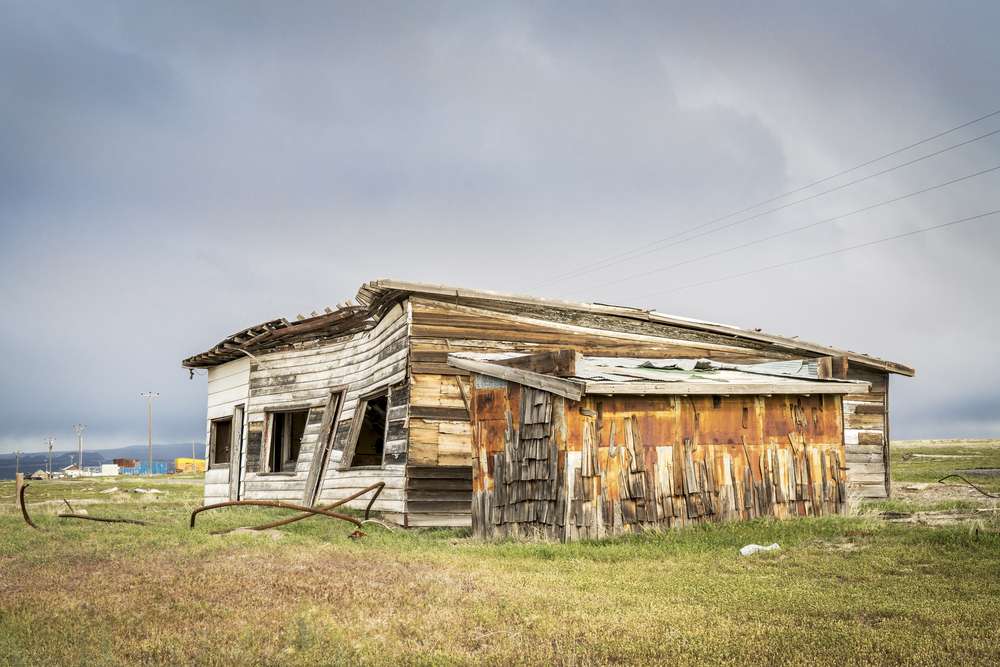 Not far from Wendover is the shell of a town, Lucin. The New York Times says, "In the late 1800s, steam engines stopped nearby to take on water. In the 1970s, a few retired railroad workers were still living here, but they are long gone." Now all that remains are a few phone booths, one house and a small pond, according to visitors and contributors of ghosttowns.com.
In this century, a Czech engineer bought 400 acres of the desert in and near Lucin to build an airplane. He had escaped communism in a hangar he built by himself years ago, and now works on his plane in the isolation of Lucin, according to the NYT.
The remnants of this town are accessible via Interstate 80.
Not many people visit Skull Valley, the desert located West of the Stansbury Mountains, but it certainly has a lot of history. Back in 1889, Hawaiian Latter-day Saint settlers came and built up a once prosperous town. Now all that remains are about 80 graves and an old fire hydrant, according to a KSL article.
Although nobody lives in Iosepa any more, it is not forgotten. The Hoopiiaina family raised $40,000 to build a memorial for the town in 1989. The Hawaiian governor at the time even declared August 28 as "Iosepa Pioneers Centennial Day in Hawaii."
Travel prepared
Some Utah ghost towns are located near major roads and are easily accessible with any passenger car. Many others are in remote locations reachable only with a high-clearance off-road vehicle. When visiting those in hard-to-get-to areas, make sure you have emergency supplies and that someone knows your travel route and expected return time. After all, you don't want to become the only permanent resident of a bygone community.
×