This archived news story is available only for your personal, non-commercial use. Information in the story may be outdated or superseded by additional information. Reading or replaying the story in its archived form does not constitute a republication of the story.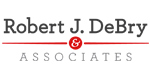 This story is sponsored by Robert J. DeBry—more than 200 years of combined experience practicing personal injury law.
While it's fun to spend a weekend in Park City or Moab, you'll likely be sharing your experience with throngs of other visitors. There are times you want to get away from the crowds. What better way is there to find some solitude than to visit towns where the only residents are ghosts?
It is important to recognize, however, that just because a town is abandoned does not mean the property is open to the public. Many Utah ghost towns sit on private property and others have active mining claims. If you visit, please don't violate trespassing laws.
Visiting ghost towns can help you gain an understanding and appreciation for the people who lived there in an earlier era. Make sure to take a camera to capture the beauty and solitude of these unique areas, but leave remaining buildings and relics alone so others can enjoy the experience as well.
Ghosttowns.com lists more than 140 abandoned communities in Utah. Here are a handful of Utah's lost communities worth a visit.
Frisco
In the 1880s, this silver-mining town in Beaver County had 6,000 residents, more than 20 saloons, several gambling parlors and many brothels. According to legendsofamerica.com, one writer described it as "Dodge City, Tombstone, Sodom and Gomorrah all rolled into one."
A massive collapse in 1885 was the beginning of the end for the mine and the community. By 1900, only 500 people and a few businesses remained. By the 1920s, no one was left. Today, cone-shaped kilns used to make charcoal are still visible, along with remnants of other structures.
Thistle
Many people who lived in Utah before 1983 remember driving through the small community of Thistle in Spanish Fork Canyon. It was on the preferred route for Wasatch Front residents headed to destinations such as Price, Moab, Manti and Ephraim.
Heavy rain in 1983 triggered a massive landslide in the canyon. The slide missed the town, but it blocked the river, and the rising waters engulfed the small community. The shells of some of those homes are still visible — some protruding from the waters of Thistle Creek.
According to a KSL article, at the time it was the costliest landslide in U.S. history, with total damage estimated at more than $200 million.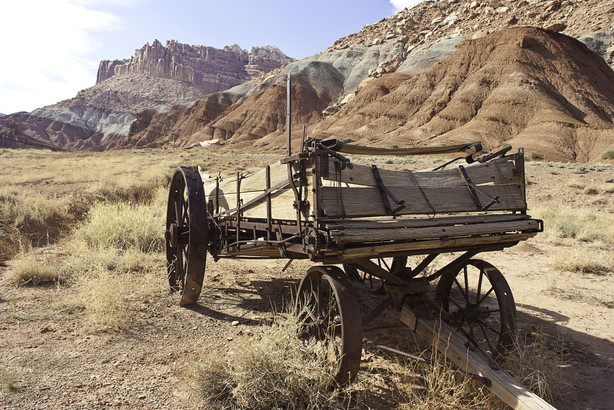 Grafton
A few miles from Springdale near Zion National Park, Grafton was a quiet farming community from 1859 to 1944. Despite the good soil and beautiful surroundings, life was difficult because of floods, Indian attacks and harsh weather, reports americansouthwest.net.
Many of the buildings in Grafton have been preserved or restored. The town has been featured in several Western movies, including "Butch Cassidy and the Sundance Kid."
Sego
Named after the state flower, Sego was a coal-mining town. Beginning in the 1890s, the area produced tons of coal, with production peaking in 1947. By 1955, the mine and the town were abandoned.
Flooding in 1950 caused the railroad to abandon the spur line that extended to the town. Then the mine caught fire — twice — according to altlasobscura.com. Today, a few foundations remain, and smoke from underground coal fires still seeps from the old mine.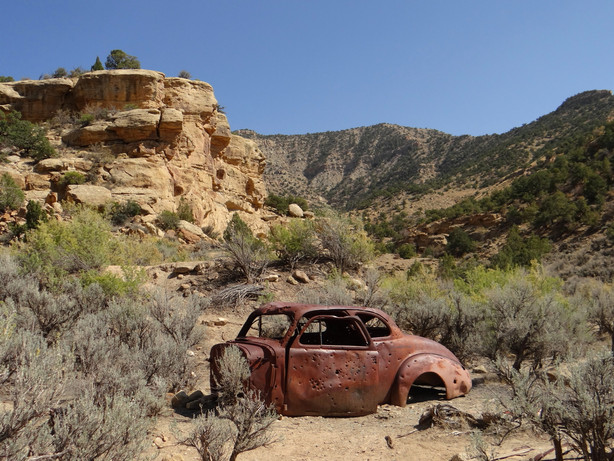 Gold Hill
Was there ever a better name for an Old West community? The town was founded in 1892 by miners who extracted gold, silver, lead, copper, tungsten and arsenic from the surrounding hills.
At its peak, more than 3,000 people lived in the town, which had stores, a school and even a newspaper, according to westernmininghistory.com. A post office operated from 1911 to 1949.
A Gold Hill Facebook page has stories and images related to the area.
Some Utah ghost towns are located near major roads and are easily accessible with any passenger car. Many others are in remote locations reachable only with a high-clearance off-road vehicle. When visiting those in hard-to-get-to areas, make sure you have emergency supplies and that someone knows your travel route and expected return time. After all, you don't want to become the only permanent resident of a bygone community.
×