Estimated read time: 6-7 minutes
This archived news story is available only for your personal, non-commercial use. Information in the story may be outdated or superseded by additional information. Reading or replaying the story in its archived form does not constitute a republication of the story.
SALT LAKE CITY — Chances are you've heard about "defensible space," especially when fire officials talk about how to prepare for wildfires. We also hear the phrase when officials describe why some homes burn, as compared to those that are miraculously spared by a wildfire.
But what does defensible space mean, and why do fire officials urge homeowners in Utah and throughout the western U.S. to think about it? Here's what you should know, especially since now is the best time to prepare for the next wildfire season.
What is defensible space?
Let's first define defensible space, a term that can be confusing because different agencies define it differently. It's essentially a buffer between vegetation and a home, and every government agency seems to agree there should be multiple buffer zones.
Creating these defensible spaces isn't particularly difficult and can be completed in an afternoon or in steps over a few weekends, according to Jason Curry, spokesman for the Utah Division of Fire, Forestry and State Lands.
The National Fire Protection Agency recommends a 5-foot immediate defensible space zone around a home. Nothing combustible should be in this zone, according to the agency.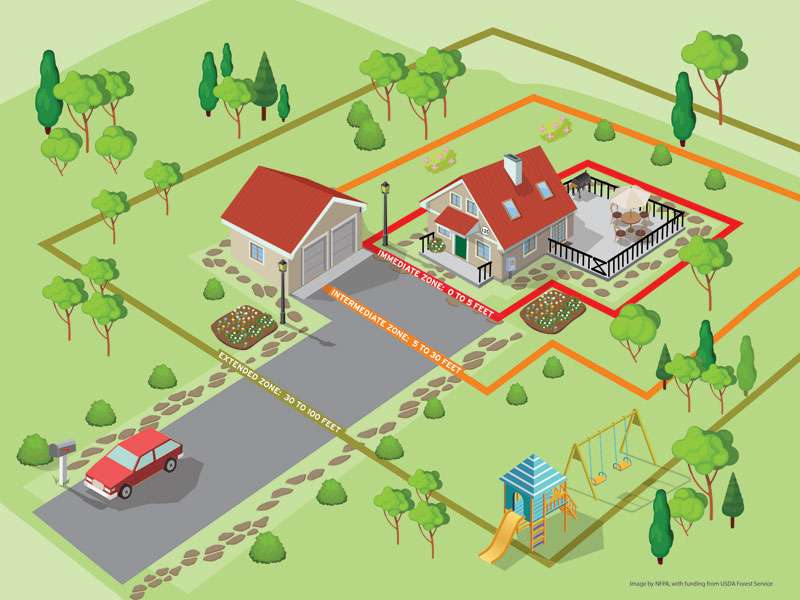 The intermediate defensible space zone is 5 to 30 feet from a home, and that's where vegetation should be well kept and spaced apart, officials say. Agencies like the Federal Emergency Management Agency, the Utah Division of Emergency Management and the California Department of Forestry and Fire Protection (Cal Fire) all suggest this 30-foot zone around the home.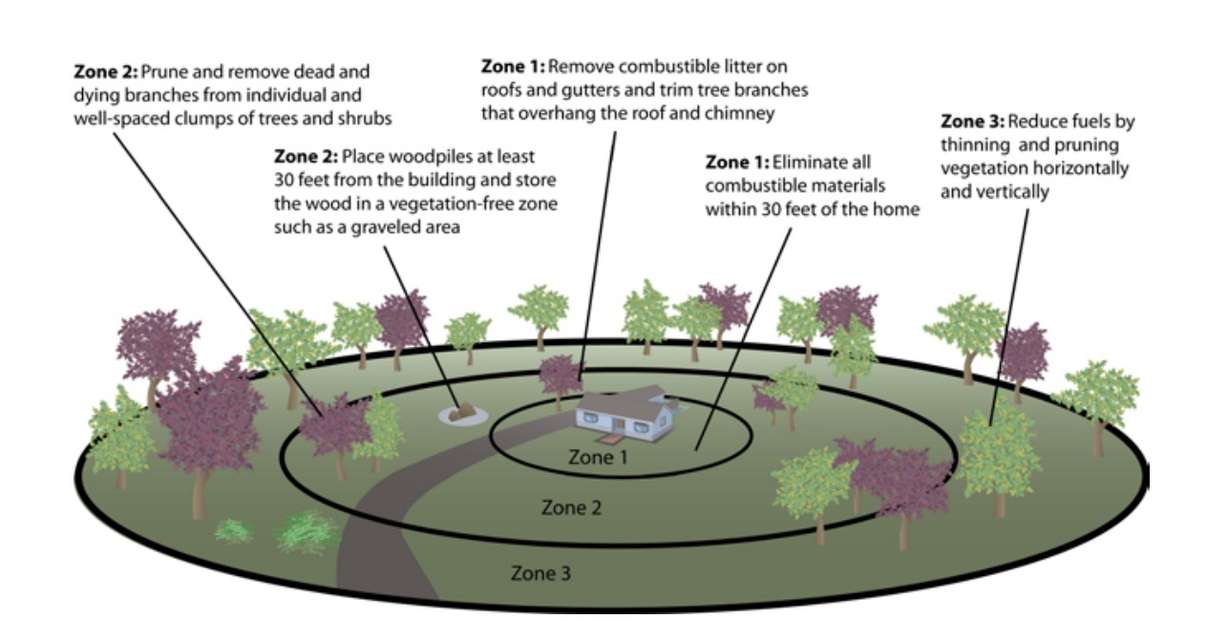 To create this zone, the agencies say people should:
remove all dead or dry plants, grass, leaves, pine needles and weeds from their lawn;
remove any sort of combustible litter from roofs or gutters, such as tree limbs or leaves; and
make sure any tree in this zone is regularly maintained, with the branches kept at least 10 feet apart.
In short, keep anything that can catch on fire separated and away from touching your home.

Emergency management officials also suggest a second zone, sometimes referred to as the "firebreak zone." This zone is 30 to 100 feet from a home and is a space where homeowners:
should store wood in a vegetation-free area, like a gravel spot;
can plant trees and bushes away from the firewood, pruning and removing dead or dying branches and creating space between each plant, set of bushes or trees; and
should create horizontal spacing between shrubs and trees; vertical spacing between grass, shrubs and trees; and remove any fallen leaves, needles, twigs, bark, cones and small branches.
This zone can be larger if the home or structure is at the top of a slope, emergency management officials say.

The third zone is more than 100 feet away and is a place where homeowners should thin and reduce any vegetation. Utah emergency management officials note, "remove undergrowth and thin out densely-crowded smaller trees to reduce fire intensity. Experts recommend keeping a minimum of 10 feet of space between trees and shrubs (in this zone)."
Why is this recommended?
The idea began in the late 1990s by Jack Cohen, a retired fire scientist who had worked for the U.S. Forest Service, according to the National Fire Protection Association. As noted on a 2018 episode of the podcast "99% Invisible," Cohen noticed a pattern of California homes burning before a wildfire reached the affected building. It's because embers from the approaching fire came before the flames and ignited things like dry wood shingles or loose debris near the home.
The defensible space designs were modeled from the houses that survived these fires, according to Cohen. If you've ever seen an aerial photo of a pristine house surrounded by destroyed forestry, defensible space likely factored in the home's survival.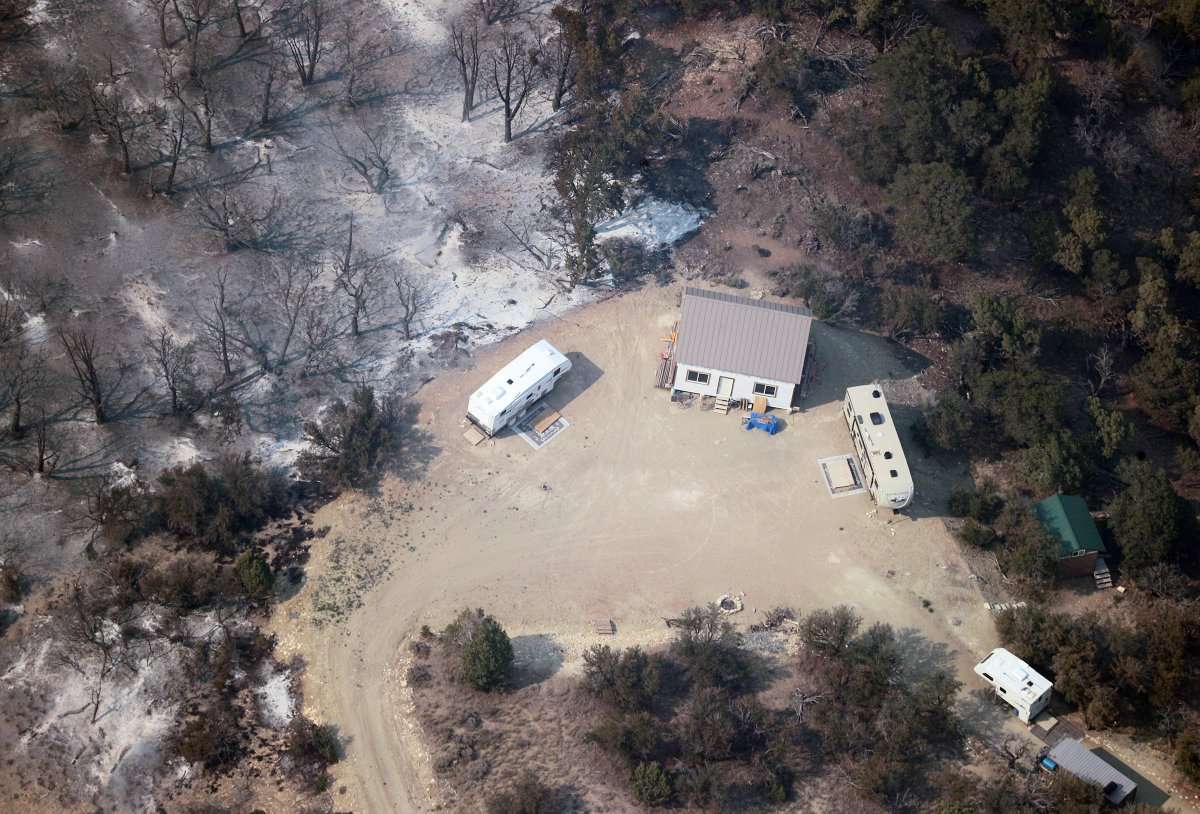 Utah fire officials have noticed the same thing after recent fires, Curry said.
"We've seen many examples over the last several fire seasons where individual homeowners have done work on their property, and it's meant the difference between the fire taking their home and it not," he said. "The homes that were lost weren't lost because the flaming front came rushing to the homes, but an ember was blown out in front of a fire — up to even half a mile — and that ember landed in, maybe, rain gutters that have vegetation that's from last year, a wood pile that's on the deck, or wooden shingles. This ember attack is typically how a home is going to be lost in a wildfire."
That, of course, comes with a slight caveat.
"It's not a guarantee by any means, but the chance of your home surviving goes way up," Curry added.
Who should think about defensible space the most?
Anybody can be affected, but people who own cabins in the wilderness or have homes near forests or slopes, where Utah's wildfires tend to spark or grow, are at most risk. These homeowners should think about defensible space the most.
"If you live in any of these areas along the benches, the forest area — this is the area that we call the wildland-urban interface," Curry explained. "You should be proactive and find out the types of things (you) can do on (your) specific property."
It's been a wet spring, why should I care now?
Rain totals and snowpack figures were more than favorable for Utah this spring. In fact, some areas of the state are gearing up for potential flooding as snowmelt takes place. That's not stopping officials from thinking about this year's fire season.
---
Right now, with the great grass crop we do have, it does present a higher hazard than what we've had in years past when we haven't had a lot of rain.
–Jason Curry, spokesman for the Utah Division of Fire, Forestry and State Lands
---
When it rains in spring, grass and weeds in forest areas grow more than in dryer years. Since summer is traditionally Utah's driest season, grass, weeds and trees can also dry out quickly.
"We live in a desert, so things are going to get dry and things are going to become flammable. Right now, with the great grass crop we do have, it does present a higher hazard than what we've had in years past when we haven't had a lot of rain," Curry said. "It's kind of that two-edged sword. We love the green and we love the moisture, but at the same time it's going to mean (fire) fuel eventually. So, taking some measures to protect your property and put in some defensible space is going to be key."
With Utah's inevitable fire season approaching, state officials continue to urge the same practices to prevent wildfires. Last year, the state reported more than 1,300 wildfires that scorched nearly 500,000 acres and cost more than $100 million; close to 52% of the fires were human-caused.
This year, Utah officials launched a new campaign called "Spark Change" where people can pledge not to do anything risky — such as leaving a fire unattended, starting a fire on a windy day, or parking a car on dry grass — that would start a wildfire.
"The fewer sparks we have," Curry said, "the more mild fire season we'll have."
×
Photos
Related stories
Most recent Utah stories