Estimated read time: 8-9 minutes
This archived news story is available only for your personal, non-commercial use. Information in the story may be outdated or superseded by additional information. Reading or replaying the story in its archived form does not constitute a republication of the story.
Editor's note: This article is a part of a series reviewing Utah and U.S. history for KSL.com's Historic section.PLEASANT GROVE — When Joel Murphy's daughter and son-in-law scored an online deal to fly to Europe, nothing was going to stop him and his wife, Sharon, from joining.
"My wife blurted 'well, can we go along with you?'" Murphy recalls with a chuckle. While a tour of London and the United Kingdom sounded nice, their hearts were set on Normandy in France.
"We're both World War II aficionados. We just like that kind of history," he added. "We followed all the 'Band of Brothers' series in the Pacific and my father was a Marine in World War II."
For Murphy, 70, of Pleasant Grove, Normandy had an additional pull factor. He grew up hearing small stories about his second cousin, Pvt. Legrand "Lee" Mangus. Although Murphy never knew his second cousin, he knew Mangus was a paratrooper in U.S. Army's 508th Parachute Infantry Regiment who got injured in action not terribly far from Utah Beach as troops stormed during D-Day 75 years ago Thursday. He also knew that Mangus died the following day and his body was eventually brought back to Utah in 1948.
Murphy also felt a unique bond with Mangus even if they lived in different eras. Murphy served in the 328th General Hospital at Fort Douglas during the Vietnam War. He didn't deploy overseas, but he treated wounded soldiers in the same fashion doctors worked to try to save Mangus. So it meant everything to him to take the opportunity of their trip to learn about and honor a fallen member of their family.
How Utahns reacted to the D-Day news
The impact D-Day had on the war is often taught in classrooms. The siege led by more than 150,000 Allied troops is believed to be a major turning point in the war — if not the largest. It helped liberate France from Nazi occupation. It's also believed more than 4,400 Allied troops died on the day of the attack, including more than 2,500 Americans, according to History.com.
To understand what was happening in Utah at this time, college graduations were happening about the same time, according to local newspaper accounts. But it's not as if the top story changed for many newspapers on June 6, 1944. By the time D-Day was carried out, news from the war frequently dominated headlines on the front page of Utah's newspapers.
Online archives, unfortunately, don't have the special "Extra! Extra!" Deseret News edition that informed Utahns the moment the U.S. invaded the Nazis in France. However, a photo tucked in the left-hand portion of the on the front page of a June 6, 1944, Deseret News edition shows a pair of soldiers from Kearns smiling as they grabbed a breaking news edition with the big block headline: "Coast of France Invaded."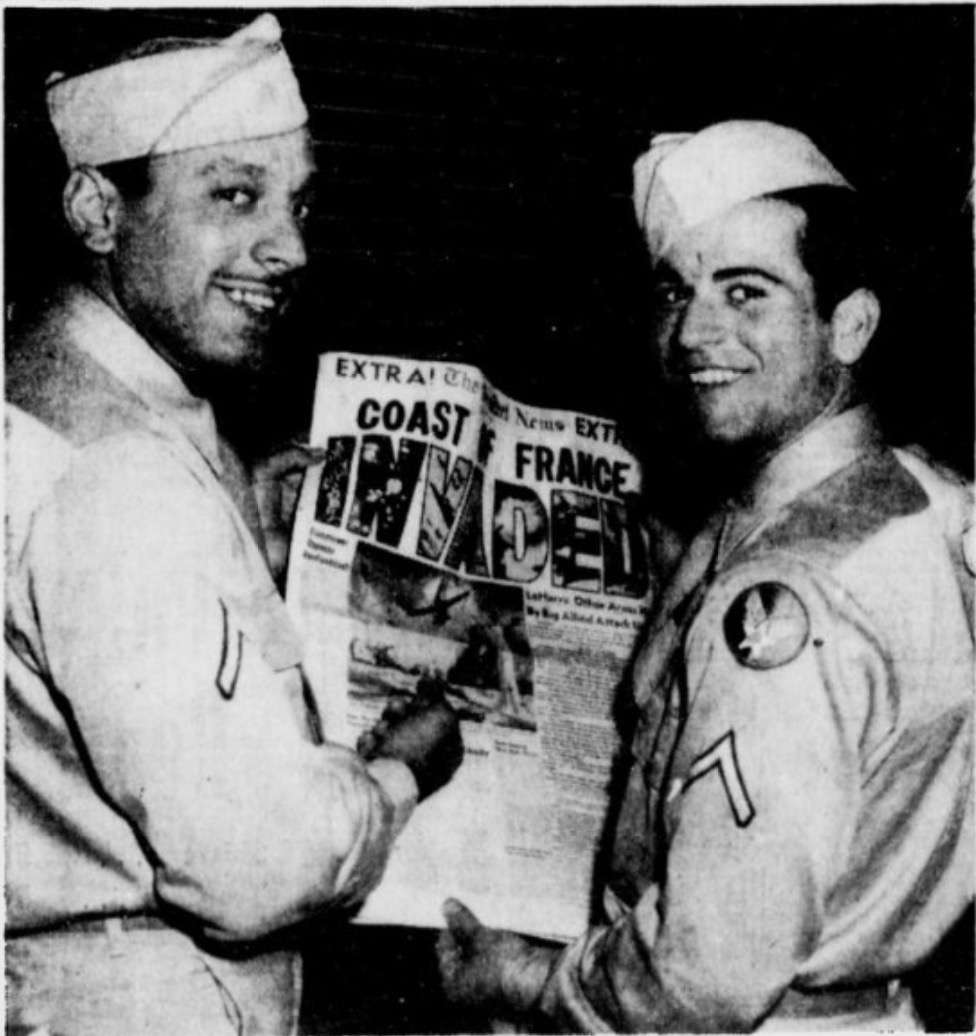 In the June 6 edition, President Franklin D. Roosevelt also offered a public prayer for American soldiers.
"Success may not come with rushing grace, but we shall return again and again; and we know that by Thy grace, and by the righteousness of our cause, our sons will triumph," he said, according to an Associated Press article.
It truly gives a sense of how big this moment was.
The story of Legrand Mangus
Most of what Murphy knew about Mangus he learned from his cousin, Bev Soter, who did plenty of research on him.
Records show Legrand "Lee" Mangus was born in 1923. He grew up in Wyoming prior to moving to Utah as a teenager, then attended Davis High School. He bounced back and forth among Utah, Wyoming and basic training in the early 1940s. He joined the 508th Parachute Infantry Regiment in 1943. That same year, he married Lola Hinman in December in Bountiful, Utah. That was before he was sent to fight in Europe.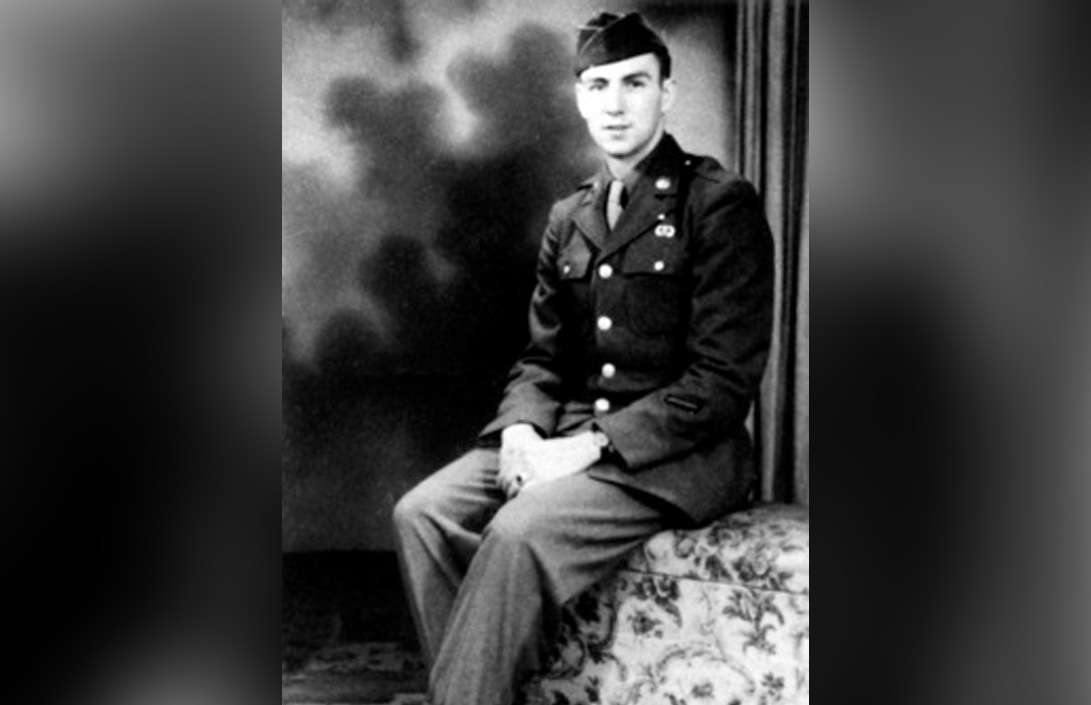 On June 6, 1944, Mangus was assigned to drop into Picauville, Normandy — about a dozen miles west of Utah Beach, where many troops entered France via the English Channel. He dropped from a transport plane about 2:30 a.m. that morning into farmland, Murphy said.
"A part of the problem with those paratrooper landings is due to the weather conditions and the wind, they all got blown off course, so none of them ended up landing where they were supposed to," Murphy explained. "His particular plane dropped almost into the nest of a bunch of Nazis that were camped in a big agriculture area in there, and they were basically gunned down as soon they came down, so he didn't have much of a chance."
Mangus suffered a gunshot wound to the stomach. He was taken to a Mobile Army Surgical Hospital station near the beaches because they had better medical facilities but died from his wound the following day at the age of 21. His family wouldn't learn of his death until September that year, Murphy added.
Two days after his death, Mangus was buried at Sainte-Mère-Église along with many other comrades. He remained there until his mother successfully had his body returned to the United States and buried in Bountiful Memorial Park in 1948.
A trip of a lifetime
There's a difference between seeing a photo and experiencing scenery firsthand. While the Murphys had studied up on Normandy, it wasn't the same as being there in person. This was the land Mangus last saw before he died. They stayed at a chateau once occupied by Nazi soldiers and it's entirely possible the soldier who fired the fatal shot once stayed there too.
When they arrived in mid-May, the family discovered that much of the region looks as it did back then. Soter gave the Murphys suggestions of places to go. They visited Omaha and Utah beaches and took the enormity of what happened there 75 years ago. Murphy even found multiple monuments dedicated to the 508th Parachute Infantry.
"There's a real reverence and a real feeling of sanctimony in that whole area," he recalled.
But it wasn't just learning more about his second cousin. Murphy was moved by the monuments he found in Normandy dedicated to the medics like him that tried to save as many lives as they could. When asked what that meant to him personally, he paused for a moment to collect his thoughts — just thinking about it brings powerful emotions.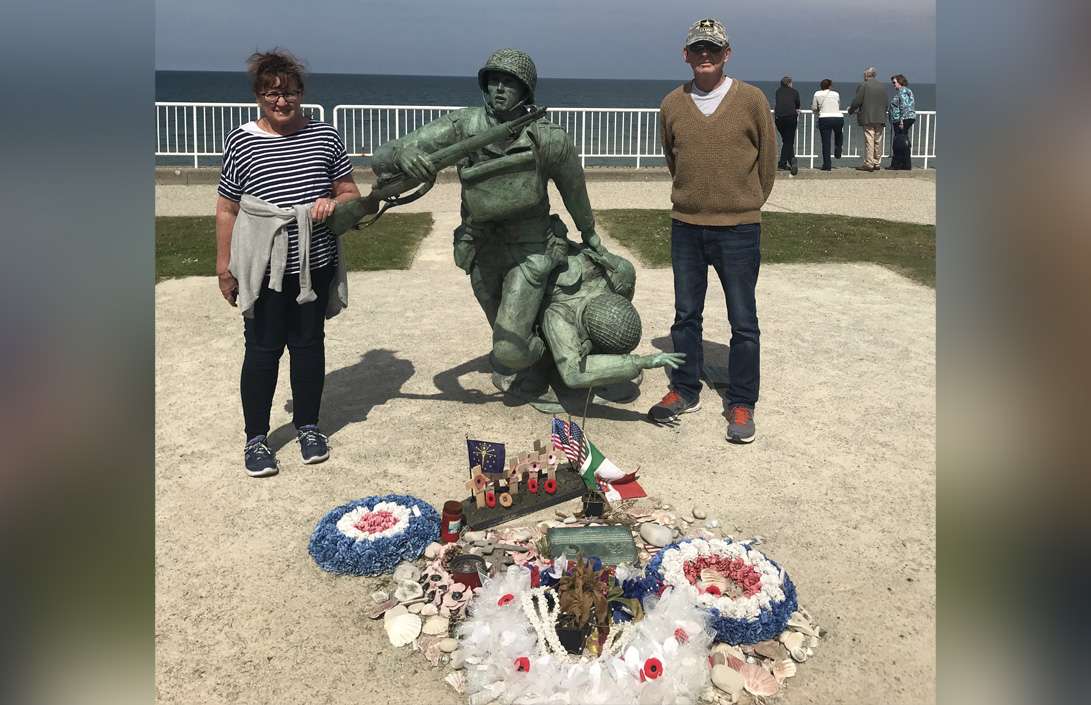 "I watched so many films and documentaries on it that I thought I wouldn't have been touched that much emotionally, but for some reason, it's those monuments that I didn't even know were there about the medics that I thought (of the work done to try and save all of the injured soldiers)," Murphy said. "I can really emphasize what that must have been like for (Mangus) to be transported across through a lot of enemy fire and through a couple of villages just to get to an aid station like that, and then just pass away there with nobody around who really knew him."
A formal salute 75 years later
What surprised Murphy most about the French villages is the affinity for American troops that still exists from generations born well after D-Day. He found American flags in every town he visited and the appreciation exists with every monument there. There are reenactments and tours each year.
There will be a major event Thursday to commemorate the anniversary of D-Day. The Murphys found they gained a new appreciation of a historical moment they already cared deeply about.
"My fear is that we're not always as aware of that stateside," Murphy said. He believes that's partly due to it being overseas and difficult to take students on a field trip on a whim. "I think every American high school student should take a semester abroad and go over and see these sights and see the history."
---
(Being there) gave me a renewed sense of respect for D-Day and what it meant in history.
–Joel Murphy, Pleasant Grove resident
---
While in Normandy, the Murphys collected sand and seashells from Utah and Omaha beaches. They purchased some glasses in the village to put flowers in and plan to hold a memorial service Thursday or Friday for Mangus — the days 75 years after he was shot during D-Day and when he died.
If Murphy had his way, it'd be a big celebration with a vintage aircraft flyover and military or government representation. That's in addition to a poetry reading and songs for the ceremony. He's also trying his best to locate as much family as possible as they honor Mangus 75 years later.
Regardless of what happens, Murphy now sees this anniversary in a new light.
"Now that I've been on the other side of the continent and I've been able to be on that soil and breathe that same air, and see the lay of the land and understand what the mission was and how big it was and how important it was as far as establishing freedom for the whole world, it gave me a renewed sense of respect for D-Day and what it meant in history," Murphy said. "That's something I want to share."
×
Photos
Related stories
Most recent Utah stories