Estimated read time: 6-7 minutes
This archived news story is available only for your personal, non-commercial use. Information in the story may be outdated or superseded by additional information. Reading or replaying the story in its archived form does not constitute a republication of the story.
PROVO — One year ago, Yoeli Childs put his name into the NBA draft mix with the intent of working out for scouts, receiving feedback and learning what he had to do to reach his goal of playing professional basketball.
He got that feedback, which rested largely in his shooting. So Childs returned to BYU, shot better than .500 from the field, and improved his 3-point shooting to 32.3 percent with 32 triples as a junior in 2018-19.
A few months ago, the day after BYU head coach Dave Rose announced his retirement as luck would have it, the 6-foot-8-inch junior again put his name into the draft.
Once again, he received feedback from NBA scouts. This time, they wanted him to prove he can be a versatile defender, a power forward with true "flex-four" potential. So he said: OK, I'll go win West Coast Conference defensive player of the year honors.
And with that in mind, the former Bingham High standout shockingly announced Wednesday night he was going back to BYU for his final season of eligibility. A day later, he explained his decision.
"I'm grateful for BYU and for all the support the fans here have given me," Childs said. "I'm going to be able to be a pro for a really long time, but I only have one more year to do something special here.
"I owe it to the school and to my teammates to do something amazing. I just want to go all out and do something special for BYU."
Related Story
Almost exactly one year ago, Childs sat in front of a table and microphones answering questions from local reporters about his decision to exit the NBA draft and return for his junior season. He wore a fashionable red turtleneck, praised NBA scouts and executives for their frank and honest feedback, and even discussed his brief foray into a vegan-friendly diet.
That decision paid off, both in basketball and the former Bingham standout's personal life. He married his wife, Megan, who missed what would've been her junior season of volleyball at Utah Valley University with a torn ACL. On the court, he increased his scoring average, from 17.8 to 21.2 points per game, and pulled down more rebounds, from 8.6 to 9.7 per contest.
With one tweet, the 225-pound power forward assuaged BYU fans' concerns about early departures. All that was left to do was explain himself at a Thursday morning conference with reporters — sans the turtleneck. He stuck with a traditional black suit and a baby blue tie.
In his Wednesday night announcement made via Twitter, perhaps Childs single-handedly calmed a storm that began several years ago when former Lone Peak star Eric Mika departed BYU after just two seasons for a professional career in Italy, and continued as leading scorer Ellijah Bryant elected to forego his senior season in favor of a contract in Israel.
Childs was set to be the next in line of early departures for pro basketball from BYU — a sticking point during the final years of former coach Dave Rose's tenure.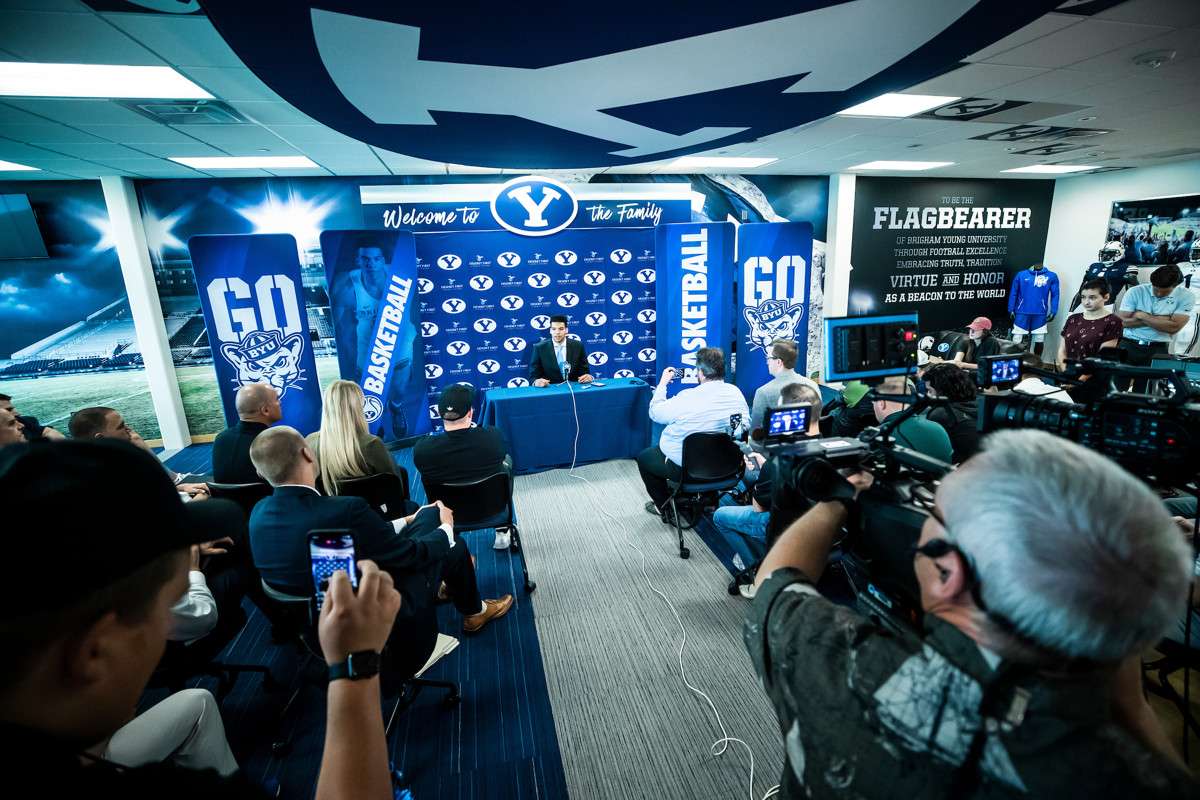 For the first time in a long time, the Cougars have a talented — and sizeable — senior class. In addition to Childs, BYU returns second-leading scorer TJ Haws, Nick Emery, Dalton Nixon, Zac Seljaas, and a pair of walk-ons in Taylor Maughan and Evan Troy, who will all be seniors in 2019-20.
"I think one of the things that gives this team a chance to do something special is that we have seniors. Seniors are magic," BYU coach Mark Pope said. "That doesn't mean that they have magical whole seasons. But seniors usually ring the bell down the stretch.
"When you put together a group of seniors that are also as talented as these guys are, it gives you a chance — and these guys have a chance to do something special."
Plus, the addition of graduate transfer Jake Toolson, whose career started at BYU before a transfer to Utah Valley took him to new heights and Western Athletic Conference player of the year honors.
Toolson has already impressed Childs with his "gym rat" attitude, a tireless work ethic that has seen the senior spending countless hours in the Marriott Center Annex practice facility.
"Our guys who were freshmen last year are going to have huge years this year," Childs said. "Once you get that freshmen year under your belt, you have a lot of confidence.
"The seniors just want to win. We've all had our individual success. We've all had our awards and accolades. We just want to win, period. We know that for all of our futures, we just want to win."
The first-year BYU coach played a significant hand in recruiting the talented Bingham product back to BYU, too. A nine-year NBA veteran, Pope (with a heavy assist from assistant coach Chris Burgess) was known for developing bigs — both in previous time spent as an assistant with the Cougars and as a head coach at Utah Valley.
"BYU is lucky to have coach Mark Pope," Childs said. "The vision that he has for this place is special. I think recruits coming up will see that, and I think it's going to be very big for BYU."
Childs' decision ultimately came down to himself, his family and his loved ones. But he had a lot of help from Pope — the two spoke privately "too much," he joked, and Pope added Childs "was incredibly generous with his time" as he navigated NBA workouts.
"We've gotten to know each other really well. But more importantly, Yoeli got to know himself," Pope said. "When we go through these decision-making processes as athletes, it really gives you a chance to find pressure. I don't think Yoeli's slept for 4 to 5 days. But it gives you a chance to see inside yourself."
Childs is "just scratching the surface of his potential," Pope said, which is a bold statement for the two-time all-West Coast Conference first-team with lofty aspirations.
"He's got a bunch of parts of his game that are just at his fingertips," Pope said. "They're not out of reach. But I think he has a real commitment to developing them right now, and I think we are all excited to see what he can do."
×
Photos
Related stories
Most recent BYU Cougars stories