Estimated read time: 2-3 minutes
This archived news story is available only for your personal, non-commercial use. Information in the story may be outdated or superseded by additional information. Reading or replaying the story in its archived form does not constitute a republication of the story.
WEST VALLEY CITY — A bowling alley employee escaped uninjured after police say a person got out of a car in the parking lot and started shooting.
The incident took place shortly before 12:30 a.m. Thursday at Delton Lanes, 3544 W. 3500 South, according to West Valley Police Lt. Bill Merritt.
A bowling alley employee was spraying down the parking lot with water to clean it, Merritt said. Two cars that may have been racing came through the lot, and one of them almost hit the bowling alley employee, he said.
The employee sprayed one of the cars and yelled at them to slow down, Merritt said. The car then circled around and the driver got out. The driver approached the employee and fired at least two shots in the air, the lieutenant said. No one was injured.
Another person in the car threw a beer bottle at the building, breaking a window, according to West Valley Police Sgt. Scott Arnold.
The two cars are described as a blue Honda CR-V and a white Ford pickup truck with a flat bed that is possibly a tow truck, Merritt said, adding that both cars were reported stolen.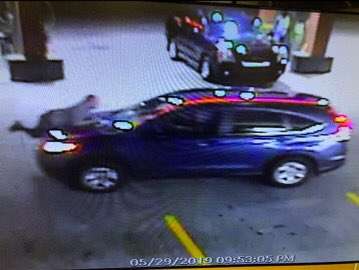 #surv_pic
Police believe the blue CR-V was also involved in a beer theft about 9:30 p.m. Wednesday at the Holiday Oil station at 3210 W. 3500 South.
In that incident, a clerk at the station ran out of the store and jumped on the hood of the CR-V in an attempt to stop the car, Merritt said. He was unable to stay on and claimed that the people in the car tried to run him over before they left.
Police have not been able to identify anyone thought to be involved in the shooting, but they did release surveillance images of the the men and vehicle involved in the Holiday Oil theft.
Anyone who recognizes the men or the vehicle should contact West Valley police at 801-840-4000.
---
Editor's note: An earlier version of this story said shots were fired at the bowling alley employee and one round hit and broke a window. Police later corrected the information, saying the shots were fired into the air and a thrown beer bottle was responsible for the window damage.
×
Photos
Most recent Utah stories