Estimated read time: 3-4 minutes
This archived news story is available only for your personal, non-commercial use. Information in the story may be outdated or superseded by additional information. Reading or replaying the story in its archived form does not constitute a republication of the story.
SALT LAKE CITY — Jazz itself may be timeless, but a saxophonist who has entertained Utah crowds for over seven decades has also stood the test of time.
Joe McQueen turns 100 on Thursday and has shows scheduled well beyond his milestone birthday.
"You try to find another saxophone player almost 100 years old, still playing gigs and you can't find them — I'm the only one!" McQueen said minutes before his band, the [Joe McQueen Quartet](<https://www.facebook.com/JoeMcQueenQuartet/ >), performed at the Rabbit Hole, 155 W. 200 South, on May 15.
It was a long career McQueen could not have foreseen as a boy. He first picked up a horn when he was 14, during a trip to his aunt's home following his mother's death.
"She had a full-length mirror showing me how it looked with the horn and all that and telling me all the things that I could do with playing the horn and that I couldn't do playing football, basketball and all that stuff," McQueen recalled. "From that day on, all I could think about was playing music."
There was no turning back, even when his journey took him to a frigid Ogden in 1945.
"When I first came here, I wanted to kill the guys that brought me here!" McQueen said. "I'd never seen that much snow!"
Success was soon to pile up as well.
McQueen played with some of the biggest names in Jazz, from Duke Ellington to Ray Charles to Count Basie — and he held his own.
"I never have seen any of those guys that I just idolized and figured they were so much greater than I was," McQueen said. "They put their pants on one leg at a time just like me."
McQueen forever altered the tenor of history by refusing to play in Utah's white-only clubs.
"Jazz wasn't near like it is now when I started playing way back there," the saxophonist said.
It was the beginning of many changes. Some McQueen reluctantly accepts today, including those related to technology.
He shook his head recently when band member Ryan Conger presented him with an electric sign that advertised that the quartet could receive tips via Venmo.
One constant, however, has always been the music, something McQueen delights in bringing to audiences whenever he is able.
"I don't know how you could get a groove like that in any other way," he said.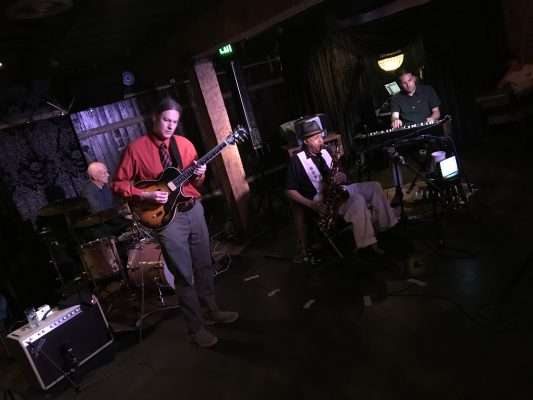 The audiences ultimately end up delighted themselves.
"I'm totally blown away!" exclaimed Matthew Kolanko during the Rabbit Role show. "Like, how can you push out the tunes like that?"
Angela Livingston said she tries to see McQueen whenever she can and has been to numerous past performances.
"One hundred years old — who can beat it?" she questioned.
Band members are also grateful to have had the experience of playing with a living legend.
"It's like nobody else, really," Conger said. "He's got this kind of authentic connection with jazz that I have not felt playing with anybody else, and I think that it comes from being there when it was invented."
Conger said McQueen's style can't be duplicated.
"I always feel like Joe kind of metaphorically just picks up the whole band and we ride on his shoulders when we play a song," Conger said. "It's amazing at any age — but especially at 99 with a tenor saxophone — that he's got that kind of swing and that kind of swagger to his playing where he really does, like, lift up the whole band, and I feel like I'm riding on a wave. Pretty cool. Pretty cool experience."
McQueen insisted his 100th birthday wasn't the milestone most important to him.
"I have another one 11 days after that that I think more of — and that's my wife and I will celebrate our 75th anniversary on the 10th of June," McQueen said.
He said he's determined to play until he can't anymore.
"If the good Lord blesses me and lets me stay here that long, I'll be playing at 100 and past," McQueen said. "There isn't anything else that could take me away from music."
×
Most recent Utah stories