Estimated read time: 2-3 minutes
This archived news story is available only for your personal, non-commercial use. Information in the story may be outdated or superseded by additional information. Reading or replaying the story in its archived form does not constitute a republication of the story.
SPANISH FORK — A spirit of reverence fills each cemetery, especially when "Old Glory" is flying. But in Spanish Fork, there's something that can take you breath away.
"My father has a flag out here, a couple uncles," said Steve Stone, a veteran, who helps to organize a tradition at Spanish Fork City Cemetery each Memorial Day weekend.
"When people go up and down and up and down and finally see their names it's very special to them," he said.
There are 1,767 crosses at the cemetery and one is added each time a local veteran dies. They are placed in alphabetical order.
"Each cross has the name of a veteran who was actually physically buried here in our cemetery," said Steve Wilson, of the American Legion Post 68.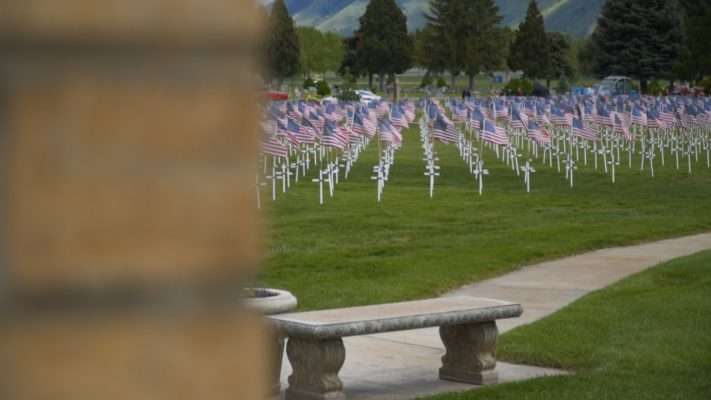 But as time as gone on, more crosses have been added.
"There were about 500 crosses when I started here," said longtime resident Richard Davis, who has volunteered for more than 30 years to set the crosses in the cemetery. It's become very personal for him.
"These are my heroes, you know, these are schoolteachers, these are mentors, these are people that I love." he said. "You can walk down these rows and almost every other one I can tell you a story about them."
About 100 volunteers come each year to set up and take down the crosses. They gather to set them up on the Thursday afternoon before Memorial Day.
"It brings out a real genuine spirit of involvement," Wilson added.
It helps everyone who visits the cemetery this weekend to remember those who have fought for freedom.
"All these names represent somebody that has served this great nation and being able to participate in honoring those veterans of those soldiers as well as family members is very special to me," Stone said.
It's also very special to the community. The flags and crosses will remain in place through Monday.
×
Photos
Most recent Utah stories