Estimated read time: 3-4 minutes
This archived news story is available only for your personal, non-commercial use. Information in the story may be outdated or superseded by additional information. Reading or replaying the story in its archived form does not constitute a republication of the story.
SALT LAKE CITY — Ask Rudy Gobert and he'll say he's just beginning to live up to his potential.
Considering what the Jazz center been able to accomplish — setting a record for dunks in a season and becoming the most feared rim protector in the game, among others — that's a pretty bold statement.
He can add earning another All-NBA selection now, too.
On Thursday, Gobert was named to the Third Team All-NBA team — the second time in his career he has been named All-NBA. Gobert was named to the second team in 2017.
Gobert received one First-Team vote, five Second-Team votes, and 69 Third-Team votes. Jazz guard Donovan Mitchell received four Third-Team votes. A total of 100 media members voted on the teams.
As the honors continue to come in — Gobert was named to the First Team All-Defensive team Wednesday and is a finalist for the Defensive Player of the Year award — he's not focused on what he has done, but what he plans to do.
Gobert wants to be one of the all-time greats. A Third-Team All-NBA selection isn't about to make him feel satisfied.
"I've been putting too many limits on myself," Gobert said.
He wants to remove those limitations. Does that mean becoming a 25-point per game scorer? Or becoming a go-to man down low? Not likely, but Gobert's career trajectory shows that he's going to get better.
This season he averaged career-highs with 15.9 points, 12.9 rebounds and 2.0 assists per game this season — all career highs. Gobert led the league in field goal percentage (.669) and set an NBA record for most dunks in a season with 306.
Those dunks didn't just happen, either. Jazz coach Quin Snyder had surveyed the league and noticed how other teams were using high passes to get their bigs clean looks at the rim. He had Gobert, arguably the best screener in the NBA and an elite roll man, on his team. There was a clear opportunity for the Jazz to utilize that more.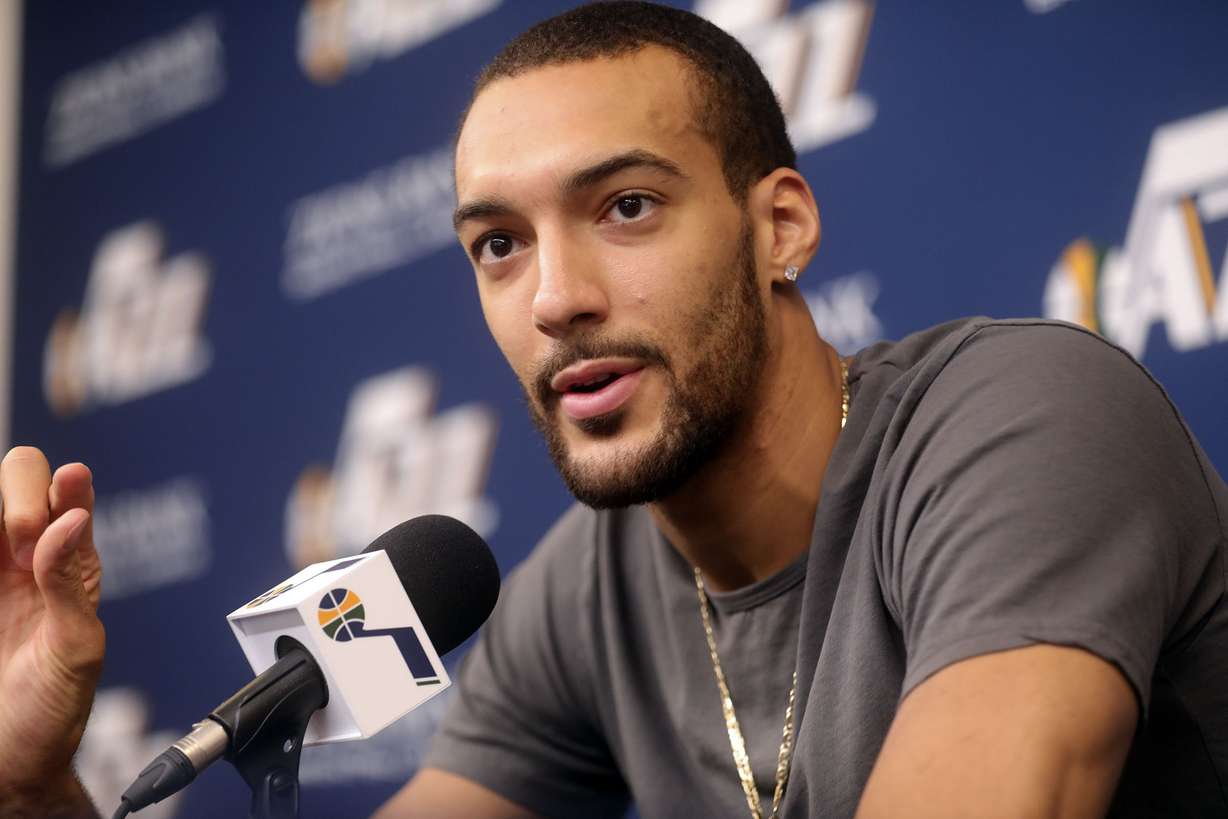 Snyder had Gobert work on his finishing and his chemistry with the guards who would be throwing those passes. By season's end, he had set a new NBA record and had become an offensive force.
"I've been working every year to improve and help the team more," Gobert said. "I've only scratched the surface of what I could become offensively."
Gobert's complete game isn't as easy to notice as some of the other All-NBA selections. He won't be shooting 3-pointers or one-foot fadeaways like Nikola Jokic and Joel Embiid, the other two All-NBA centers. He's not going to have flashy passing plays or crossovers or stepbacks. But he is still among the game's best.
The fact that he was earned the recognition over Minnesota's Karl-Anthony Towns' much more box-score friendly season shows that more and more people are starting to appreciate Gobert's unique greatness.
For example, how he led the league in screen assists (6.0 per game) and screen assist points (13.8). Gobert might not be always the one scoring, but he helps set up points time and time again.
But he doesn't feel like he's done becoming an offensive weapon.
There was a small silver lining with the Jazz being eliminated from the playoffs sooner than they expected: It gave Gobert even more time to add to his game.
"I want to take it to the next level," Gobert said.
All-NBA First Team
Giannis Antetokounmpo, Milwaukee; James Harden, Houston; Stephen Curry, Golden State; Paul George, Oklahoma City; Nikola Jokic, Denver
All-NBA Second Team
Joel Embiid, Philadelphia; Kevin Durant, Golden State; Damian Lillard, Portland; Kawhi Leonard, Toronto; Kyrie Irving, Boston
All-NBA Third Team
Rudy Gobert, Utah; Blake Griffin, Detroit; LeBron James, L.A. Lakers; Kemba Walker, Charlotte; Russell Westbrook, Oklahoma City
×
Related stories
Most recent Utah Jazz stories