SALT LAKE CITY — The Utah Jazz had to get a physical copy of John Coltrane's album shipped from Japan. They used a Los Angeles-based music packaging company to print record sleeves and inserts. And they had a United Record Pressing in Nashville produce 300 copies of the record itself.
Yet, the hardest thing about the Jazz's ambitious campaign for Rudy Gobert's second Defensive Player of the Year award, in which they re-created the cover of Coltrane album "Coltrane," was finding a big enough table.
At long last, the Jazz discovered what opposing players have known for a while: dealing with Gobert's long reach is really, really difficult.
"I think the hardest part was finding a big enough table for Rudy to put his arms on," Jazz art director Ben Barnes. "He's so big."
"He's not overexaggerating," added Derek Garduno, the team's vice president of communications. "Finding a table big enough for his wingspan to create that pose was tricky."
That pose: a steely-eyed stare from Coltrane as he sat with his fingers locked and his saxophone in the foreground.
It's an image that is connected to the start of the jazz legend's career as a bandleader. And the Jazz are hopeful the re-creation will be attached to Gobert — a Jazz legend in his own right, albeit a very different type of jazz — winning his second consecutive Defensive Player of the Year award.
The re-creation reads: "Gobert/Encore 2019." Encore means "again" in Gobert's native French and also provides a nod to the musical encore.
It's normal for NBA teams to start campaigns for end-of-season awards. Some campaigns are as simple as pamphlets; some teams send out books, shirts and other items; some just simply call voters.
"They are kind of all over the map," Garduno said.
This season, the Jazz wanted to do something unique. And so playing off the Jazz name, they decided on replicating a classic jazz album cover.
Determining which one, though, took some research.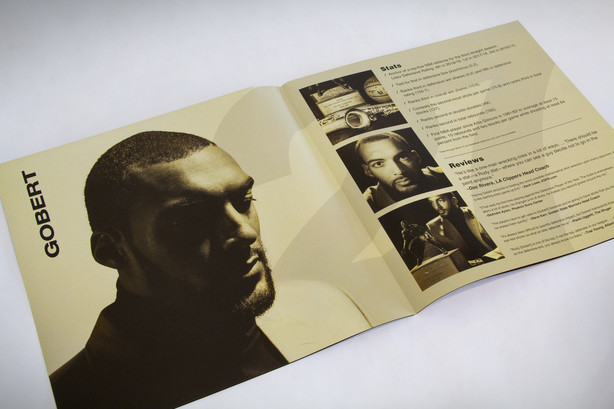 Their creative team ran through albums from Miles Davis and Sonny Rollins, among others, but Coltrane's debut jumped out to them for a few reasons.
"If we're going to replicate an album cover, we wanted something that didn't look cheesy," Barnes said. "We didn't want to put our player in any compromising position where he had to be looking like he's playing an instrument.
"There's a nice intimidating stare that Coltrane had in this photo that I think fits Rudy's demeanor," Barnes continued. "There's a nice style to it."
The team knew it was going to be a unique photo shoot, so they hired Chad Kirkland, a Utah-based photographer who specializes in portraits. They turned a room at the Jazz's practice facility into what resembled a jazz lounge for the hourlong shoot, bringing in smoke machines to get the mood just right.
"Rudy was way into it," Barnes said.
From there, Barnes, senior designer Katie Bedigian and the Jazz's in-house design team designed the cover, sleeves and the record itself (the record doesn't have music — not even Ricky Rubio's secret pop track). But there was a slight problem: they didn't actually have the physical copy of the album and had only seen the cover.
So they studied other albums from the era to try and get the style right. They also got help from the team's executive vice president Don Stirling, who is a big jazz (lowercase j — and uppercase, too) fan, to help with the details. Stirling even ended up ordering a rare copy of Coltrane's album from Japan.
The record sleeve and insert — which was printed at Dorado Music Packaging in Los Angeles — features quotes from coaches, players and media, along with stats to make Gobert's case for the Defensive Player of the Year award.
The record itself is gold with Gobert's No. 27 in the middle. It was produced by United Record Pressing in Nashville.
"We could've printed it locally probably cheaper; we could've just ordered some blank records and stuck them in there and had labels done here, but going through an actual vinyl presser and an actual record sleeve manufacturer gave it the most authentic look," Garduno said.
×
Photos