Estimated read time: 6-7 minutes
This archived news story is available only for your personal, non-commercial use. Information in the story may be outdated or superseded by additional information. Reading or replaying the story in its archived form does not constitute a republication of the story.
DRAPER — With the chance to send Brighton's boys soccer team into the state championship game for the first time in Class 5A, Cam Neeley didn't think.
Nor did he flinch.
He just kicked.
Neeley's goal with five minutes left broke a 2-2 draw, and the Bengals held on for a victory over Skyridge 3-2 Tuesday afternoon in a 5A state semifinal at Juan Diego.
"Honestly, I don't remember, other than the ball dropped at my feet and I took advantage of it," Neeley said. "It's taken a while to start executing those and when it came to me, I just did it."
Josh Loomis and Brennan Neeley, both seniors, also scored for the Bengals (17-1), who haven't lost since a 2-1 defeat at Corner Canyon back on April 12.
"Brighton's got a great history: 22 region championships, six state championships. But it's been 10 years since we won," said Brighton coach Brett Rosen, whose team has come closesince winning the 2009 title. "We've been fighting to get back there and we're excited to be there. But we're not just excited to be there. We're going to start working tomorrow and get ready to play."
After trailing 2-0 early in the second half, Skyridge (12-4-4) got goals from Austin Wallace and Mackenz Goodwin to rally the Falcons.
The Bengals out-shot Skyridge 6-1 in the first half, but had nothing to show for it until Loomis burned a ball inside the far post with 58 seconds left in the half. Alex Fankhauser forced a dangerous turnover in Brighton's offensive, and dished to Loomis with his last touch of the match, as he was pulled off with an injury moments later.
Brennen Neeley doubled the advantage for Brighton two minutes after the break. The senior curled in a free kick from 35 yards out that dipped under the crossbar to give the Bengals a 2-0 lead.
But the most dangerous lead in soccer struck again when Skyridge's Wallace dribbled around the edge of the area on the restart and pulled one back in the 44th minute.
That set the aggression meter for the Falcons, who flipped the game around with pressure and finally broke through on Goodwin's equalizer in the 62nd minute.
The lead was gone.
"Stay calm, stay collected," Cam Neeley said. "We all just tried to relax each other and work out way back into the game. Slow the ball down, and play the game we always played. We slowly worked our way back into it."
The sophomore found himself on an island with five minutes left, and Neeley teed up a shot from the center of the box that deflected into the back of the net for the game-winner.
"He's a sophomore and he's short in stature, but he's a heck of a player," Rosen said. "He will fight every second of every game, and that's what he did today.
"He's been playing in the shadow of his brother for years, but he's an incredible player. He showed that today."
Loomis received a second yellow card for time wasting, meaning he will be required to sit out the next game — the state championship — for Brighton at Rio Tinto Stadium. Fankhauser's status is also uncertain; he did not return to the game after halftime.
"This is what we've been working toward all season," Cam Neeley said. "Every training, everything has been working up to this point. Now we just have to go execute."
The Bengals advanced to face Region 6 champion Olympus in the 5A state championship Thursday at 4:30 p.m. MT at Rio Tinto Stadium.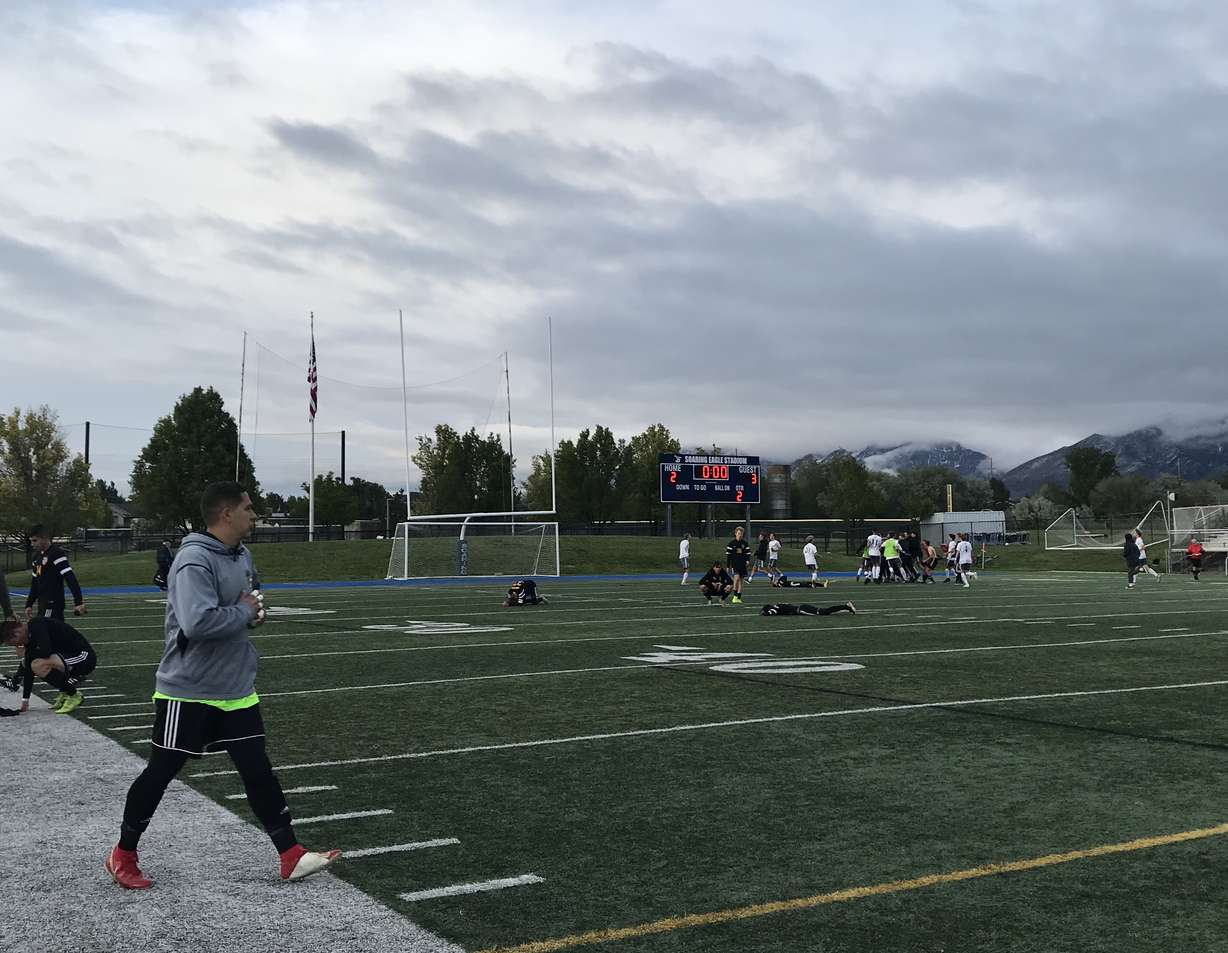 Olympus 3, Wasatch 2
At Juan Diego, it's not often that a five-goal game features a hero goalkeeper.
But that's exactly what Olympus' Ian Jones was Tuesday evening.
Adam Naylor scored the game-winner in the 54th minute, and Jones (with plenty of help from his back line) withstood a furious rally in the final moments to hold off Wasatch 3-2 in the other 5A state semifinal.
"My job was never done. Even when we were up by two goals, I still had a lot of pressure to not give the game up," Jones said. "In that last little stretch, we just gave up a lot of fouls and they were kicking them in.
"But our back line is tough, and I felt like we did our job, and our offense took care of it."
Canyon Czapla and Hayden Earl each scored a goal to give the Titans a 2-0 lead by the 35th minute. But Wasatch's Carlos Vargas pulled one back three minutes later to cut the deficit to 2-1 at halftime.
The Wasps searched for an equalizer early in the half — Vargas' indirect free kick sailed wide of the post in the 49th minute, and Abe Tullis' quick-triggered rip slammed off the crossbar two minutes later.
"I give so much credit to Wasatch. We've never seen an offensive group quite like that," Olympus coach Chris Sonntag said. "They had that very talented (Vargas) who was the quarterback and they all knew what was coming. I give them all the respect in the world. But this team adapts to what people do and they gave us a little space that we were able to use."
Naylor scored Olympus' 10th goal of the playoffs in the 54th minute, a goal that proved to be the game-winner after Wasatch's Jaxon Bridge pulled another back with 10 minutes to spare.
That set up a stunning finish, one wherein Jones dived left, right and center to keep the balls out of the back of the net.
And when he was beat — which he was a time or two, by his own admission — the Titan's back line that included Josh Gubler, Jake Lewis, Cole Anderson and a defensive assist from Logan Davies more than made up for it.
"We have such good defenders than when we're back there, they cover me — as much as I cover them," Jones said.
Give the keeper some credit, too, though.
"We've had some tremendous goalkeepers at Olympus, and Ian is absolutely one of the best," Sonntag said. "But you can be the best goalkeeper in the world, and if you have a backline in front of you not doing the job, then whatever.
"Ian was right to give them credit. But he deserves all the credit in the world. He's terrific."
×
Photos
Related stories
Most recent High School stories