Estimated read time: 4-5 minutes
This archived news story is available only for your personal, non-commercial use. Information in the story may be outdated or superseded by additional information. Reading or replaying the story in its archived form does not constitute a republication of the story.
SALT LAKE CITY — Here are 10 stories you may have missed over the weekend. As always, click on the headline to read the full story.
1. Authorities identify couple killed in Utah County helicopter crash
The Utah County Sheriff's Office identified a Uintah County couple as the victims of the crashed helicopter found Friday night in an area north of Alpine. The couple lived in Ballard, a small town in Uintah County and were the parents of two children, a 6-year-old boy and a 5-year-old girl.
2. Romney disagrees with GOP lawmaker on Trump's 'impeachable conduct'
Utah Sen. Mitt Romney said Sunday that he disagrees with Rep. Justin Amash, R-Michigan, on his recent comments that President Donald Trump's conduct has met the "threshold for impeachment."
"My own view is that Justin Amash has reached a different conclusion than I have. I respect him, I think it's a courageous statement," Romney told CNN's Jake Tapper on "State of the Union."
3. Refugee resettled in Utah without parents, accomplishes what she was once told she'd never achieve
When Desange Kuenihira was a young girl growing up in a refugee camp without parents, she was told she had no future and would never even graduate from high school. Wednesday she graduated with her high school diploma and an associate degree.
"They said a lot of things that put me down, which I actually believed," said Kuenihira, who fled the Democratic Republic of the Congo with her five siblings and an aunt when she was just 2 years old. "They said, 'You're meaningless, girl. Your life has no meaning. You'll never even get your high school diploma. The only meaning you have is the dowry a man will give to marry you.' But coming here changed my mind."
4. Woman killed when vehicle collides with horse
A woman died late Saturday night after the vehicle she was riding in hit a horse on state Route 198.
The accident happened at about 11 p.m. when a horse "found its way onto the roadway" and was hit by the southbound vehicle, according to a statement from the Utah Highway Patrol.
5. Provo Latter-day Saints church building, property vandalized with graffiti
A meetinghouse and surrounding property for The Church of Jesus Christ of Latter-day Saints in Provo were vandalized with graffiti overnight Saturday, officials report.
The graffiti on the church, at 555 E. 3230 North, contained "a lot of profanity" along with "anti-religious and anti-Trump remarks," according to Provo police detective Nick Dupaix.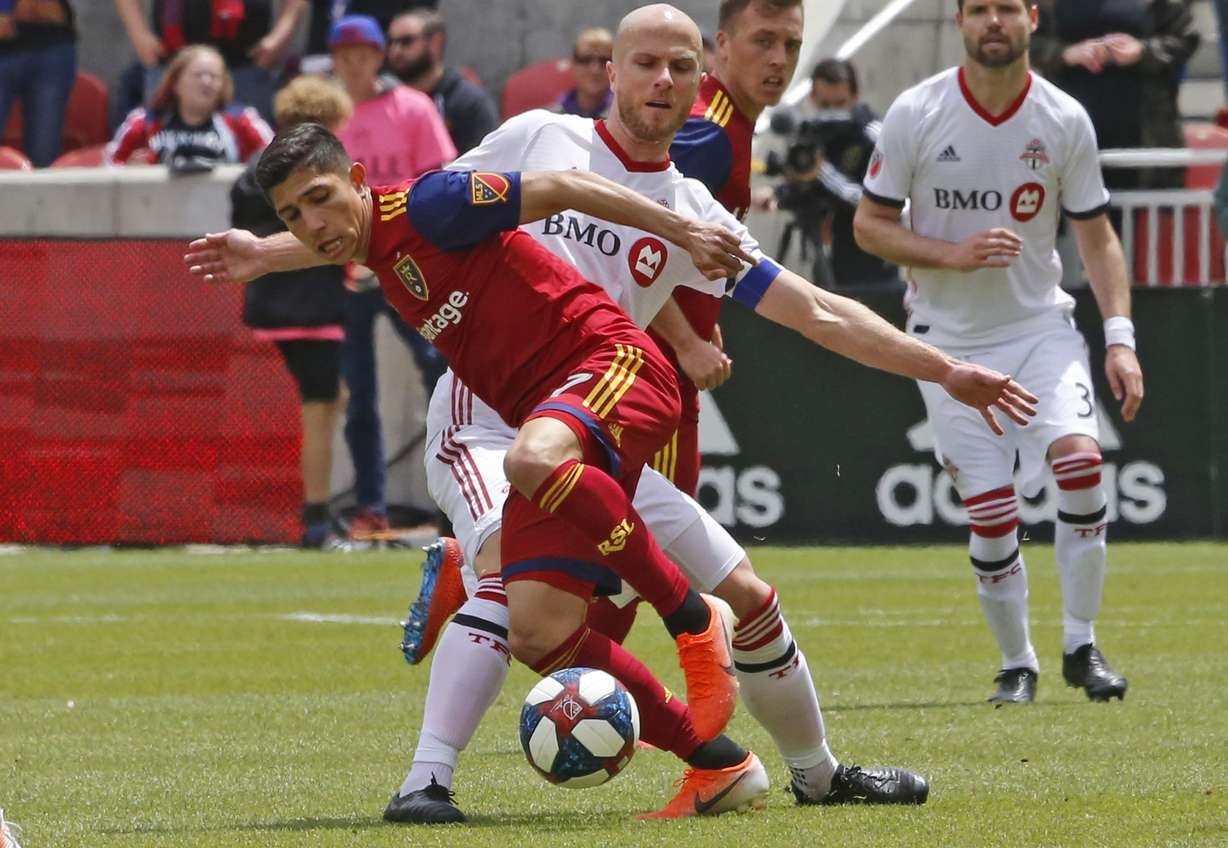 Sports
1. RSL dominates Toronto FC in 3-0 home victory
In their last four games without veteran keeper Nick Rimando, Real Salt Lake earned two wins over FC Cincinnati and Colorado Rapids but also dropped two matches against LA Galaxy and Portland Timbers. The team welcomed back their 13-year defensive anchor for Saturday afternoon's match-up against Toronto FC and he did not disappoint.
2. Tooele uses 'amnesia spray,' rallies for 3-1 win over Spanish Fork for 4A softball title
Natalee Bevan had a double, a stolen base and a run scored to pace a two-run second inning, and Tooele never trailed in the second game en route to a 3-1 win over Spanish Fork to clinch the 4A state title at Spanish Fork Complex.
Attlyn Johnston allowed five hits with six strikeouts in the circle for Tooele (27-3), and Brylerly Avina had a double and an RBI to aide the Buffs.
3. Deja vu: Utah Royals earn another draw from Courage in trip to North Carolina
Amy Rodriguez scored in the first 10 minutes, but North Carolina came back to tie the visiting Royals 1-1 Sunday afternoon at WakeMed Soccer Park in Cary, North Carolina.
4. BYU baseball clinches first-ever West Coast Conference title, tournament top seed
Several hours after the No. 24 Cougars' 3-1 win over Santa Clara in the regular-season finale, BYU added an outright West Coast Conference regular-season championship to the trophy case Saturday night.
5. Going for an encore: Rudy Gobert is a finalist for DPOY award
On Friday, the NBA announced that Gobert was one of three finalists for the NBA Defensive Player of the Year. Oklahoma City's Paul George and Milwaukee's Giannis Antetokounmpo are the two other finalists.
×
Most recent Utah stories