Estimated read time: 6-7 minutes
This archived news story is available only for your personal, non-commercial use. Information in the story may be outdated or superseded by additional information. Reading or replaying the story in its archived form does not constitute a republication of the story.
SALT LAKE CITY — The family of a 19-year-old man who died after being shot in the back by police says they want transparency from officers and justice for their son.
Because of that, Aaron and Tiffany James, along with their attorney Robert Sykes, filed a lawsuit Thursday in federal court against former Cottonwood Heights police officer Casey Davies and the city.
On May 29, 2018, police say Zane Anthony James, 19, robbed two stores at gunpoint. About 10 minutes later, as Davies was driving to work, he heard on his police radio that other officers were chasing a motorcycle with the suspected robber. Davies spotted the motorcycle and engaged in the pursuit.
As James sped through a residential area near 6675 S. 2200 East, he hit a speed bump and crashed just two blocks from his house.
According to a report on the officer-involved shooting from Salt Lake County District Attorney Sim Gill, James began running away from the officer, and while doing so, kept putting his hands near his waistband.
In the front yard of a home at 2209 E. 6675 South, James was shot twice in the back. Davies, who had not been in the office yet, was not wearing a body camera.
As other officers arrived on scene, with their body cameras recording, Davies can be heard saying, "He kept reaching with his left hand up in that front area." A realistic looking pellet gun, was found in James' pocket.
James was taken to a local hospital where it was determined he risked being a quadriplegic for the rest of his life. His parents say for three days he communicated using a dry erase board and his eyes. After three days, James asked that he be taken off life support and no efforts be made to restore him, his parents said.
The shooting was determined to be justified by Gill's office. The main reasons being that James was already wanted for two armed robberies and he allegedly kept reaching for something in his waistband.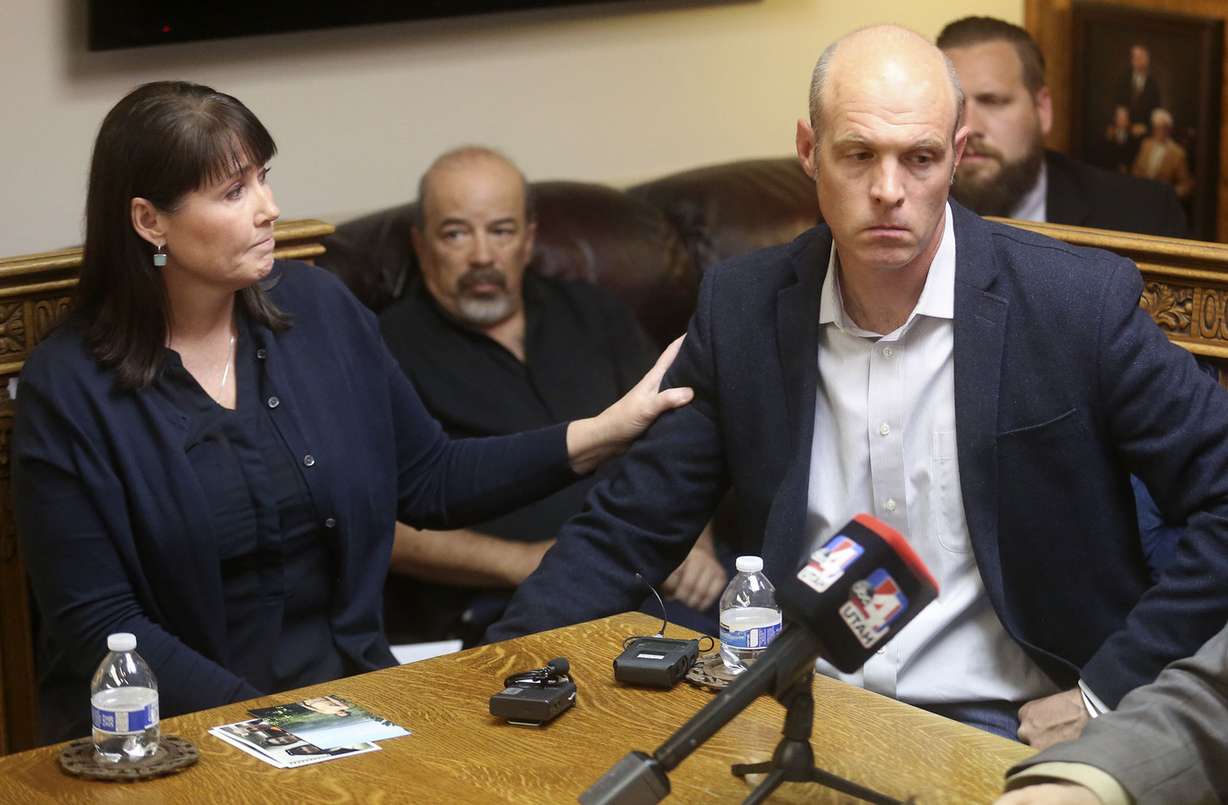 But Gill also noted in his report that Davies declined to be interviewed as part of the officer-involved shooting investigation, invoking his Fifth Amendment right not to make self-incriminating statements.
Aaron and Tiffany James used words such as "devastated," "alarmed," and "appalled" about Davies' decision not to talk.
"I understand he has constitutional rights like everyone else, I understand that. I guess my feeling was it was his professional duty to provide the facts of the case," Aaron James said.
"When you sign up for that job, you sign up for both good and bad. And to not make a statement when he's the only other witness, we're astonished. We're alarmed. And frankly, I'm ashamed for them," Tiffany James added. "We trust law enforcers to do what's right, to follow training and procedures and protocol. And if they're going to take the law into their own hands then that should be a transparent process. It shouldn't be like this. And no one else should have to go through this."
The Jameses were also alarmed that their son was shot twice from behind as he was running away.
"Officer Davies served a death sentence to Zane, Wild West style in our neighborhood," Aaron James said.
The couple have asked Gill's office to reopen the investigation and have asked to meet with Cottonwood Heights police and the mayor, with the hope of starting a meaningful conversation on officer-involved shootings that could be used nationwide.
"We wanted to open a difficult discussion. Tiffany and I, we put down our anger, our fears and we walked in the doors with our chests held high thinking if we could do something for Zane, it might help other children. But we've been blocked. No one has returned calls," he said.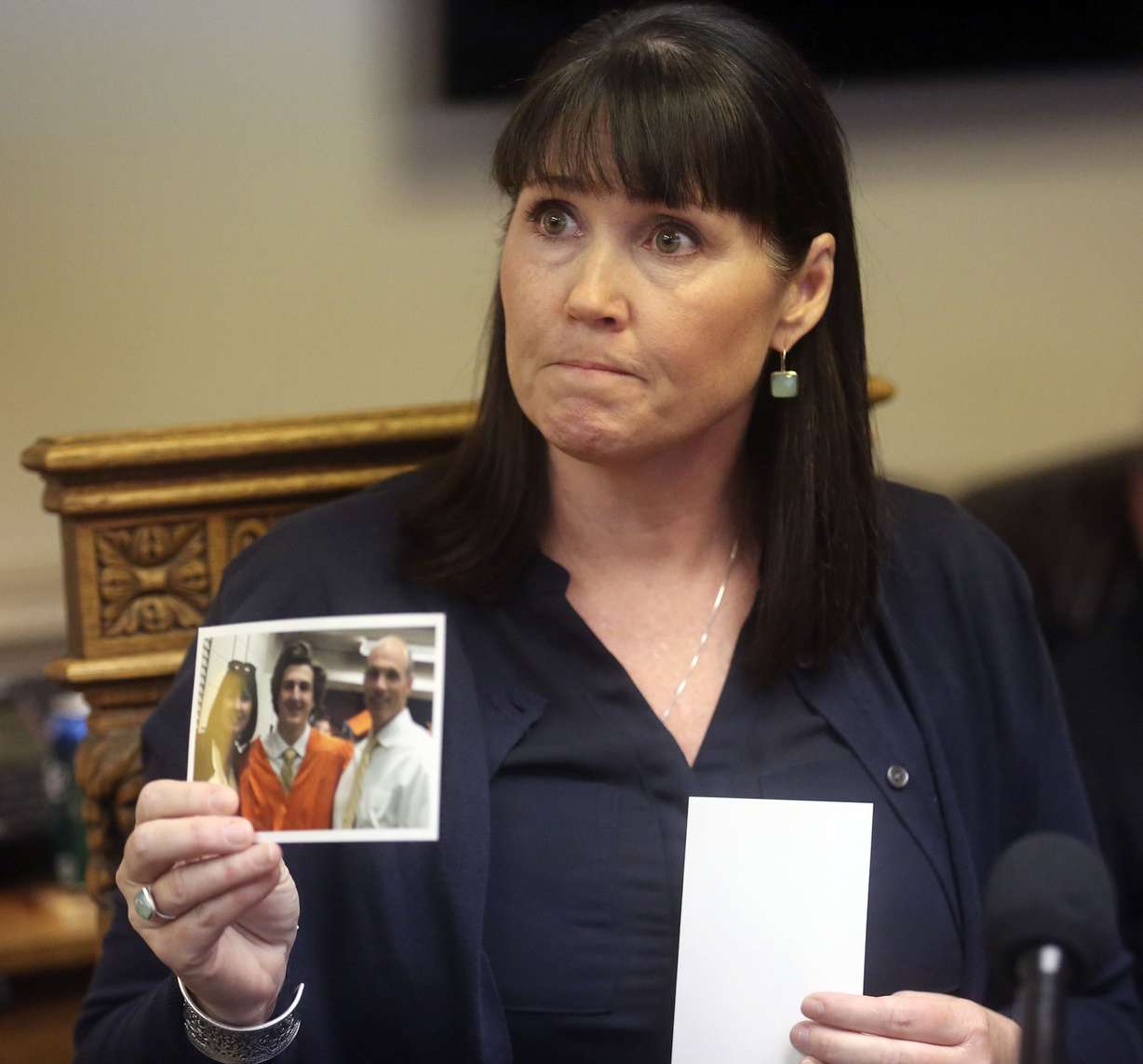 Because of that, the James family on Thursday filed a lawsuit seeking unspecified damages. They said the goal is to create policy changes within the police department based on transparency.
"I won't take a case where the client's motive is revenge. I don't see that here," Sykes said. "I see the motive being trying to get justice, trying to get closure, trying to get information about the death of their beloved son at age 19. I think they have a right to know what happened and why that shot was fired."
As for Davies not talking to investigators, Sykes said, "I have never had a case where an officer has declined to give a statement, ever. … It looms large in this case."
At the time Zane James was shot, there was already high tension between Gill and the union representing most of the officers in the valley. Several officers involved in critical incidents declined to speak to Gill in 2018. But Cottonwood Heights Police Chief Robby Russo said at the time, he would have preferred if his officer had talked.
Cottonwood Heights police declined comment Thursday, stating they had not seen the lawsuit yet.
Davies currently works for the Herriman Police Department.
In addition to the lack of cooperation by Davies, Sykes said the lawsuit was also filed because the officer used deadly force when he didn't need to.
"We're concerned about falsehoods and cover-up here," he said.
Shawn Merten, a private investigator used by defense attorneys in some of James' prior criminal cases, went to the neighborhood where Zane James was shot, and talked to residents.
"They had a completely different outlook. For one thing, Zane didn't reach into his pockets at anytime, he was running. … His hands were visible at all times. Zane was not a threat to anyone at any time during this incident. In my opinion, based on the interviews I've done, the officer didn't show any restraint or good judgment in this matter," he said.
James had a promising hockey career in high school, but was forced to give it up due to injuries and concussions, according to coaches and his family. After hockey, his family said James slid quickly into a cycle of drug addiction and trouble with the law that he couldn't break. But he was always open about it, his father said. And his family believes he would have fought through it and one day gone to college.
"He was embarrassed. He was embarrassed he had become addicted to drugs," Aaron James said. "Davies made the choice to end Zane's life, and he doesn't have the choice anymore to grow up and become a professional and go to college and becomes a father. That was stolen from him."
×
Photos
Related stories
Most recent Utah stories