Estimated read time: 3-4 minutes
This archived news story is available only for your personal, non-commercial use. Information in the story may be outdated or superseded by additional information. Reading or replaying the story in its archived form does not constitute a republication of the story.
PROVO — Ridgeline's girls golf team didn't know what to expect when it made the drive from Millville to Provo for the Class 4A state meet this week.
Competing in a field with Desert Hills, the nine-time defending state champions that have seen dynasties both come and go, and Park City, which had finished second for the past three seasons, the Riverhawks had reason to be nervous.
Ridgeline coach Dan Roskelley even joked that he just hoped his team could survive the cut after the first day.
They did — and then some.
Alexis Wilson carded a two-day total of 147, and Ridgeline fired a two-day 662 to win the first girls golf state title in the three-year history of the school Thursday at East Bay golf course.
Park City finished second at 675, followed by Desert Hills (683), Uintah (703) and Dixie (708).
"When I started playing golf my freshman year, I didn't think this was possible," said Wilson, who shot 72 and 75 over the 36-hole final. "But we've had a great group of girls for the past three years, and this year was great."
Mak Tenhoeve added an eighth-place finish with a two-day 162 for the Riverhawks, who was the only school with two of the top eight placers.
"I just hoped yesterday that we would make the cut. I didn't have any idea that we would be in the lead," Roskelley said. "I'm so pleased with how all the players played, not just the best of our players."
Lehi's Lila Galea'i shot 70 and 68 for a two-day total of 138 to take individual medalist honors. But even as the Pioneer golfer began to pull away from the field, the team title was left in doubt through much of the early afternoon.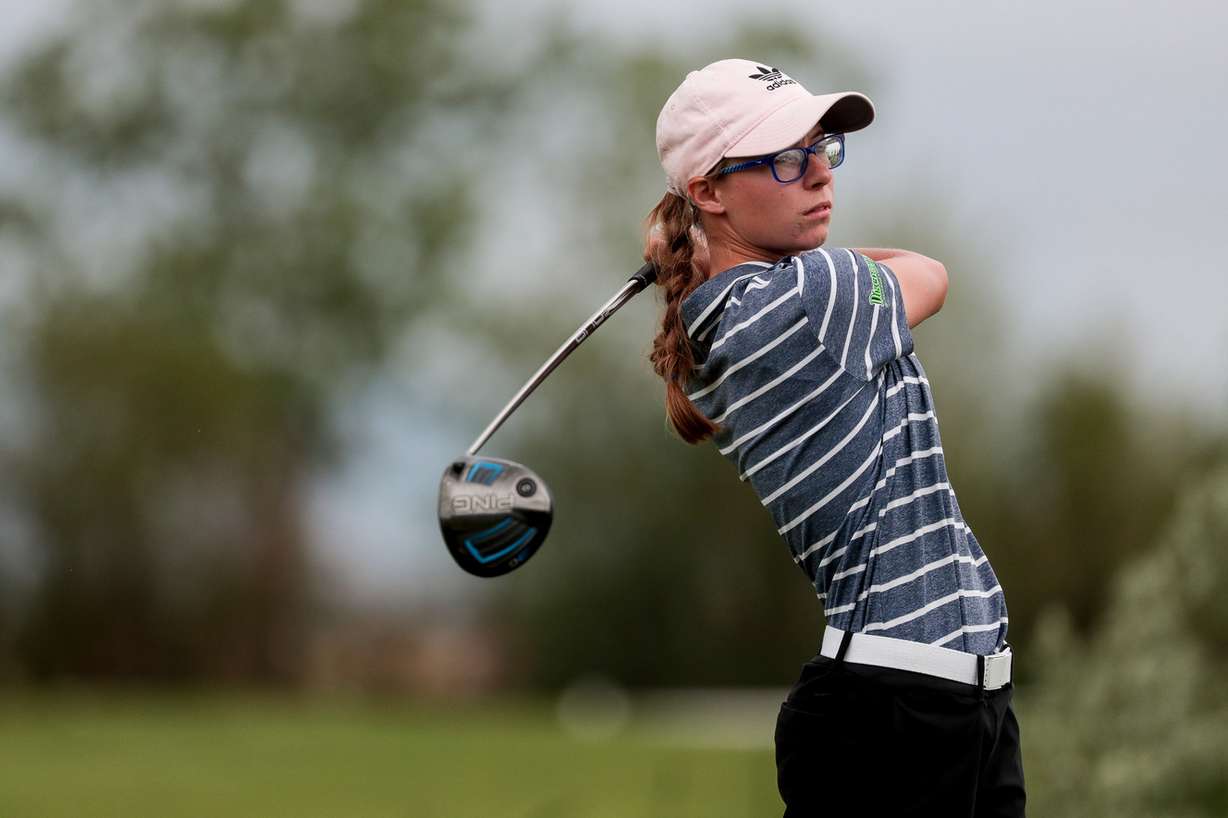 With the course bracing for a storm and threesomes to speed up play in preparation for an upcoming deluge in Utah County, the Riverhawks went to work. Tenhoeve paced a furious charge, shaving three strokes off her first-day total to card 72 over the final 18 holes.
That helped the rest of her team pick up their own game — three of the Riverhawks' scoring golfers scored better Thursday than they did Wednesday in Tenhoeve, Lucy Lyons' 88, and Alyssa Buist's 84.
"She's a go-getter," Roskelley said of Tenhoeve. "She goes from player to player, and cares about how everyone is playing. When she's playing that way, she has energy for the better."
Even Wilson, who shot 75 after finishing just two shots off the lead Wednesday with a 72, was playing better at times on the second day of the state meet. The senior's short game helped her overcome a few shaky moments off the tee, and the three-stroke drop proved to be inconsequential after entering the clubhouse with the team title and a runner-up performance.
"These past two days were really a grind," Wilson said. "Getting off the tee was a struggle, so I had to make up for it in other areas. Today it was really a struggle to keep everything together."
Grace Donahue carded a two-day 150 to finish third and lead Park City, while Dixie's Annabelle Millard (152) and Pine View's Bailia Milne (156) rounded out the top five.
Park City's McKenzie Schow added a ninth-place finish for the Miners.
Individual top 10
138 — Lila Galea'i, Lehi
147 — Alexis Wilson, Ridgeline
150 — Grace Donahue, Park City
152 — Annabelle Millard, Dixie
156 — Bailia Milne, Pine View
158 — Maicee Smuin, Uintah
161 — Abby Leitze, Desert Hills
162 — Mak Tenhoeve, Ridgeline
163 — McKenzie Schow, Park City; Meghan Pierce, Uintah; Reagan Hartfiel, Bear River
Team scores
Ridgeline 662; Park City 675; Desert Hills 683; Uintah 703; Dixie 708; Lehi 716; Bear River 744; Cedar 763; Bonneville 768; Stansbury 783; Juan Diego 804.
×
Photos
Most recent High School stories