Estimated read time: 6-7 minutes

This archived news story is available only for your personal, non-commercial use. Information in the story may be outdated or superseded by additional information. Reading or replaying the story in its archived form does not constitute a republication of the story.

SALT LAKE CITY — Kathy Wagner arrived at her volunteer shift to make breakfast a bit past 7:30 a.m. On this morning, she decided to make scrambled eggs, bacon and some tater tots, with some hot coffee and juice.

She wakes up this early for the kids. A homeless teen may generate all sorts of stereotypes for those who have not spent time around them. Kathy, though, has found them to have "really great manners" and says they are "pretty appreciative."

Kathy is one of several volunteers at the Volunteers of America Homeless Youth Resource Center in Salt Lake City, a place dozens of men and women call their temporary home. Before her volunteer work, Kathy worked 34 years for the Granite School District. Now retired, she still helps young people, but in a completely different way.

*Watch Kathy make and serve breakfast in the video below*

#Vid1_breakfast

**\* \* \*** ============

It's a bit after 10 a.m. and Kathy heads to the center's supply room. It's time to get the donated clothes sorted. Two more volunteers, Diane Netelbeek and her husband, Peter, come into the supply room to help with the sorting before the food delivery comes. In the supply room, they sort everything from socks, to pants, to toiletries: There are rows and rows of shoes, shirts, toothpaste and toilet paper, among other items.

Every day, Kathy and her fellow volunteers empty heavy bags of donated clothes and begin the process of sorting. The shelter can use some clothes, while other clothes go to a bin eventually headed to another donation center. This is because the center needs more youthful clothes. Why? Kathy said the youth "don't want to look homeless" and want to dress their age.

Kathy runs the supply room. She sorts the clothes by size, gender and season. She also washes clothes, bed sheets and blankets.

The work in the supply room is methodical, but despite the slower pace, every fold, wash or tidying up of the clothing matters.

"You're the oil to the machine," Diane Netelbeek tells a shy Kathy.

*Learn more about Kathy's responsibilities in the supply room in the video below*

#Vid2_supplyroom

With all the time, work and dedication she puts in at the center, there's no doubt Kathy loves her volunteering responsibilities and helping the youth. When asked about the time she started volunteering at the center three years ago, Kathy says that she didn't know how it would benefit her personally.

Volunteering "filled an empty void I didn't realize was there," she said.

"Before I began volunteering, I felt an emptiness but couldn't explain it," she told KSL.com. "I then realized that I am happier when helping others. Volunteering at the homeless youth center has given me a sense of purpose. I love the staff. I care deeply about the youth."

Kathy said one of her favorite quotes is from Gandhi: "The best way to find yourself is to lose yourself in the service of others."

**\* \* \*** ============

Everyone helps, not just the volunteers.

When the food delivery arrives, it's all hands on deck to help put the donated food away. Kathy and the other volunteers grab boxes and crates of food, milk and other items. A young man who resides at the center helps the volunteers by grabbing a crate of milk.

No one asked him. There were plenty of volunteers. But that's how the center runs: Everyone who can lends a hand.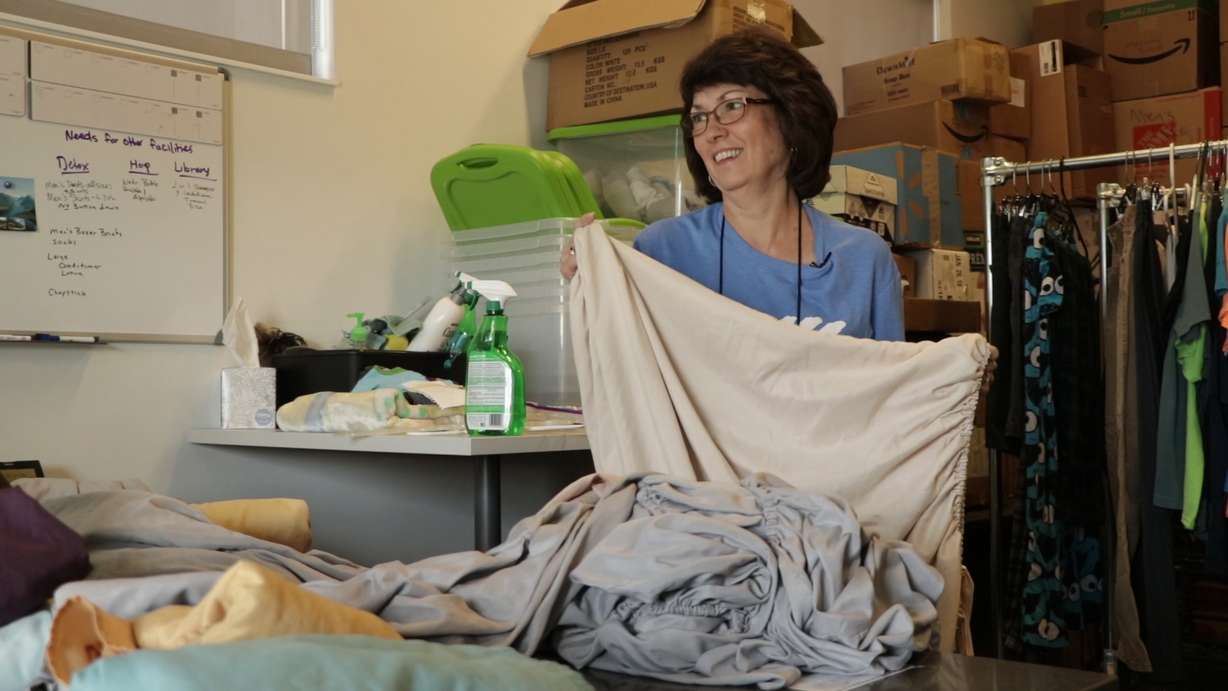 #kathy_photo
While Kathy works in the supply room, another volunteer at the center is busy working as well.
Peggy Montrone grabs can after can of food and places each on shelves in the open area of the center. The center also provides fruit, bread and other snacks free to the youth who stay there.
Peggy has been volunteering for 10 years and says the most satisfying thing about her work is both helping the youth and the connection she's made with the other volunteers and employees at the center.
"I've created a family here," she said. "I've become really attached to them, so it's enriched my life."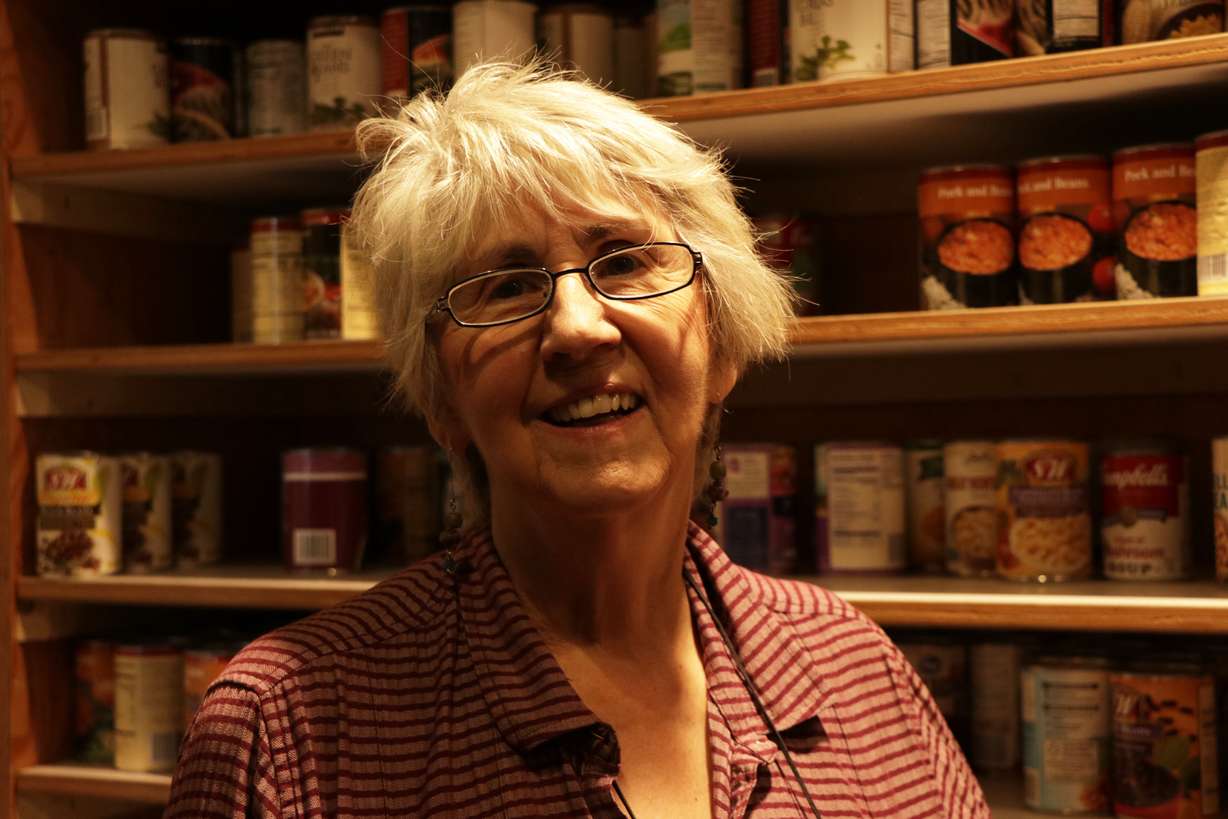 #peggy_photo
Diane, a volunteer of 2 years, found it doesn't take too much for someone to become homeless.
"For some people, it's one paycheck away that they could be on the streets. It's one mental crisis that could occur for someone that could cause them to be homeless, even from the best circumstances," she said.
Diane said volunteering has been an "eye opener," and has caused her to have more empathy in wanting to help those who find themselves homeless.
"The more you start to realize the little that you know, it changes the way you feel about homelessness and the way you understand that it can happen to anybody. It can happen at any time and when you least expect it," she said.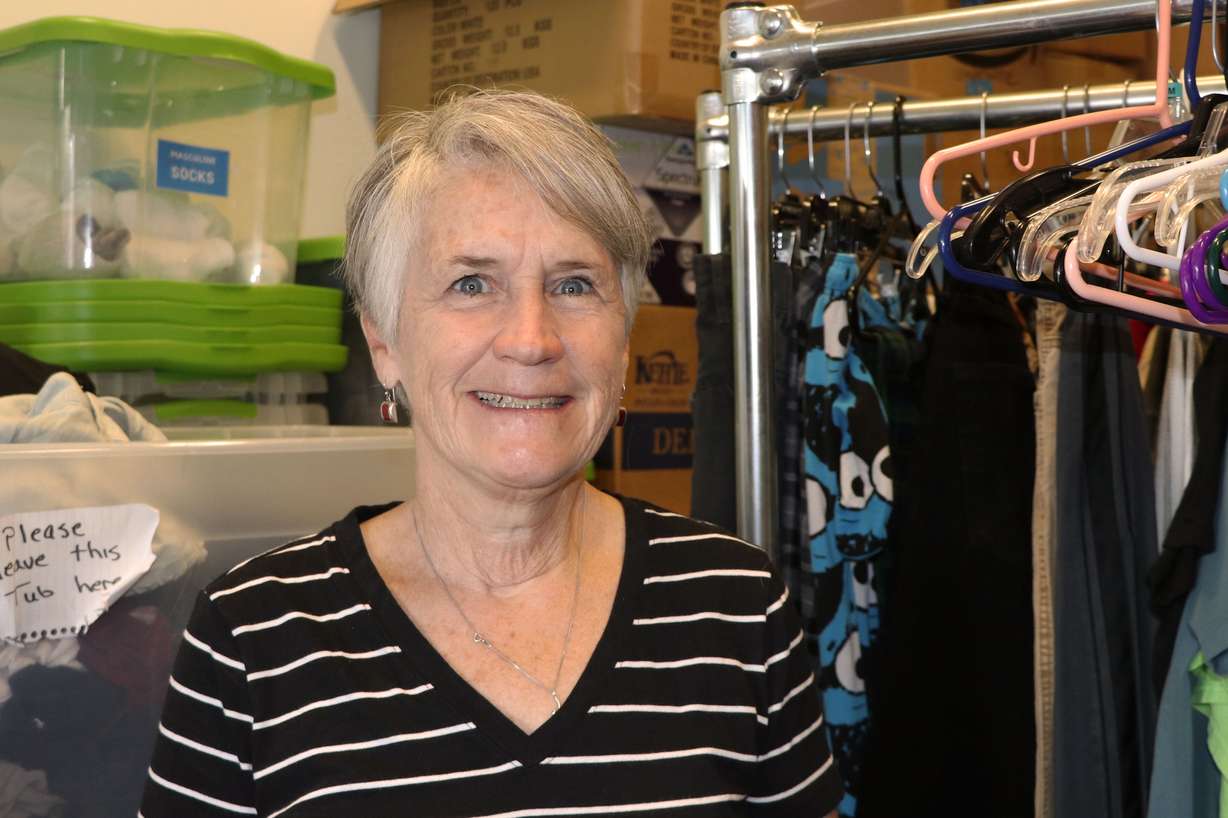 #diane_photo

**\* \* \*** ============

Soon after midday, Kathy heads to Maude's — a café run by resource center volunteers to help them learn job skills — for a warm drink. When asked about her favorite memory of volunteering at the center during her years there, Kathy said it's hard to narrow things down.

"I can't think of one specific favorite memory, but I have made a lot of really good friends from being here as long as I've been here," she said.

Kathy said volunteering does have its busy moments, but it's a challenge she enjoys taking on each day.
---
Before I began volunteering, I felt an emptiness but couldn't explain it. I then realized that I am happier when helping others.
–Kathy Wagner
---
"I think because I am a volunteer and I'm not required to do this, I love it. I love the challenge. I love the challenges."
Peggy's advice to those who aren't sure about volunteering: Try it.
"I say just go out and explore, because I think it really does expand your life," she said. "If you just feel there's a void in your life, there's a lot of places that can use help."
At 4 p.m., Kathy's shift ends. Her day, like most of the others she's spent at the center, has been busy. But she likes it that way. Volunteering comes with great responsibility, from waking up early, to cooking and cleaning, to sorting out and washing clothes.
The day in the life of any volunteer is demanding, but for Kathy, there's no other place she'd rather be.
"I mean, this stuff is incredible what they do," Kathy said, speaking of the resource center. "So just being in the middle of all of that, that's just really rewarding to be a little tiny piece of it."
So how long does Kathy plan on volunteering?
"I'll do this as long as my health will let me," she said.
Volunteer opportunities
If you're interested in volunteer opportunities, visit www.voaut.org/volunteer. You may choose from the following:
Serve a meal at the Youth Resource Center
Serve a meal at the Center for Women and Children
Other volunteer opportunities
If you have any additional questions or comments, email volunteer@voaut.org
×
Related links
Most recent Utah stories