Estimated read time: 5-6 minutes
This archived news story is available only for your personal, non-commercial use. Information in the story may be outdated or superseded by additional information. Reading or replaying the story in its archived form does not constitute a republication of the story.
SANDY — An abandoned canal that runs through southern Salt Lake County will be repurposed into a north-south connection trail linking regional trails throughout the area.
Salt Lake County officials say the White City Canal Trail will eventually form a north-south connection winding its way from 9400 South at Big Bear Park, 930 E. Onyx Lane in Sandy, to the Sandy Canal Trail at 10600 South. Parks and recreation managers believe it will provide a new, safer route to schools and improve quality of life in the area.
Parks and recreation representatives met Monday evening at Lone Peak Park in Sandy during an open house to discuss the project with residents.
"It provides connectivity to various parks, schools. … It provides connectivity for people to get off roads that don't have sidewalks and be able to access these various points," said Jon Ruedas, Salt Lake County park development project manager, who is overseeing the effort.
The trail will run near Edgemont Elementary and will include a 347-foot pedestrian bridge crossing Dimple Dell Regional Park. The first phase of the project will cost an estimated $2.1 million. That money will come from a park bond and a transportation grant, Ruedas said.
White City, which the trail also crosses, and Sandy will provide funds for other sections of the trail.
A 12-foot wide paved pedestrian and bike trail will be built along the path, as well as a 6-foot wide gravel trail along the existing canal corridor. It will connect Dimple Dell, Draper Canal, Jordan River Parkway and Porter Rockwell trail. Officials estimate the first phase of the project will be complete before the end of the year.
Some residents on Monday expressed concerns while others voiced praise for the project.
Brittany Clark, who said her house borders the future trail, hopes it won't invade her privacy.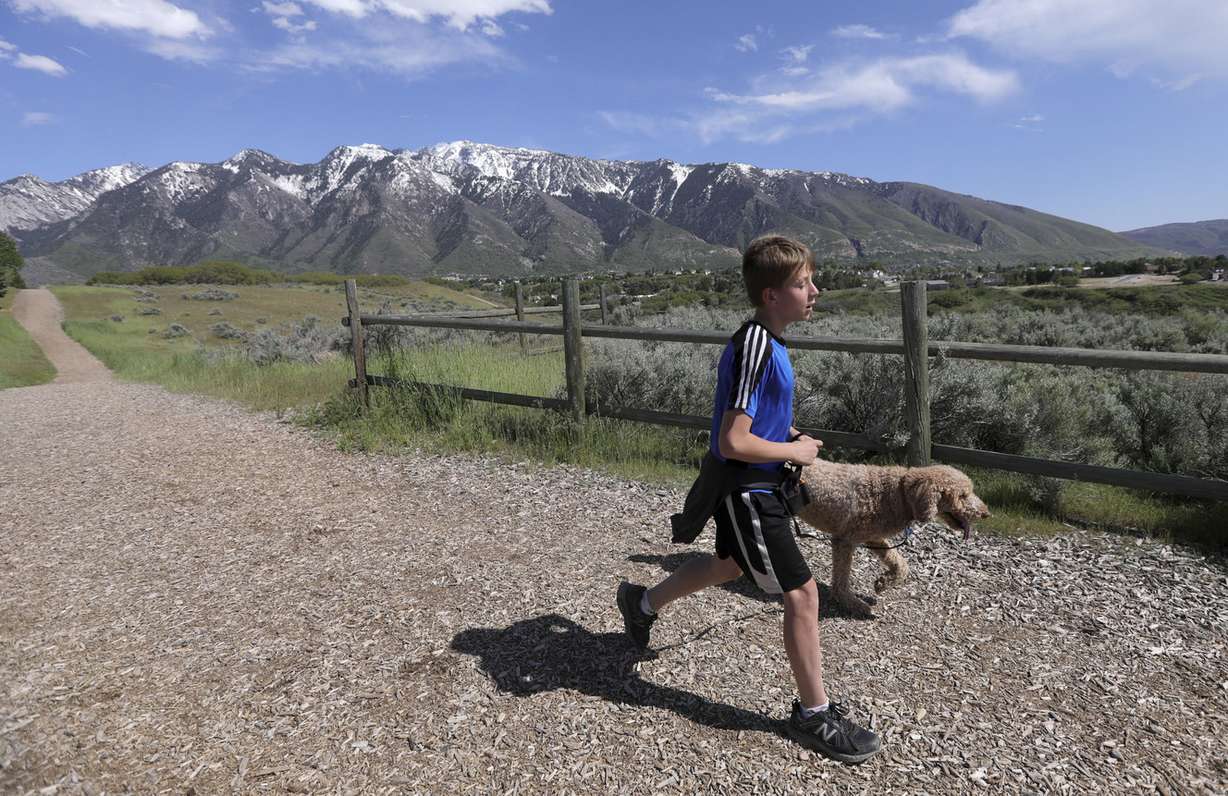 "I'm not super thrilled about it because I feel like unless they put up some sort of extra fence, or like a barrier wall or some shrubbery, I'm losing all the privacy in my yard. And I've already got issues with kids walking home from school (who) will just throw garbage in my yard," Clark said.
One of her dogs has anxiety issues, Clark explained, and she worries that with people often walking near the yard "she's just going to freak out every time she's going to have to go outside."
She said she hopes the county will build some type of privacy barrier around the trail — otherwise it will be expensive to put up a new fence or shrubs, Clark said.
Melissa Richard, whose home also borders the future trail, also expressed concerns about privacy.
"One of my biggest questions was if they were going to put a wall up in our backyard or any kind of privacy wall, and I guess they're not," Richard said.
She said she believes people walking by will "get quite a view of our backyard and our windows." However, Richard said, "We knew that when we bought (the house), that it would eventually happen. We figured it would."
Ruedas said privacy barriers aren't in the project's budget and homeowners will need to construct fences themselves if they wish.
Other neighbors expressed excitement for the recreation opportunities the connected trail will offer.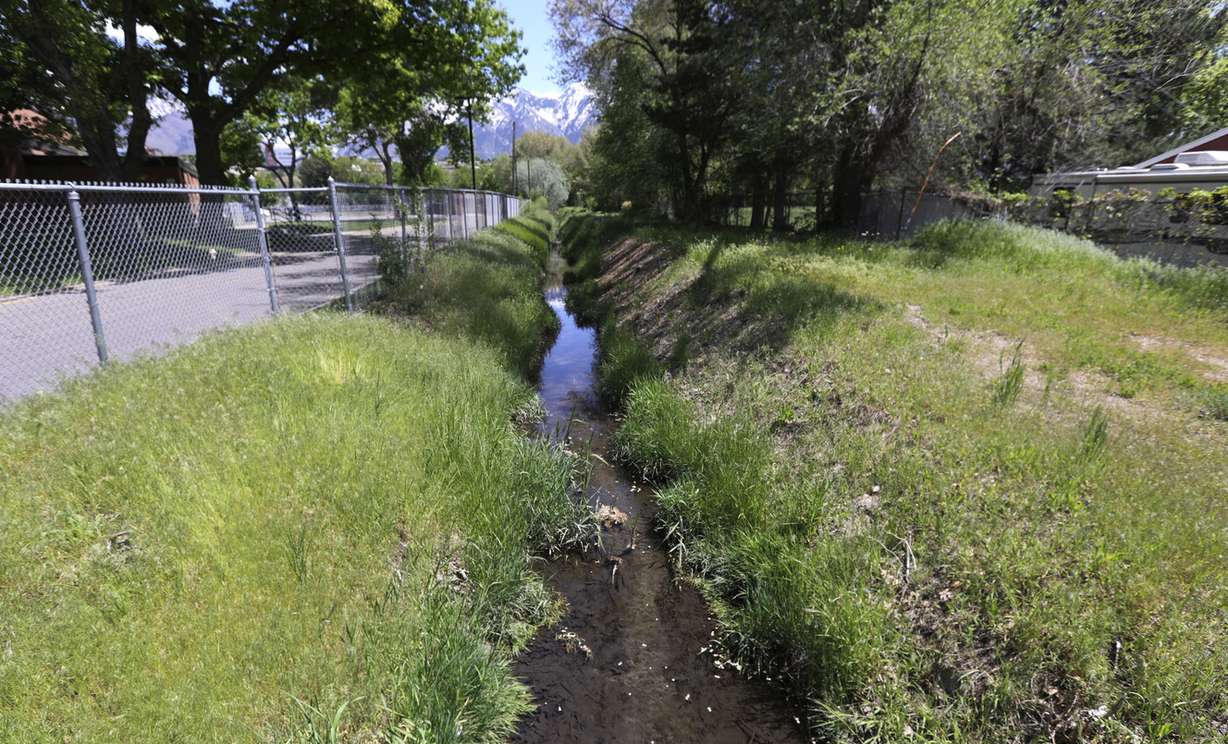 Weston Millen, a member of the White City steering committee and planning commission, voiced his excitement.
"I'm really looking forward to there being more walkability options in the neighborhood and better biking and walking access that's not directly on main streets."
He uses mountain biking trails, and "having this link up" to other trails in the community will be convenient, Millen said.
He believes it will attract new people to the neighborhood and "it will help White City stay current with a lot of the communities around here."
During the open house, one woman quizzed Ruedas about potential environmental impact to Dimple Dell Regional Park as the bridge is built. He responded that the bridge will only impact .29 acres. A bridge will have less of an impact than a trail through the park, he said.
Joyce Walker, of the Dimple Dell Preservation Community, said her group has no position yet on the project, but that group members attended the open house to listen and learn about it.
White City Mayor Paulina Flint said her city and Sandy have been working to handle the canal ever since it was closed down and stopped carrying ditch water from Utah Lake. The canal is the only way the area has of of handling stormwater in the area, she said. The east side of the new trail is planned to handle water from heavy storms, Flint said.
She also emphasized potential improvements to safety.
"Right now it's just a weed-infested no man's land, which is actually dangerous. People can get hurt because there's things in there that shouldn't be in there," she said.
"This will cut a lot of time and effort out, and it will give older people a safer place to exercise," Flint explained.
Resident Jessica Perry also expressed excitement.
"I care about the community and I'm excited for the trail to go across Dimple Dell," she said. Of the future bridge, she said "You can look over the whole park, both sides. We were kind of thinking about the viewpoint … because it is really beautiful."
×
Photos
Most recent Utah stories