Estimated read time: 3-4 minutes
This archived news story is available only for your personal, non-commercial use. Information in the story may be outdated or superseded by additional information. Reading or replaying the story in its archived form does not constitute a republication of the story.
SANDY — Sky View walked into Rio Tinto Stadium Saturday a little awestruck. The field was huge, the stadium was massive, and the odds — well, even the Bobcats admitted they felt like underdogs entering the 4A final against defending champion Desert Hills
"We didn't know if we had a chance," senior Ty Erickson said.
But then Erickson sent a long shot that hit the frame of the goal and then another that went just outside. And then the Bobcats connected on numerous through balls and long lobs that led to scoring opportunity after another.
They had more than a chance. They looked like they simply were the better team
"As soon as we came out and showed them that we weren't going to sit back and attack us, you saw that they were scared because we were attacking them so much," Erickson said. "That's when I knew we could do it."
And that's just what they did.
In the 65th minute, Tate Thurston ran to the back post as Davis Hall fired a shot on frame. Hall's shot was blocked away right to the feet of Thurston and the freshman pushed it into the net sending the Bobcats into mass celebration as they dogpiled in the corner.
That celebration was only bested when the clock hit zeros and Sky View had won 1-0 and took the 4A state crown.
"I cannot point to just one guy that played phenomenal," Sky View coach Jorge Cruz said. "I think everybody even the bench players, they played amazing. I'm so proud of everybody."
He wasn't being hyperbolic; the list of heroes was long.
There was Thurston, the goal scorer. He had made the run to the back post over and over all season long. Most of the time, it resulted in nothing — this time it ended with a title.
There was Erickson, who masterfully delivered pinpoint passes from everywhere on the pitch. He created chances with long over-the-top balls, by threading the needle between defenders and by blasting away himself. And he was the one that pushed the ball to Hall for his shot that led to the lone goal of the game.
"He is the engine, he is the heart of this team," Cruz said.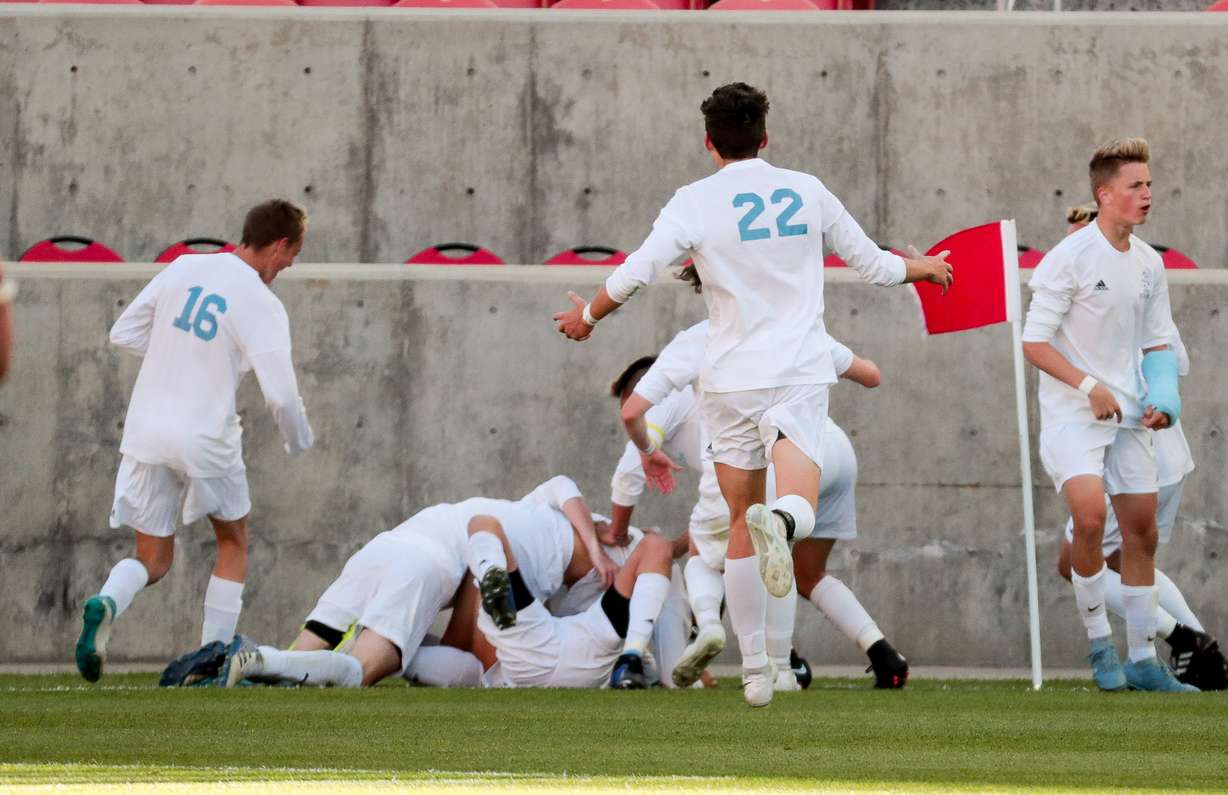 There was Hall, who played with a cast to protect a fractured arm, who not only set up the championship-winning goal but also had a slide tackle in the box late in the game to block what looked to be a sure equalizer.
And there was the defense as a whole, led by keeper Mailik Horman, that didn't surrender a goal and rarely gave up a quality chance after halftime.
"They knew they had to play a perfect game and they did," Cruz said of his defense.
It was the first time all year Desert Hills had been shutout.
"Never in our wildest dreams did we think we would be here," Erickson said. "We put in so much hard work throughout this season. It feels absolutely amazing."
It made it even more special that so many had a hand in the win. From seniors, like Erickson and Horman, to freshmen, like Hall and Thurston, and every class in between.
Sky View showed just how much everyone on the team mattered with how they started the game.
Senior Cade Olsen came out for the opening kickoff with nearly his entire leg in a brace. Because of an injury, he wasn't able to contribute as much as he would have liked on Saturday, but his teammates and coaches wanted him to at least get the feeling of playing in Rio Tinto for a state title.
He got the first touch of the game before being subbed out. He left the field to loud applause while being embraced his teammates.
"It was special for me," Cruz said. "And for the referees and the organizations to allow him to do that, it was really nice."
And it only got more special from there.
×
Most recent High School stories