Estimated read time: 4-5 minutes
This archived news story is available only for your personal, non-commercial use. Information in the story may be outdated or superseded by additional information. Reading or replaying the story in its archived form does not constitute a republication of the story.
SANDY — Judge Memorial's boys soccer team never doubted.
All that stood in the way of back-to-back Class 3A state titles was a Friday afternoon tilt with Region 13 rival Summit Academy — a team that Bulldogs split the season series, including a 5-1 win on the charter school's campus in Bluffdale back on March 29.
If the defending state champion Bulldogs were confident going into the final, they had reason.
Until the first half-hour ended, when they trailed 2-0.
Then a funny thing happened. The Bulldogs showed grit, or heart, or just mustered a spiritual force.
Whatever the ingredients, Judge Memorial concocted a thrilling come-from-behind victory.
Antony Galindo scored the game-winning goal after a thunderous 3-0 run over seven minutes, and team captain Joe Paul had two assists to spur a furious rally to lead Judge Memorial to a 3-2 win over Summit Academy for the Bulldogs' second-straight state title Friday afternoon at Rio Tinto Stadium.
"This may mean more to me than it does to them (his teammates)," said Paul, a senior who had the Bulldogs' golden goal a year ago against Morgan. "But I think this was greater. We came back from two goals, and we got the third one at the beginning of the second half.
"It was awesome to be able to come back. We've never been down by two goals, and to come back 3-2 in the final means a lot."
For the fifth time in school history, the third time under head coach Kelly Terrill, and the second time in as many years, the Bulldogs were state champions.
But this one didn't come easy.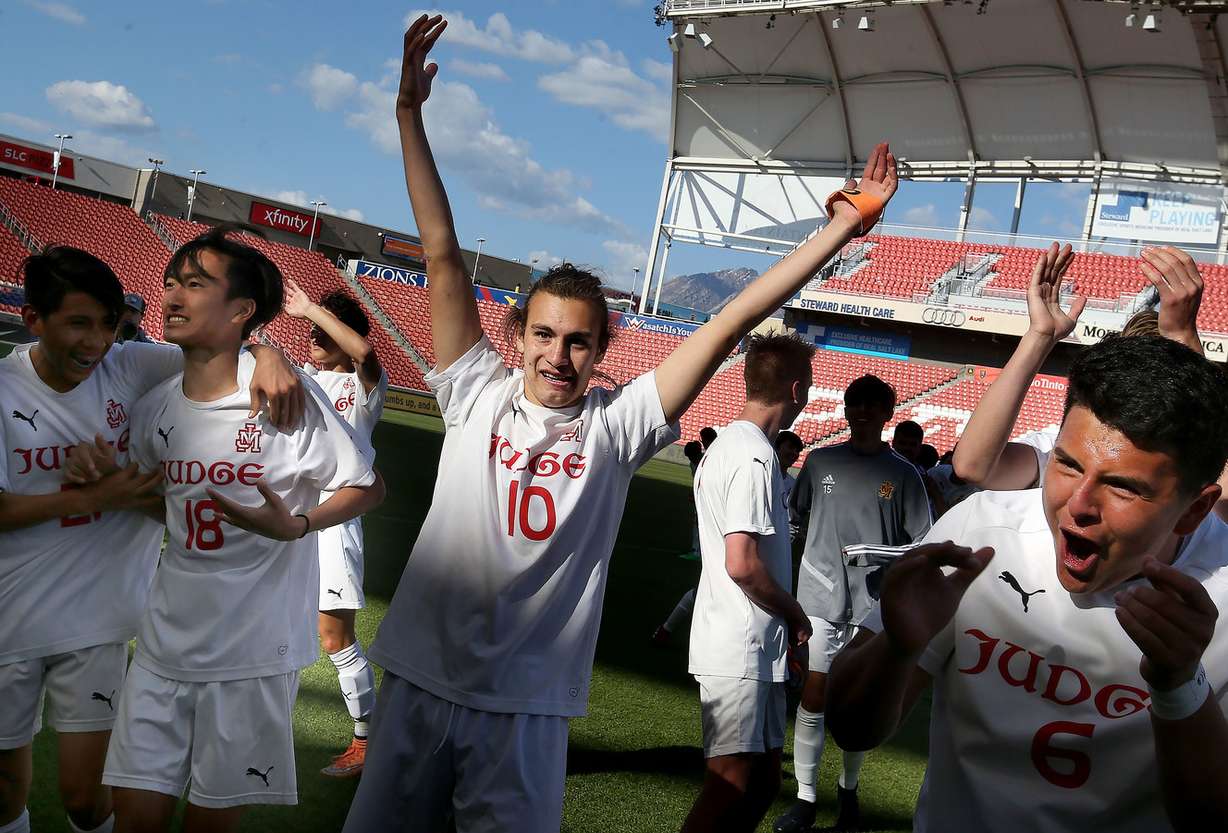 Judge Memorial (13-3-1) trailed from the fifth minute of the first half. That was when Summit Academy's Jared Arellano uncorked a shot from inside the left corner of the 18-yard box that tipped goalkeeper gloves before it found the upper 90.
The Bears (16-2) didn't let up after taking the 1-0 lead, either.
In the 22nd minute, Evan Smith dribbled a through-ball from the midfield to the end line, doubling the advantage with a left-footed a cross into the center of the box to Zack Mooney, who only needed one touch to redirect the ball into the back of the net for a 2-0 scoreline in favor of the Region 13 champions.
That just woke up the Bulldogs, though.
"They did not quit. They held on," said Terrill, who also led Judge to the 3A championship in 2010. "It's been the whole season; this was kind of a game that represented the entire season for us. They just didn't quit."
The Bulldogs had seen large comebacks before (hello, Liverpool against Barcelona in the Champions League), and they had 60 minutes to mount such an effort. But a team that never trailed previously in the state tournament — and that beat its first three opponents by an aggregate score of 21-4 — may have felt a little shellshocked at the deficit.
Paul admitted that he felt the energy drop the slightest bit when Summit Academy's second goal hit the back of the net. But that doesn't mean they doubted.
"We kept telling everyone that we can do it," Paul said. "We've seen it happen. We know you can still win, even down two goals. That's exactly what we did.
"We knew that we could do it. We just had to prove it to ourselves."
Still, they had work to do.
Judge freshman Juan Battalla pulled one back, rounding his defender and converting from close range with three minutes left in the half — which left plenty of time to equalize.
That's because Jack Terrill tied the game on a screamer, taking a pass from Paul and slotting it home with just over a minute to go until halftime to force a 2-2 stalemate at the break.
"We kept telling everyone that we can do it," Paul said. "We've seen it happen. We know you can still win, even down two goals. That's exactly what we did.
"We knew that we could do it. We just had to prove it to ourselves."
Just four minutes after the break — and seven minutes after the Bulldogs trailed for the final time — Galindo worked his magic.
The spritely sophomore cruise down the field on a counter attack in the 44th minute. With Summit Academy's entire back line rushing to defender, Galindo teed up a shot with a half volley and ripped a goal inside the far post that gave the Bulldogs their first lead of the game.
It was the only lead they needed.
"When they crossed it, I just felt like it was coming to me," Galindo said. "We missed a ball, tried a header, but I felt it coming to me. So I tried to stay calm and just do my thing.
"I just felt so relieved."
×
Photos
Related stories
Most recent High School stories